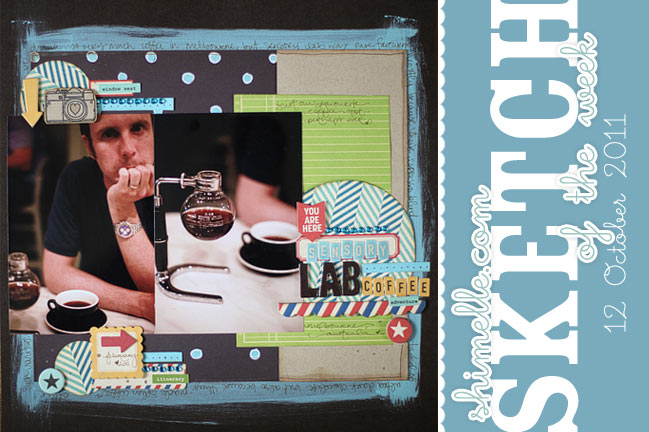 Remember this layout from the other day and the mixing of ye olde 2006 patterned papers with things that I'm using throughout my current album? Well, this page sits opposite that one in my album. So although they are not a double page layout, they do have a few things in common and I wanted them to be linked in some way, so I started this page with the leftover supplies from the first page… then added more to make it a completely different mix. It's something that really makes me love the album process… and I think I might share some more thoughts on that with you very soon. But for now: the sketch!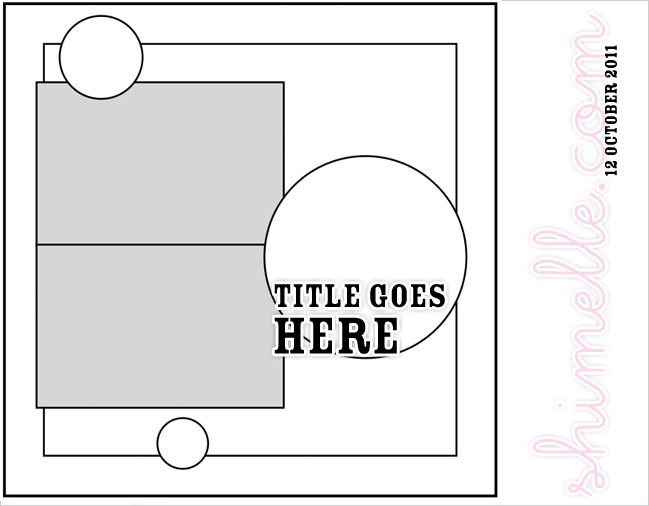 This sketch has quite a bit of flexibility and a bit of a 1-2-3 methodology: one square of paper, two photos and three circles. The sketch looks overly simple, but you start there and can then add as much embellishment to each of the circles as suits your style. The circles can be moved about a bit to accommodate portrait or landscape pictures, and the square of paper can be made from more than one sheet if you want to use up some scraps. I ended up using two papers because nothing I had chosen was big enough to make the square on its own. As you can see here…

(And an extra little thank you to everyone who as subscribed to the videos over at YouTube. I appreciate it so much!)
As always, the weekly sketch is no-stress and just for fun! If you use it, I'd love to see, so please leave a link if you post your page online.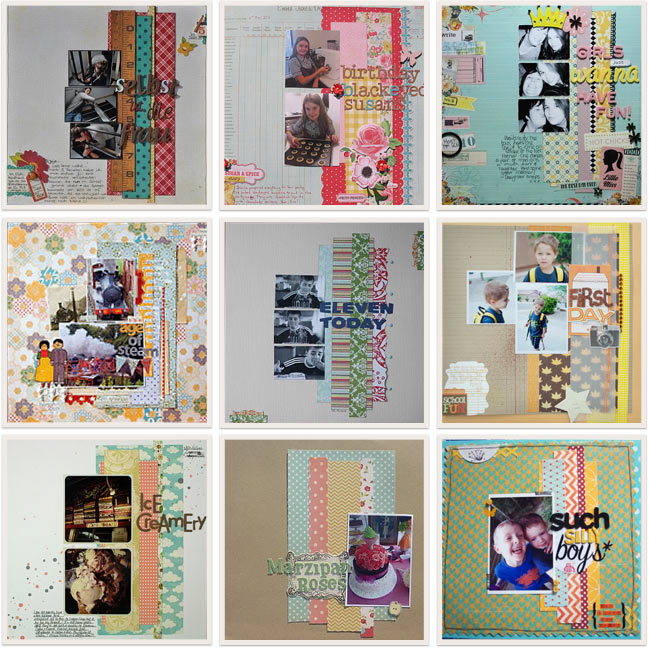 The last sketch was actually two weeks ago so the extra time meant even more pages submitted – and so many fun designs. I love the energy on these pages that comes from the strips of patterned paper.
Click the corresponding link to see any of these layouts in more detail and get to know the scrappers behind the pages.
Top Row, L to R: one, two, three.
Middle Row, L to R: four, five, six.
Bottom row, L to R: seven, eight and nine.
Now… are you up for some sketchy scrapping this week? Choose two pictures and grab a few papers to start. Give it a go and share it with us!

Read more about: sketch-of-the-week
13 October 2011

Next post: Scrapbooking giveaway day
Previous post: The A to Z of stamping :: scrapbooking and handmade cards