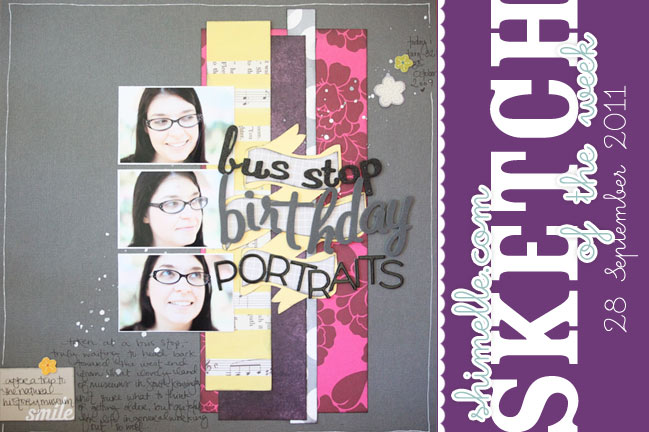 One of the dangers of really showing you a layout as it comes together is that sometimes things really don't go the same way they are planned in my head. That happened with this week's sketch page. But for as much as I may stumble in this week's video as a result, it reminded me why I love the creativity of this craft. Why I love something that is so flexible and doesn't require following a pattern to the letter. Why I love to design on the fly more than being penned in with rules and measurements and guidelines.
So this doesn't look anything like how I imagined. I imagined all matching, small letter stickers. But that was before I realised I didn't have a single T left in that set. (I thought I was being smart because I had run out of the letter E and this was a nice long title with no Es. Then the T had to throw a spanner in the works!) I imagined a line of brads down the right side. I imagined this pesky little flower sticker that partly inspired the colour scheme but in the end there was no nice place for it to live, so it is still in my stash and the page is in my album. But I love the problem-solving element of making a page and realising the masterplan isn't working – find other letters, mix up the fonts, deal with the changed size and in general just make it work. I love that process.
And there was one thing I had no plan for at the beginning. In a bit of an unlike-me turn, I really had no idea what I would write about these photos. They were taken on my birthday while we waited for the bus and The Boy was generally being a bit silly with the camera. On that day, I didn't really feel anything special about the pictures, but two years later there was just something from that made me realise this captured a very real moment of life and it really did have its place in my albums. And by the end, I knew what to write. Just another little creative challenge along the way.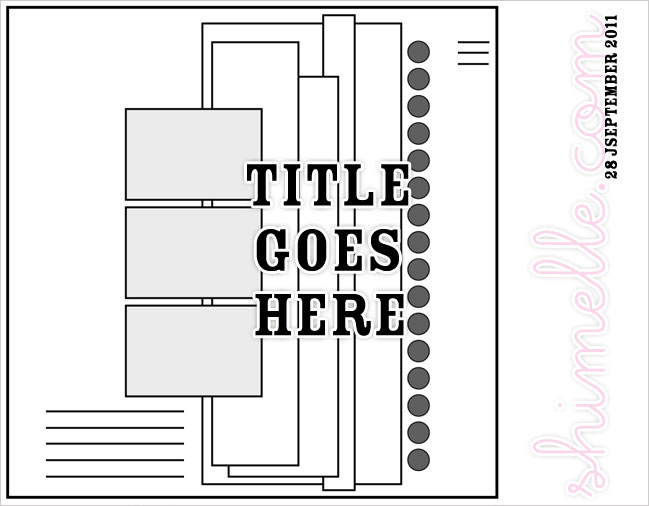 This week's sketch includes three 2×3 photos, which could be swapped for a photobooth-style strip or perhaps one portrait 4×6 photo. This sketch should be easily adjusted to 8.5×11 since there is a great deal of white space at the left side. Although I left the row of brads (or other circle embellishments) off in the end, I've included them here. Use them or don't use them as you see fit. And you can add the banner back in for the title or you can just add a big, blocky title in that same space.

Julie has been blogging about purple lately and had me thinking about purple in my stash. Before I started looking, I thought I had a fair amount of purple, but it turned out to be the least represented colour in my supplies! I have been loving the deep wine-tinted purple shade (somewhere between burgundy and violet… so much so that I almost typed 'purgundy' but just… no.) from the Garden Cafe collection, so I like the idea of pairing that with a more obvious purple (from BasicGrey Eerie) and that pairing I love so much – yellow and grey. So that meant a mixed palette of grey, yellow, purple and fuchsia. In the light of day, I still liked it! I'm intrigued to try some of Julie's purple palettes a bit more completely soon.
Also, I realise I make a ridiculous hand gesture in the beginning of the video. Nice one, Shim. You can forevermore use this hand gesture to mock me. In fact, I do believe it should become a night-club dance move named The Shimelle, of course.
As always, the weekly sketch is no-stress and just for fun! If you use it, I'd love to see, so please leave a link if you post your page online.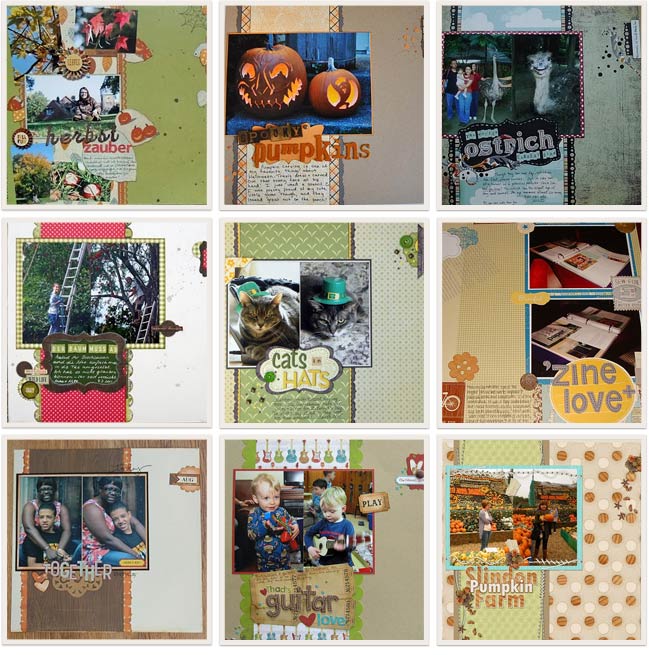 Last week was possibly the simplest sketch I've posted, but I love the freedom it gave everyone to make it their own. And I giggled at the comments on so many blog posts that sticking confetti to a layout is a bit pesky! Yes… it really is. But worth a try now and then! Thank you to everyone who gave the sketch a try. This is just a sampling of nine favourites. Click the corresponding link to see any of these layouts in more detail and get to know the scrappers behind the pages.
Top Row, L to R: one, two, three (bonus points for scrapbooking an OSTRICH).
Middle Row, L to R: four, five, six.
Bottom row, L to R: seven, eight and nine.
Now… are you up for some sketchy scrapping this week? Let's see how you adapt this idea of vertical strips and a big banner of a title. Give it a go and share it with us!

Read more about: sketch-of-the-week
29 September 2011

Next post: 4x6 Photo Love :: September 2011
Previous post: RTW Travel Photobook Progress