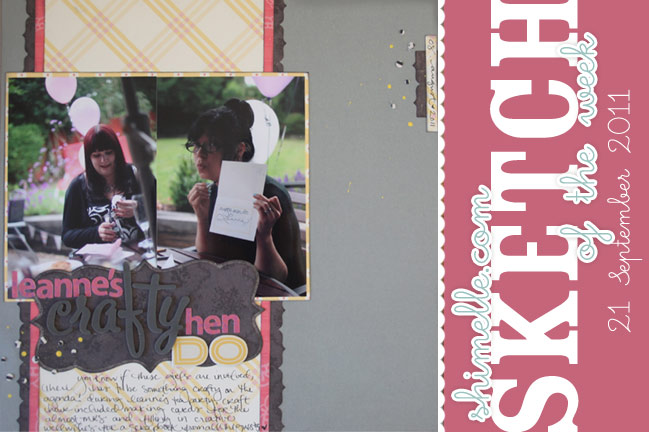 It's been a while since I've sketched out my favourite photo arrangement – two 4×6 prints in the same direction on a 12×12 page – so that's what appears in this week's sketch! And pretty much everything aside from the background here came from my scrap basket, so it feels a bit like something from nothing, which I love! I also got to use that confetti idea that a few of you have used for earlier sketches, so thanks for the inspiration to give it a try.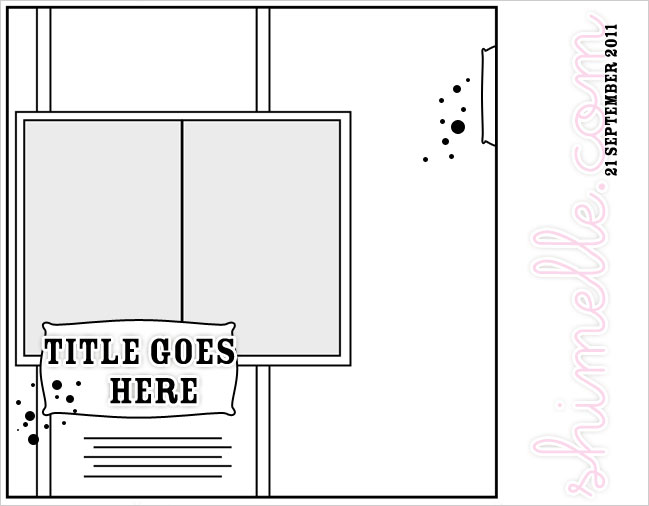 This week's sketch is very, very simple! I'm intrigued to see if you keep it this simple or jazz it up with lots more. Either way can work. I didn't really purposefully set out for it to be so minimal, but after I had added the paint and fabric dots it just didn't seem like it needed further embellishments in this case… but your page might be different! Adapt as you see fit, of course.

The die-cutting website I mentioned in the video is I Diecut and you can find the free shape I used here. I have a Silhouette SD and cut using the Silhouette Studio software from a Mac. The DXF file from I Diecut worked just fine and I could add it to my library in Studio. You do need the latest update for Studio. With Studio open, go to Help at the top menu and pull down to 'check for updates' if you're not sure if you have the latest edition. I Diecut also includes SVG files for those of you who use SCAL software or other SVG-reading options. It's definitely worth a look if you're an Echo Park fan and would like to cut shapes to coordinate with the paper and sticker designs.
As always, the weekly sketch is no-stress and just for fun! If you use it, I'd love to see, so please leave a link if you post your page online.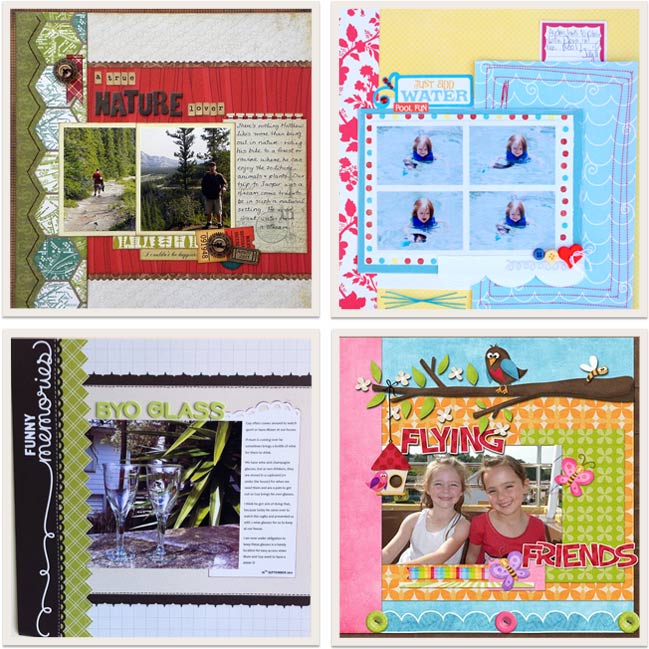 Last week's sketch inspired a mix of pages with one, two or four photos. I loved the variety! These are four of my favourites. Click the corresponding link to see any of these layouts in more detail and get to know the scrappers behind the pages.
Top Row, L to R: one, two.
Bottom row, L to R: three and four.
Now… are you up for some sketchy scrapping this week? Grab two pictures and see how much of the page you can create from your scraps, perhaps. Give it a go and share it with us!

Read more about: sketch-of-the-week
21 September 2011

Next post: Cupcakes and crafts this Saturday
Previous post: Camera School 05 :: Fun with Aperture