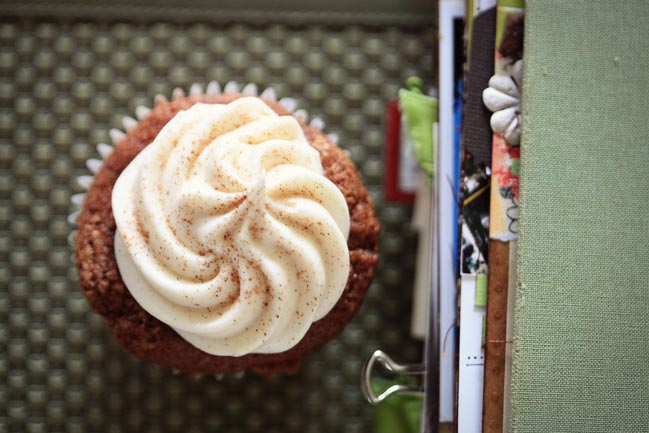 Recipe is here, by the way.
Lovely UK readers, are you headed to Alexandra Palace this weekend for the Big Stamp and Scrapbook Show?
Are you going on Saturday?
Will you be there when the show closes at 5pm?
Would you appreciate things like free cake and craftiness?
Here's the deal: I'm throwing a tiny, completely-just-for-fun, after-show meet-up party. I hesitate to call it a party because there is no venue, no big plan of events, no pass-the-parcel. So micro-party, perhaps. But what I really mean is if we're there already and we love scrapbooking and would like to say hello, then let's do that. And let's do that with a cupcake and a tiny little crafty gift from me.
Easy enough? It's absolutely free, but please RSVP so I can make sure to bring enough cakes and crafty presents! To RSVP, please send me an email (shimelle at gmail dot com) and in return I will send you the details of when and where to meet. Even if you can only stop for three minutes to say hello, go ahead and RSVP – I would love to see you if only for three minutes! And if you're coming with friends, you can RSVP for them too! As long as I can have a number by Saturday morning, I shall make sure there is cake for all.
Now… someone do RSVP please, else I may have to eat all the cake myself and that would be just the saddest of days. (On the other hand, if I need to transport 500 cakes across London on public transportation, that will be an amazing feat!)
I would love to see you there!
xlovesx

Read more about:
22 September 2011

Next post: Scrapbooking giveaway day!
Previous post: Scrapbooking Sketch of the Week