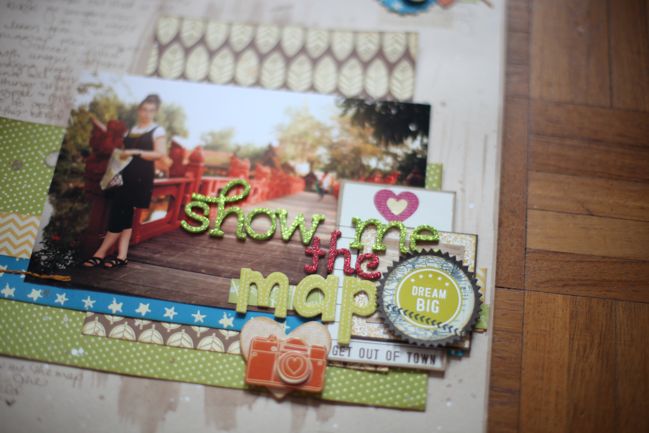 Oh hello there. Let me bring us back to our regularly scheduled scrappiness. A few things (mainly Wonder Boy learning he cannot actually fly) made me hit my first real bump in the road with keeping up with my master plan, but I hope you were able to use the pause in time to catch up with some crafty things and you're ready for something new now! I am, and I'm happy to say I finally got unstuck with the project that was sitting half-finished on my desk pre-derailment, and got that scrapbooking project and several others finished and photographed today. Huzzah! I'll have a few extra things to share in the next few days as I play catch up, but let's have our weekly challenge on Monday while it's still just barely Monday in my time zone, shall we?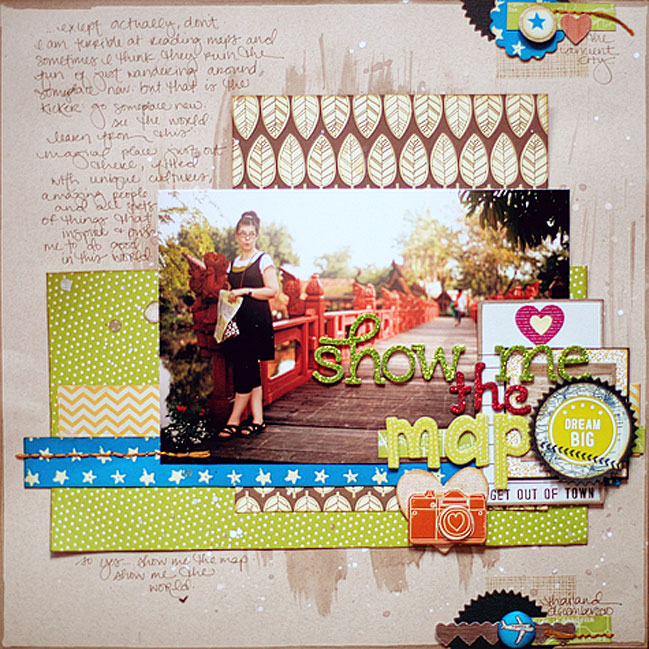 Way back in 2011, I wasn't designing products for American Crafts but instead designed projects using their lines as part of my year-long spot on their design team. It coincided with the start of Amy's collections at AC and it was definitely a joy to have every little piece of those collections, as I've always cherry picked my favourite pieces when doing my own shopping and can't think of a time when I've splurged on an entire collection in one go. (I have been known to go back and buy missing pieces if I'm really loving how one collection works, though!) At any rate, this page is one of my favourites I created in that year of designing with all things AC, and it's relevant to this week's challenge, I promise!
And now, on to the challenge! This week, think as symbolic as you choose. I challenge you this week to take maps or globes as your scrapbooking inspiration. Just create a new scrapbook page inspired in some way by the idea of maps and globes – be that a more literal travel page with globe-shaped die-cuts or something more metaphorical, like a personal journey toward a goal. Everything else is completely up to you, so you can take your inspiration in any direction you like! To get you started on this week's challenge, take a look at these examples from contributing designer Kirsty Smith and guest artist Margie Visnick.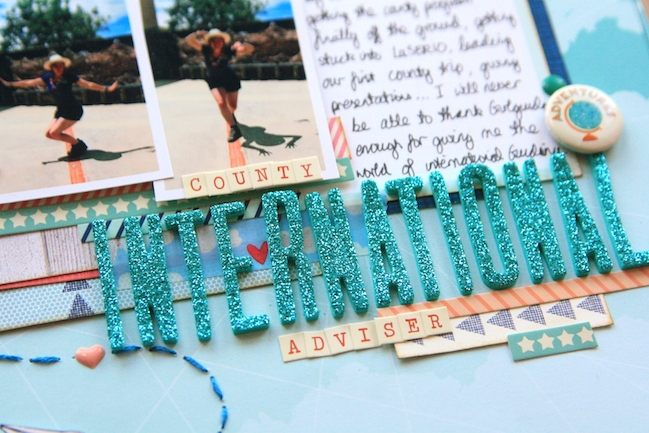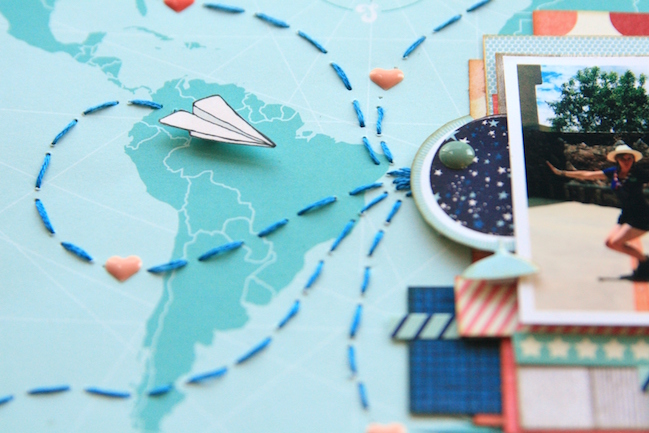 One of the things I love most about the Starshine collection is that it really does work for a huge range of different subjects and styles. I LOVE to travel and take photographs as I explore, and I'm always on the lookout for new designs and ideas to inspire my travel layouts. Starshine seems absolutely tailor-made! I adore the little starry globes in Shimelle's new line and I used one as a great starting point for this page.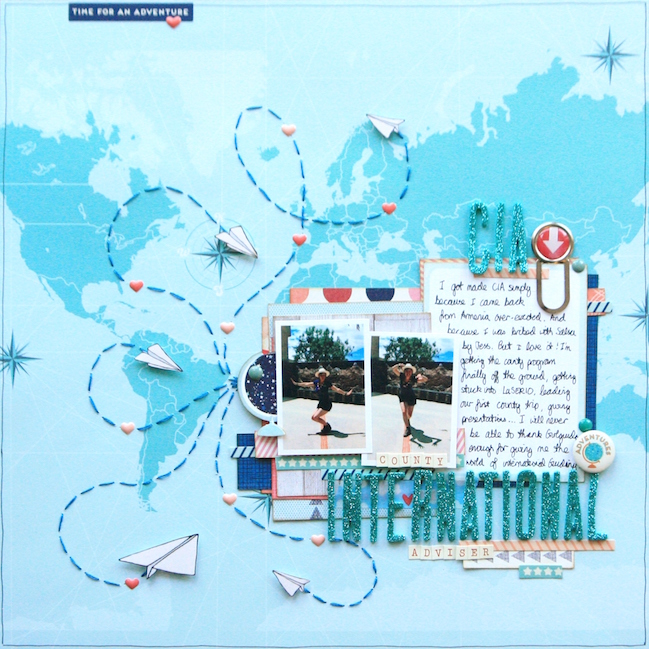 I used the globe as a focal point on a background of map-themed patterned paper. I added my photos and journaling on one side of the page, and used the starry globe to launch little stitched flight paths for paper aeroplanes soaring around the world.
I'm a huge fan of aqua, (I blame Shimelle!) and I layered up lots of coordinating stickers and papers to frame my design and my title, which had to be glittery Thickers! I used little flashes of pink to give a bit of contrast, from layers peeping out behind the photos, to puffy little heart stickers to add detail to the paper aeroplane flight paths.
- Kirsty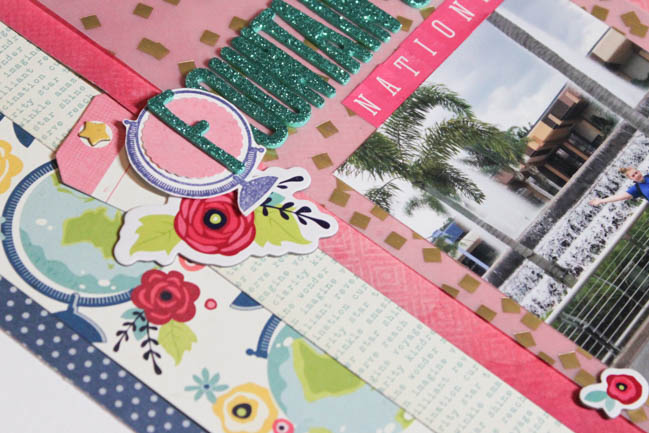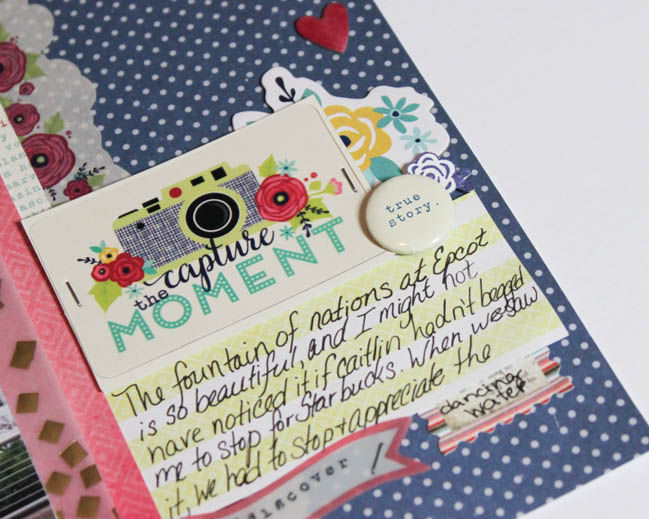 My scrapbook pages are quite often inspired by all of the lovely products that are available, and quite often, it sparks a story or reminds me of a moment that I need to record. This was definitely the case with the beautiful globe print, "Exploration", from the Starshine collection. The globe plus floral pattern immediately reminded me of Epcot at Walt Disney World, and exploring the "World", when we were there right after the Flower and Garden Festival. I started browsing my folder of photos from Epcot that day, and stumbled across this photo of my daughter, with a story still waiting to be told, and I had the basics for my page.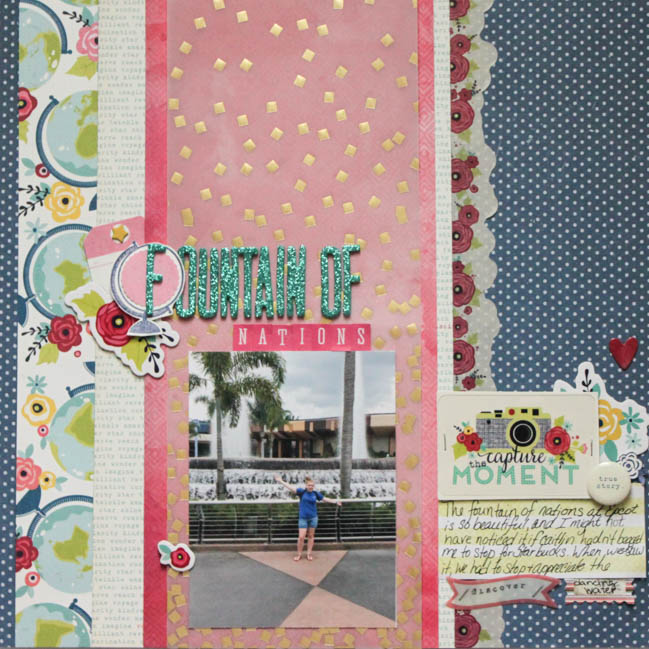 I chose a blue/grey polka dot from the True Stories for the background of my page, and layered it up with several of my favorite patterned papers from the Starshine collection, and a pretty pink watercolor ombre paper from Amy Tangerine's new Better Together collection, along with a piece of gold foiled vellum from Dear Lizzy's Fine & Dandy collection. Shimelle's new floral washi tape from Starshine was the perfect addition to draw the eye across the page, and from there, all that was left to do was to layer up an assortment of embellishments. I mixed all sorts of different bits, mostly from the Starshine collection, all though a couple of wee bits from an old Basic Grey die cut assortment did make their way into the layout, simply because they were on my desk, and needed to be used. I used stamped bits (the navy globe under the first letter of the title, and the tiny navy rose in the cluster to the right), punches, chipboard stickers, die cuts, an acetate piece that I stapled to a scrap of white cardstock so that it would show up, and some flair.
- Margie
You have a week to complete the challenge and share a link – but of course you're welcome to set your own time schedule. Whatever keeps you happy and creative!
I'll see you tomorrow to share some new projects of my own. I have both my old + new products and my monochromatic challenge pages ready to show you!
Today's Guest Artist: Margie Visnick loves scrapbooking, photography, and red velvet everything. You can find more from Margie on Instagram, Pinterest, and her blog.

Read more about: scrapbooking-challenges american-crafts
29 February 2016

Next post: Scrapbooking with symbolism and sketches
Previous post: Weekly Challenge :: Go monochromatic on your next scrapbook page