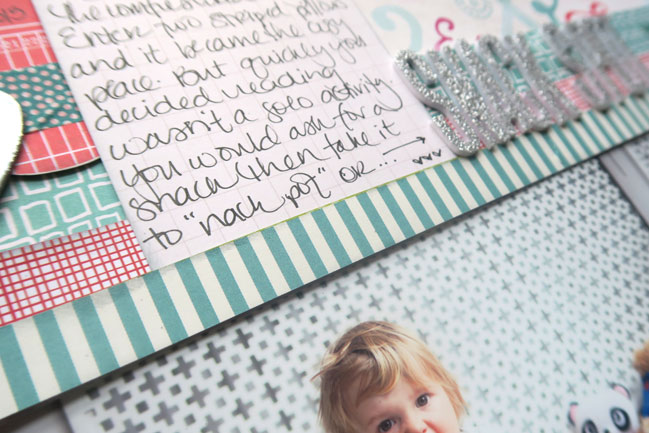 This week's question comes from Val, who asked:
I miss using all my older scrapbooking tools and supplies like mist, paint, and plain chipboard. I know styles change, but I have so much older stuff. It would make me feel better to mix my new and old supplies more frequently. Glitter Girl, can you help?
So this week, Glitter Girl shares her top tips for getting rid of the guilt of scrapbooking supplies you've had a long time and getting more of them onto your pages, and of course there's a new scrapbook page to show those tips in action. Come along for the adventure, won't you?
Let go of anything giving you guilt
I know what is like to hold onto supplies because you paid good money for them. I've been writing about this topic for a while now and I often find myself looking at supplies and asking myself 'is this the new version of my special expensive paper?' and sometimes it totally is. I liked it when I bought it but I kept it because I spent money on it… not because I am loving how it would look on my page. So with the exception of that original super ugly paper that made me have the realisation, if I don't love it, it goes to someone else. It might be brand new or I may have had it for fifteen years.
Plain chipboard is something I don't really love, and I only had a few little exceptions I had kept because I thought they would be easy to adapt. I'm taking that as a good sign that I didn't have to choose between twenty-three unopened packages of plain chipboard shapes.
Find a way to let go that makes you feel good instead of rubbish
Years ago, I posted on Freecycle to give away a big box of offcuts and leftover workshop supplies and stuff that was just weighing me down but was still so lovely I didn't want to just put it in the recycling. Someone answered and it turned out she ran crafting workshops with the patients in a children's hospital. Perfect. I give her big boxes a few times a year and I feel good about it rather than rubbish! I love that I can help with a cause that hits my heart. You don't need to find your good connection in some random way like that and you can go direct to a source you know. Call up a children's hospital, school, scouting group, Sunday school, family shelter – whatever feels right to you. Don't let not knowing anyone there scare you. You can send an email or make a phone call and find the solution for you, if you are in the position of being overrun with supplies. (If your stash is small and you don't have the overrun problem, that's okay too! But it does happen, and it's good to make a change for the better than to live with guilt every time you look at your supplies.)
Choose up to three older products or tools to use at any time
If I set myself a mission to 'use older stuff', I would be so overwhelmed. There are too many options, especially after so many years of scrapping and collecting supplies! I work best with a visual reminder I can see and I don't like to move around much once I start my page (even though I scrap standing up – go figure). A mission that does work for me is something more narrow and specific, so I can challenge myself to 'use acrylic paint, plain chipboard, and embossing powder' and I put those things on my desk before I start the page. That way I couldn't easily forget – they were staring at me! (I'll admit, this visual aid works best if my desk is relatively tidy when I start so nothing gets lost.) I ended up making a few more silver hearts than were practical for my finished design, so those are currently still on my desk, waiting to go on my next project. They'd be great for a Valentine card, so I'll use them straight away but I packed them away somewhere, I guarantee I would forget and in three years we'd be having this discussion about challenging myself to use two random silver hearts. Trust me.
Create pages that are still in a style you love
With just those few things picked out as my old supply mission, I don't feel obligated to time warp my style to how I was scrapbooking when I purchased every colour of acrylic paint or stockpiled plain chipboard (remember the cute lunch tins they came in? They made it hard to resist!) and I can mix those elements with current papers, stickers, and whatever else, as well as photos currently inspiring me. My style stays true to how I make stuff today, which gives me a little game of figuring out how to mix those older things with the new ones! (Short answer: usually less is more and I find I'll add a little acrylic paint now where ten years ago I would have added a heap of the stuff. On this page, I love the texture it gives to those paint layers without the layout shouting HEY! I USED MY PAINT! IN 2016! This makes me happy. I'm not a fan of shouty pages.)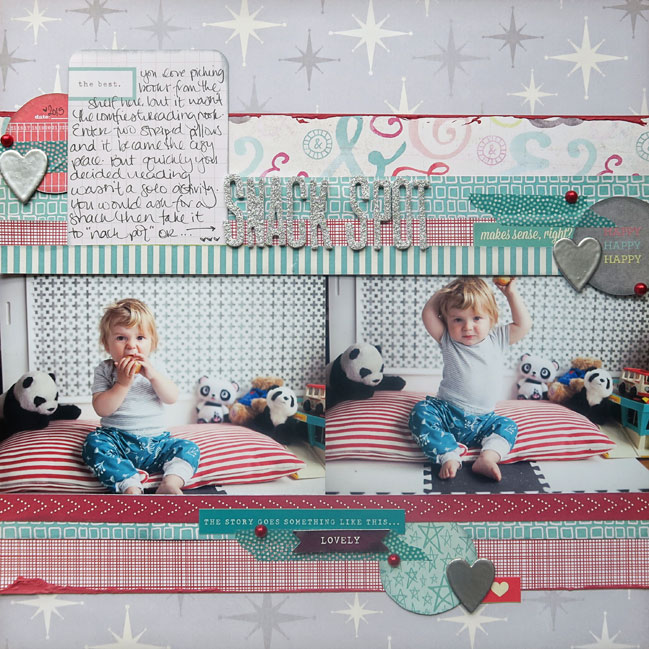 In terms of supplies, the old stuff is old, okay! Jenni Bowlin chipboard hearts (I also kept quite a few of her chipboard butterflies), Ranger acrylic paint from the days when Jenni was a signature designer there, and American Crafts Zing embossing powder in silver. The papers come from my Starshine line (the grey star), Dear Lizzy Documentary (ampersands and turquoise boxes) and Happy Place (red cross hatch). Plus silver Fitzgerald Thickers for the title, a journaling card from the Polka Dot Party Project Life mini kit, washi tape from an old Studio Calico kit, stickers from True Stories, and some red Pebbles pearl dots. I think that's everything!
If you want a bit more Glitter Girl in your life, you're welcome to chat and share what you're making in the Facebook group Scrapbook like a Superhero. See you next Wednesday for a new adventure!

Read more about: adventures-of-glitter-girl
10 February 2016

Next post: Scrapbooking with pink and red
Previous post: My take on scrapbooking with hearts