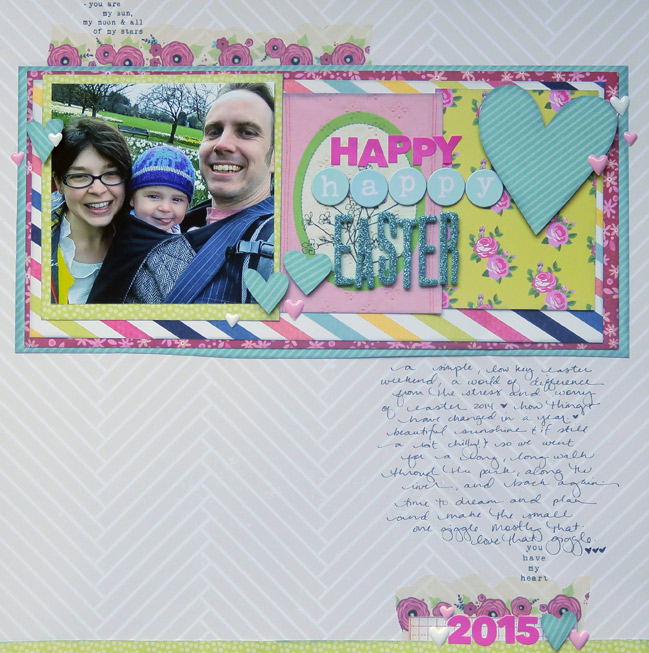 Some days, short and sweet scrapping sessions are just the thing, and that's the case with my take on this week's scrapbook with hearts challenge. I had twenty minutes, a photo already printed, and a few papers on my desk. Time to go, go, go!
Cutting boxes is quick, so I cut one square to frame the square photo and three more into horizontal rectangles, each a little bigger than the last. All those papers are from the Starshine collection – the background is from my first collection with AC. The two 3×4 cards were already that size, and easy to find in a box of cards roughly filed by colour. They are both Studio Calico designs – the one of the left from a 12×12 cut apart paper and the one on the right came in a kit from about this time last year.
Using the same paper as one of the boxes for the embellishments is another way to speed things up! Punches and dies are quick and easy enough for cutting shapes, but hearts are something I prefer to cut by hand. I cut one large heart then four small hearts from the scraps around the edges of the big heart.
It was at this point that I really wanted something more floral to pick up on all the daffodils in the background of the photo. (They are out already this year! It's crazy.) I am currently wasting no opportunities to use that shaped washi tape with the flowers! A little at the top and a little at the bottom of the page made me realise where everything else would go: title between the photo and the big heart, journaling down the page in a column on the right, and a little bit of embellishment below that to connect it all and act a little like a frame so the journaling catches your eye a bit more. I felt like a bit of colour at the bottom would help it not feel so bland, so found another strip of the same paper that frames the square photo to run across the bottom edge.
Simple simple title with Thickers and Studio Calico stickers (from that same Valentine kit), two little rub-ons with sweet sentiments in typewriter text (mostly to make the black journaling pen not feel so stark), and a bunch of little enamel hearts from Amy Tangerine.
Start to finish in twenty-five minutes. Because some days the need for sleep and the need for creativity are in a big, big battle, yes?
Happy scrapping with hearts, whether you have just a few minutes or several hours of blissful creating time this week!

Read more about: american-crafts
09 February 2016

Next post: Glitter Girl Adventure 128: Old Stash Simplification
Previous post: Weekly Challenge :: Scrapbook with Hearts