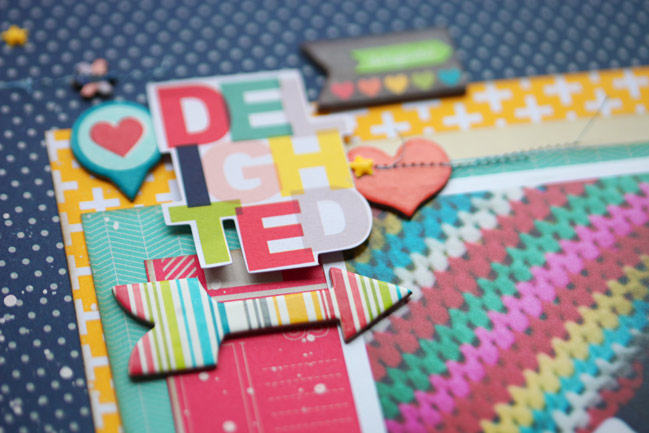 Back in the Scrapbook Inspirations days, I used to write a piece about colour stories – sometimes it was something we used just in planning and when we went to the book format, we actually developed it into an article. And I found all the inspiration for those was purely visual. In recent weeks, a specific colour story has jumped to mind and it didn't come from the visual at all. It came from a song that has been stuck in my head for what seems like an eternity.
We very much like They Might Be Giants in this household. In fact, it is one of the reasons I went on a second date with The Boy: I met him when he was working in a record store and I figured anyone working in a record store could at least have one date of decent conversation in them by talking about music. When the two bands he name dropped first were the Pixies and They Might Be Giants, I knew there would be more than one date of decent discussion! Even my grandmother will tell you that I have loved this band since my youth, and I thank her profusely for letting me use her phone on occasion to call their Dial a Song hotline to cheer me up on rotten days. (Dial a Song is back but weekly on their YouTube channel. I rejoiced, I tell you.)
In the years since I joined an epic conga line at my first TMBG show, they added children's albums to their repertoire and I remained aware but blissfully ignorant of most of them. Until six months ago, when Wonder Boy was giggling so much at their back catalogue that it seemed appropriate to pull out the children's tracks, even if Meet the Elements is perhaps a little beyond his comprehension at present. That song may indeed inspire a colour story and a layout on another day, but today it is most definitely a song about a magical little elf called Roy G. Biv.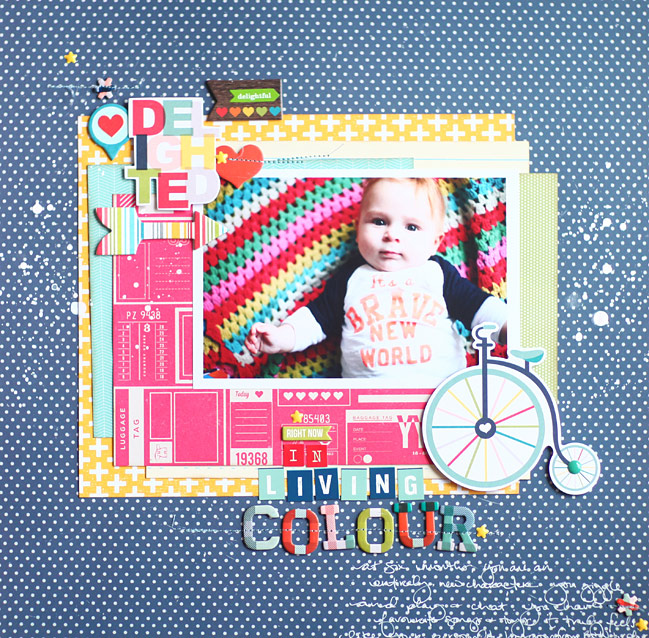 That song plus the blanket in the background of the photo set me in a spin of finding a rainbow of colour to use on a layout. There is a bit of True Stories on this page (in stores next month!) and also some Simple Stories Daily Grind, paper from my first 6×6 tablet, and that yellow sheet is an older Studio Calico paper.
I don't think I grabbed that particular blanket with a specific thought in mind at that moment, but once it was printed, something really came through that I wanted to tell, and that was how much Wonder Boy's personality changed around six months. Those first six months were pretty rough some days with a boy who seemed grumpy so much of the time, but once we were to the point where he could grab things and start to sit up, he was a bundle of happiness. I am sure much of that crabby personality was simply wanting to do things and not being able to do them, or however that translates to baby logic. I still wouldn't trade the days with him even when he was grumpy, but that colourful personality had me hook, line, and sinker. I'll take cheeky over subdued any day.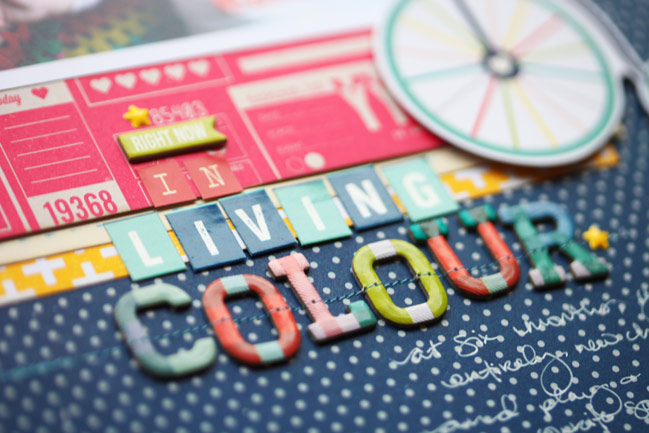 These days we play that incredibly catchy tune some time in the morning, with an amazing accompaniment of tambourine, maracas, and blown raspberries, so even with a quieter flat and some time to scrapbook, I found myself singing about that colourful man, proudly found at the rainbow's end. I suppose it is nearly St. Patrick's day, after all. Maybe that calls for a rainbow or two. I'll let you know if I find the corresponding pot o' gold.

Read more about: colour
11 March 2015

Next post: As it Happens :: An Autumn Scrapbook Page
Previous post: Cut, Stick, Stamp :: Card & Scrapbooking Ideas for a Teacup Stamp