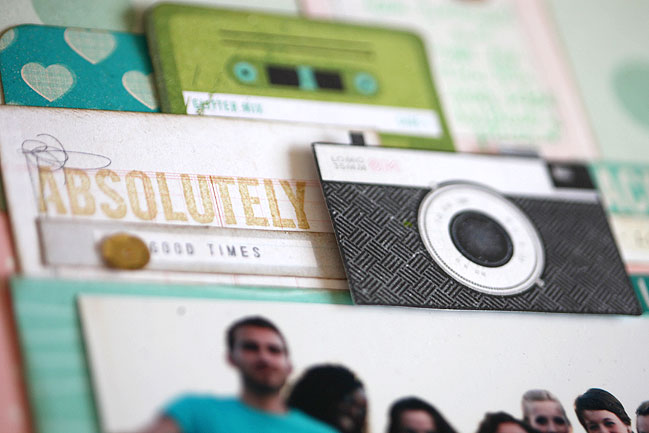 I've never scrapbooked my photos in chronological order. For the most part, that is how I choose to tell my stories within my albums, but as far as creating those pages, I need the freedom to jump from one thing to the next and back again. Last week I was reminded of just one of the reasons why.
Last week marked two years since the final day of the London 2012 Olympic Games, which was a pretty monumental evening in my life story. Not the most monumental, but in the list of all the nights, it comes pretty high. I've scrapbooked about it a fair bit.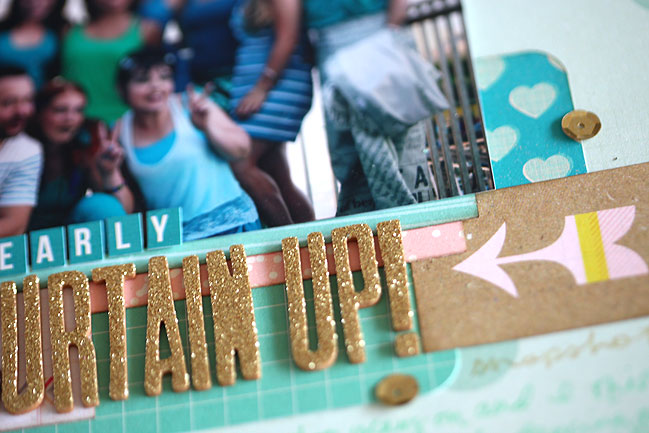 Yet with that second anniversary date on the calendar, it was what I wanted to reflect on, and I do that in scrapbook form. Maybe I just need to indulge my nostalgia some times. I have always missed this group of people since the end of our crazy rehearsal schedule. I still see some of them here and there, but never as a big group, and there is no way to recreate the atmosphere of spending twelve hour days in a tent in a rainstorm, wearing a plastic bag over your costume and comparing notes on the nutritional content of our meals provided by the Olympic sponsors.
Some things really stick in my mind with dates and others don't, so I love the Timehop app for reminding me of random things that happened on any particular day years ago. It shows me what I tweeted, Facebooked, or Instagrammed on that day going back through the years. (You can also set it up to work with your photo library if you don't post your pictures to social media sites.) Most of the time, I just take a second to look and smile at anything that was quite sweet, but sometimes it prompts me to email an old friend or dig out a photo and scrapbook with a happy heart.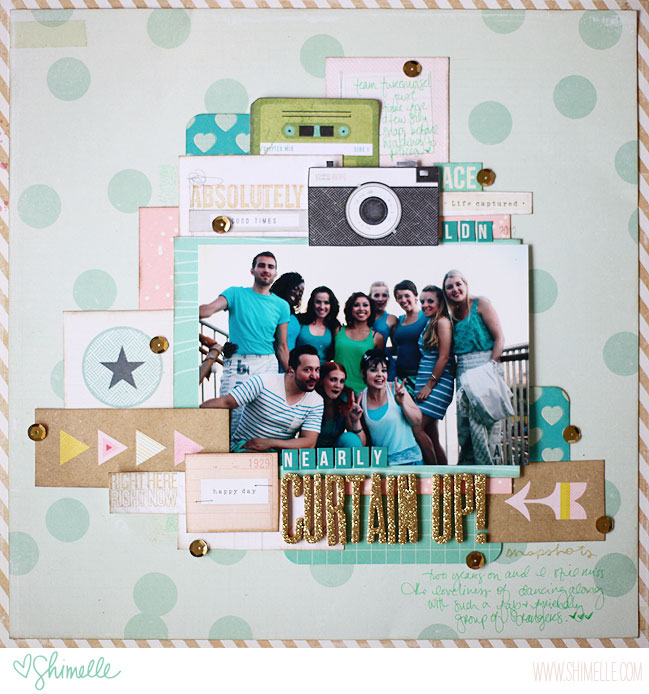 For this page, I worked with supplies from my own line mixed with the Notes and Things collection from Crate Paper, some gold sequins and a couple stamps from Studio Calico, and some little letter stickers from Simple Stories. Since the costumes for our team were all different shades of turquoise, from the blue end to the green and light to dark, I loved going through the papers, stickers, and die-cuts to find a similar effect in paper, then throwing it all together to frame one photo.
Fellow Timehop users: what were you doing this day in history? I hope it was something that makes you smile to remember.

Read more about: american-crafts
21 August 2014

Next post: Creating a layered mini album page:: A Scrapbooking tutorial by Stephanie Baxter
Previous post: Share your Style with Project Life