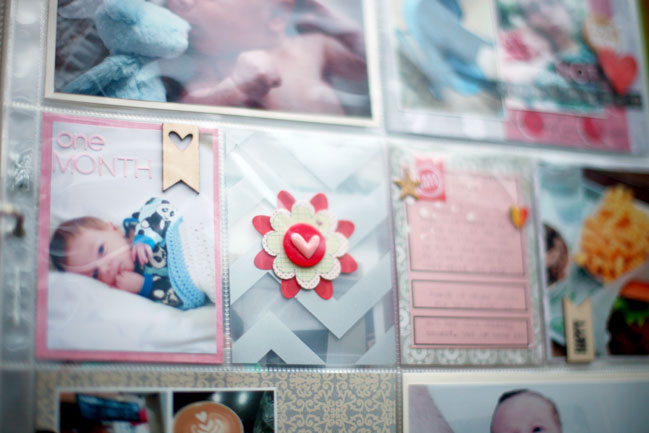 As slow as my workflow may be right now, I feel I'm starting to find my feet in terms of creating weekly Project Life layouts in my own style. It is definitely more of a challenge for me than a 12×12 page right now, but it's a good challenge and I enjoy that part of the process too, embracing a few things along the way that aren't how I imagined but grow on me with time.
Curious to how other, more established Project Life scrappers find their process and style, I asked three scrappers with differing approaches to share some of their work with you today, along with the latest completed spread in Wonder Boy's Project Life baby album.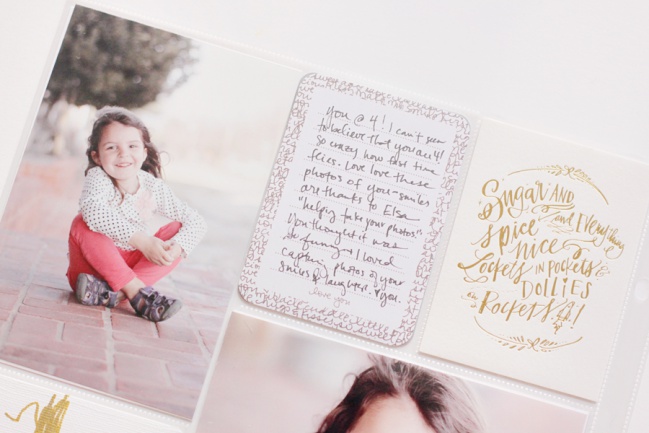 First up, a delicate entry from Annette Haring.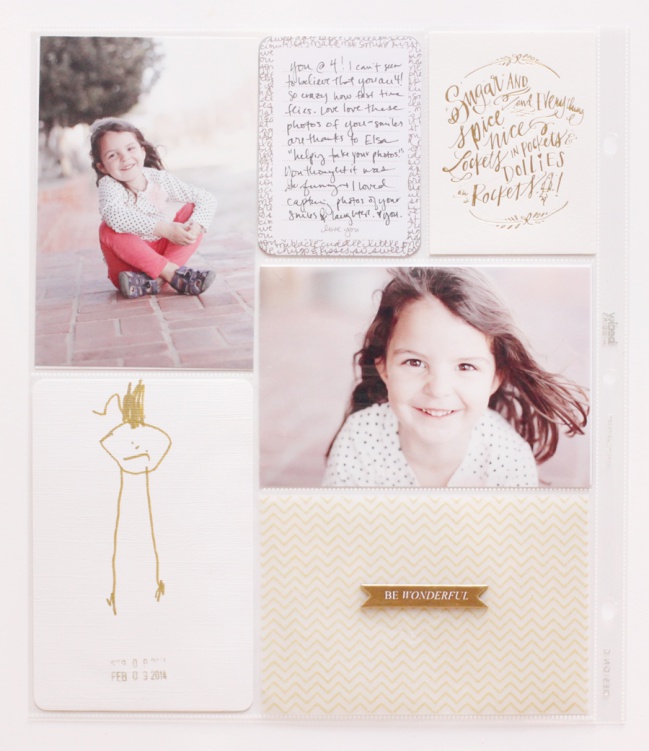 Annette says: I approach my Project Life® with a variety of techniques, depending on whether my focus is the photos, the story, or if there are products or colors that have inspired a page.
This example is an insert, using a Becky Higgins Project Life® Design G page protector, and it will fit in between my main left and right spreads, which are primarily smaller 3×4 iPhone photos using the Collect app. I knew I had these larger 4×6 photos I had taken of my girl around her 4th birthday, and I wanted to simply highlight them. So I started with the photos, then added a "self portrait" that she had drawn with a gold pen. That led to me choosing more gold in the papers and product, and I adore that cute Lindsay Letters gold card! I love the repetition of the gold and the use of single embellishment to keep the focal point on the photos. I finished it off with a little journaling on a card from the Project Life ® Baby Kit by Becky Higgins, because I love the personal touch of adding just a little handwritten sentiment.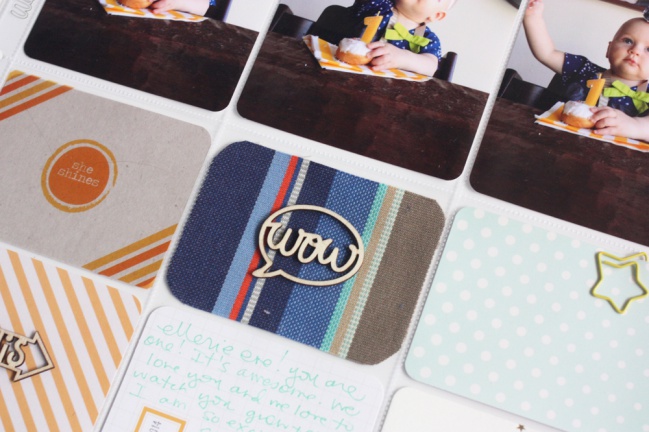 Elise Blaha Cripe has recently made changes to keep her process achievable and her album relevant to her family.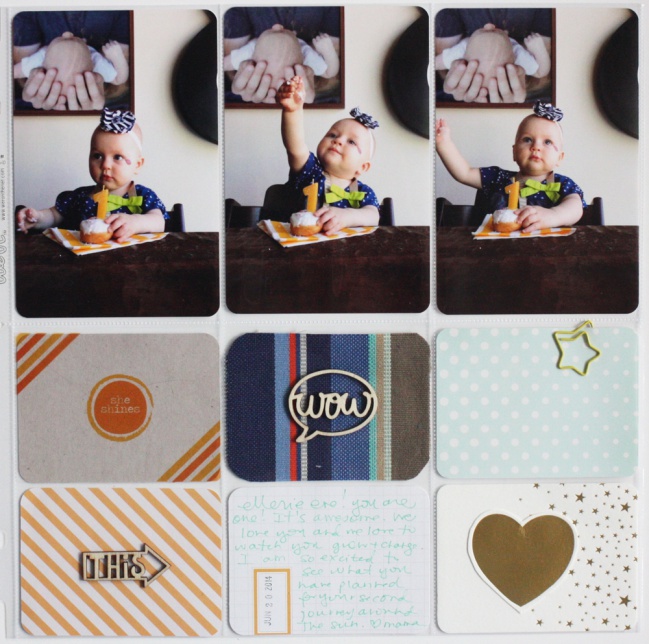 Elise says: I have switched up my Project Life process this year as life has become busier! My focus is on getting my favorite photos into our albums and that's it. Because of this, I tend to start with the photos and then pick 3×4 cards and small embellishments that match in color and tone. I don't do a lot of "extra" embellishing and my style leans toward simple for sure.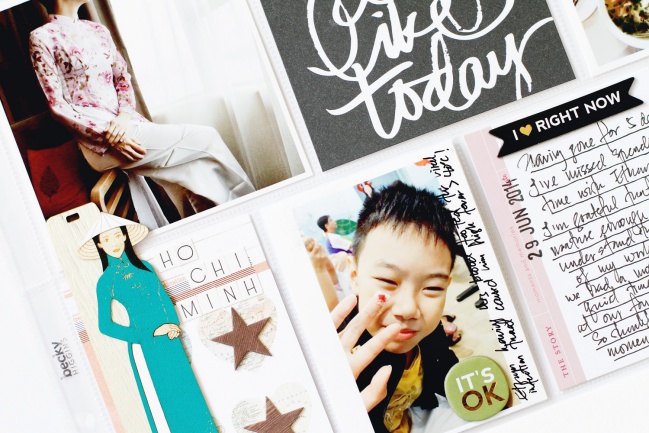 Leena Loh has a beautifully detailed Project Life style.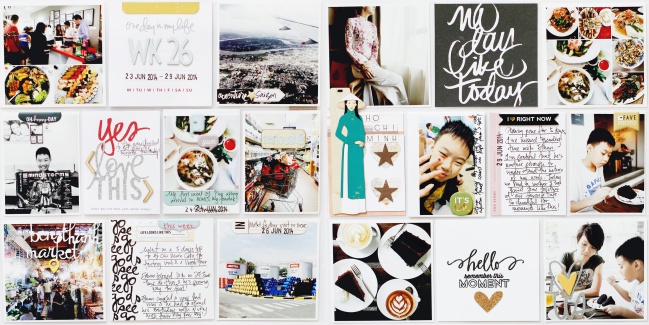 Leena says: I'm now into my third year of Project Life and I have to say I'm still loving it! I wouldn't say the same when I first started back in 2012, where I failed miserably in completing the year. Since then, I've learned and finally discovered my own style and picked up a number of routines that got me going throughout the second year successfully. I got into the groove and I'm definitely enjoying the memory-keeping journey. I have a fixed routine that I follow diligently every week. I would spend an hour over the weekend, usually on a Sunday, to upload all my photos taken for the week with my phone onto my MacBook, transfer them into my Project Life folder that I labeled by week and print them right away on my home printer. They would then go into my 12×12 protector. Thereafter I would pick my Project Life cards, insert them and finished off with some embellishments and journaling. I especially love using white or light base Project Life cards as they make my photos and embellishments stands out. My color selection would fall into places naturally as I don't particularly coordinate my spread base on color theme. I just pick the cards based on the story of photos instead. This routine has helped me stay current and allowing me to enjoy every bit of documenting my day to day life!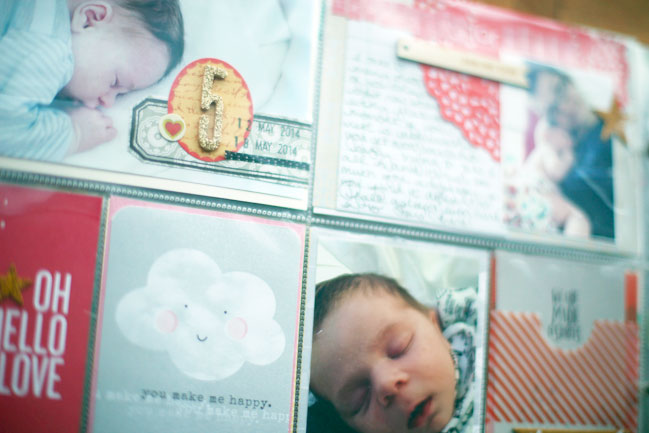 And here is week five for my current album.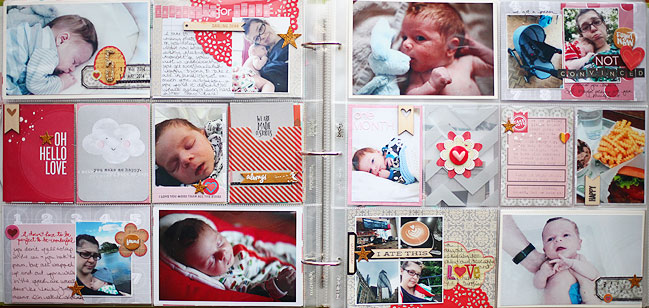 There are a few things that are starting to really endear me to this project, and they are coming from more freedom that I expected. When I started this album, I shared how I was using a few consistent things in each spread, thinking that would keep the layouts coming together relatively quickly because it would take out a few time-consuming decisions, and that is true, but I'm also embracing a freedom to use any supplies I love rather than just what is absolutely current. My favourite part of this project is looking at all the baby photos, of course, but the next thing in line is picking out all sorts of paper and crafty elements to mix and match together to create a new layout. For this week, I started with some elements from the Penny Arcade Studio Calico kit, but added in some old favourites too: Hambly and Sassafras. I may have muttered 'I'm bringing Sassa back' when I was picking out some stickers, because I really am that uncool.
The other thing I'm finding I really enjoy is the opportunity to tell a story that isn't just 'here's what happened this week in chronological order', but to focus on one element and get more in depth. The entire left page of this spread is about sleep. Seriously, it was such a big deal, I could write way more about it than one page, but this will do. I write this now, where we are at a much better place with sleep, but that particular week was a real, real challenge. Including the dread that some of you will no doubt notice in the top left: what do you do when the only position your baby will sleep in for more than ten minutes is the position you are never meant to let your baby sleep? Anyway, I'm getting off topic here, but the idea that I can say that side is going to be all about one specific topic and fit the rest of the week on the other side – that concept is something I'm really enjoying and I'm even planning ahead now taking multiple photos on one topic when I start to realise I have plenty to share.
And over to you… For those of you who scrapbook in this format, what do you find helps you love this project? What makes your album a little more you? I'd love you to share your thoughts.
| | | |
| --- | --- | --- |
| Annette Haring lives near Austin, Texas, with her husband and their four year old daughter. She has been scrapbooking since childhood, when she loved adding memorabilia and photos to her journal. She loves to learn and to teach others and has recently been a contributing teacher to Project Life Lessons at Big Picture Classes, a contributing author to the eBook Project Dig Deep by Ella Publishing/Big Picture Classes, and has been on the Elle's Studio design team. She shares her work on Instagram as well as her blog. | | |
| | | |
| --- | --- | --- |
| Elise Blaha Cripe is a blogger, crafter and business owner who lives in San Diego, California with her husband and one-year-old daughter. She designed the Seafoam Edition Project Life Core Kit and shares her pages as part of the creative team at Studio Calico. | | |
| | | |
| --- | --- | --- |
| Leena lives in Singapore and first started scrapbooking in 2007. Since then, she has been doing traditional layouts for about five years and made a switch to Project Life two years ago. Leena is currently on the Studio Calico Project Life design team. You can also find Leena on her personal blog Findingnana and Instagram where you can see her snippets of life on a daily basis. | | |

Read more about:
20 August 2014

Next post: Why I can't scrapbook in chronological order
Previous post: Flower Embellishments:: A Scrapbooking tutorial by Gretchen Mcelveen