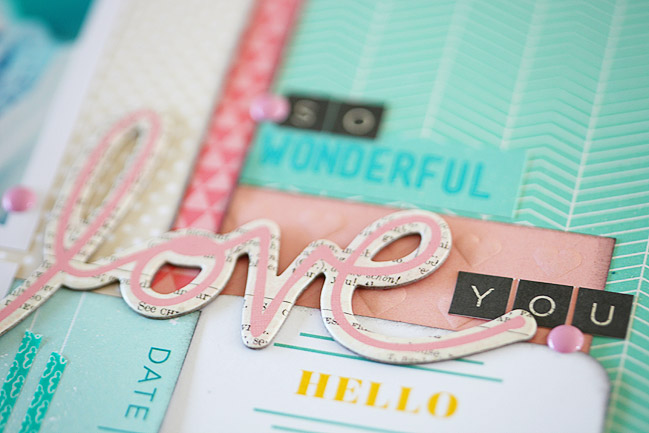 Actually, the words 'birth story' make my skin crawl a little bit and I can't put my finger on why. My best guess is because in the last few months of pregnancy, I suddenly read so many birth stories and like anything else in the world, they run to extremes. Some were beautifully written and compassionate, no matter what did and did not go to plan. Others resembled a horror movie and some were devoid of all emotion entirely. For a while it became my answer to reality TV: pick a story and click and see if it would make me excited, nervous, or confused. Do I have any idea my mind thought that was a good idea? Not really. Not at all.
But of course I eventually got to a point where in theory I had my own story and for me, stories go in scrapbooks. What struck me when reading is how there are so many birth stories told all in one go, essentially a chronological narrative from the first twinge to meeting baby, and that often made for long and somewhat tedious stories that lost the best bits of storytelling. My aim is not to write one long piece of work under the birth story heading, but to break it up into different pieces, telling the story across a series of scrapbook pages, allowing for pace and reflection and a focus on the things I really want to remember rather than just a timeline of contractions. Though Wonder Boy really took his time to arrive, there is a lot of humour of those days that is dear to my heart. We were at a hospital on the Thames near Waterloo station and we kept singing Waterloo Sunset but couldn't remember most of the words though I could usually tell you the lyrics to that backward and forward. At one point I needed to move and get some fresh air so we walked back and forth across Westminster Bridge, which was closed for the London Marathon. I had to stop every few steps to brace myself and the bridge was filled with spectators watching the race, so at one point I was convinced someone had just instagrammed a picture of me with the caption 'someone is in labour at the marathon'. And even a few weeks later I was able to have a big laugh with the instructor of our birthing class, who had started one session by saying 'If you meet someone and they say they were in labour for forty-eight hours, that's not completely true', explaining that bit about how the hours of early labour don't really count and the active stages tend to be significantly quicker. I can't debunk her quote entirely, but my discharge papers break down the active labour time and my total was forty-seven hours and forty-two minutes, so I guess I did my best to try to prove her wrong!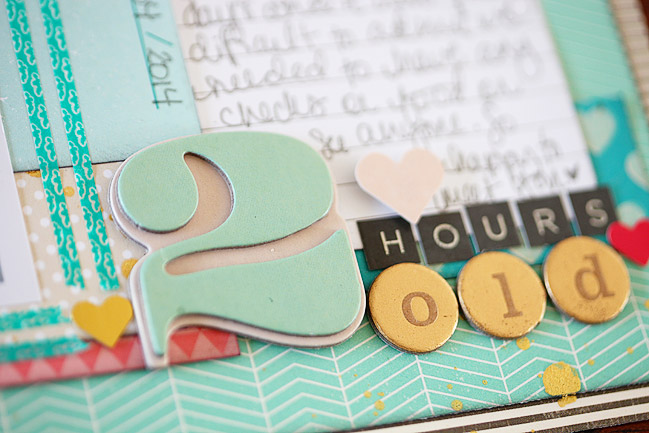 There is something else in my scrapbooking process that makes telling this story a bit of a different exercise and that is that I have no intention of actually writing it in order or all in one time span. I'm using my personal standard for scrapbook storytelling: I have a notebook where I jot random things down and another book where I draft longer pieces of writing if I want to get my thoughts in order before I start writing on the page. From there, I have ideas for a few different pages to help this story come together, and I use that to look at my photo library and see how the two can match up.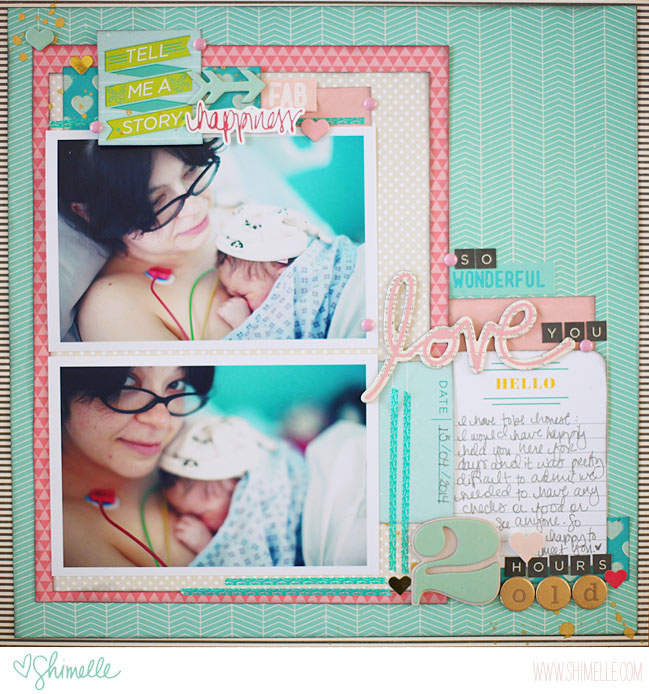 This page is the first under that heading and I wanted to start pretty simply as a bit of a warm up. Partly because scrapping less for the last few months makes me doubt myself as I paste pretty paper to other pretty paper, partly because I'm still adjusting to the work flow of creating a page with plenty of interruptions rather than a solid block of creative time, and partly because I don't like diving into the most weighty writing first. I always find I tell the story better if I start simply and find my feet before I work on something that feels more important.
Most everything here is from my own collection, but I added in just a few little extras – some Doodlebug enamel dots, thin turquoise washi tape from the Amy Tangerine Plus One collection, and the gold mist and the chipboard 'love', hearts, and arrow are from Heidi Swapp's line. And this page includes some pieces from the 'Lovely' Project Life edition, which coordinates with my line. From the top left, the turquoise hearts, pale pink with embossed hearts, aqua date, and white hello are all 3×4 cards in that kit, which includes cards with dry embossing and gold foil. (By the way, I'm continuing to update this post with shops that have the collection in stock.)
And a big yay from me to The Boy, who was with it enough after those forty-seven hours and forty-two minutes to snap these photos of Wonder Boy and I. They are something I never imagined in my photo library and definitely in that 'what do you grab from a burning building' category to me.

Read more about: american-crafts
05 August 2014

Next post: Creative layouts featuring Large Photos:: A Scrapbooking tutorial by Naomi Atkins
Previous post: Techniques with Ink Refillers:: A Scrapbooking Tutorial by Natalie Elphinstone