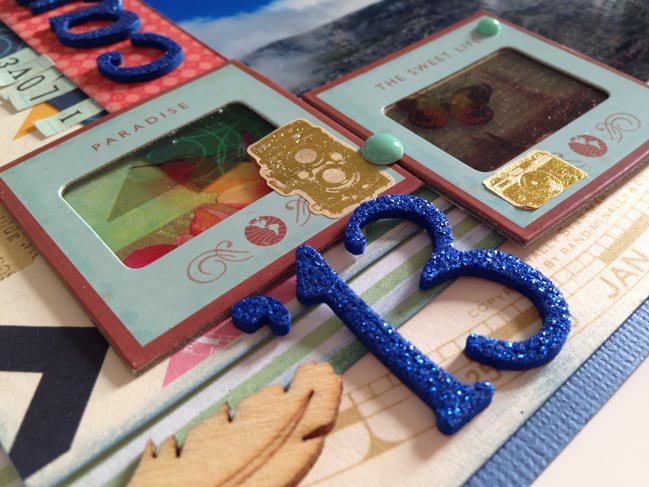 Whilst I'm taking some time away from ye olde internets on maternity leave, I've arranged for some friends to help keep the scrappiness going. That includes a weekly challenge, and I hope you'll join in! Every Monday for the next several weeks, Relly will take you through an idea for making your own scrapbook page, and you can share it with us. There are some small prizes to share too, but of course we mostly hope you'll enjoy the challenges as a way to think of new and meaningful layouts for your albums! I think that covers everything – so take it away, Relly!
I've started this challenge adventure by looking through the shimelle.com archives and choosing some new twists on old challenges. It's always fun to look through another scrapbooker's album and I often feel super inspired to try stuff out that's different from my own style, but also somewhat different from the layout I was inspired by too. I hope you'll play along. I started with this layout from Shimelle's backpacking album: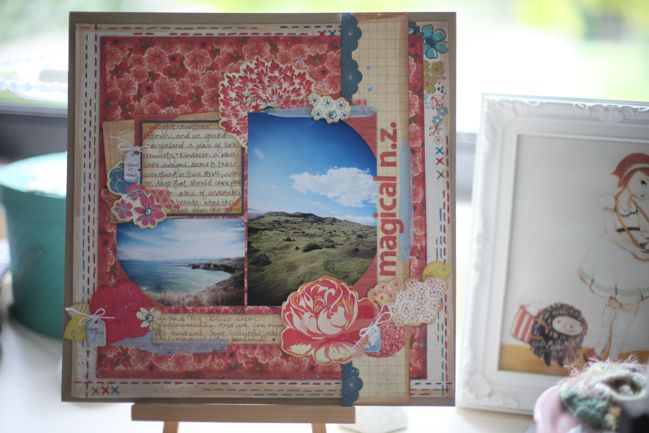 Page inspired by this sketch from the Sassafras blog.
This week I wanted to revisit this post by Shimelle about journaling about places. I'm a big list writer, especially when I travel, but I wanted to create a layout to highlight a particular detail I remember from previous trips to Cape Town – the delphine blue sky and aqua seas.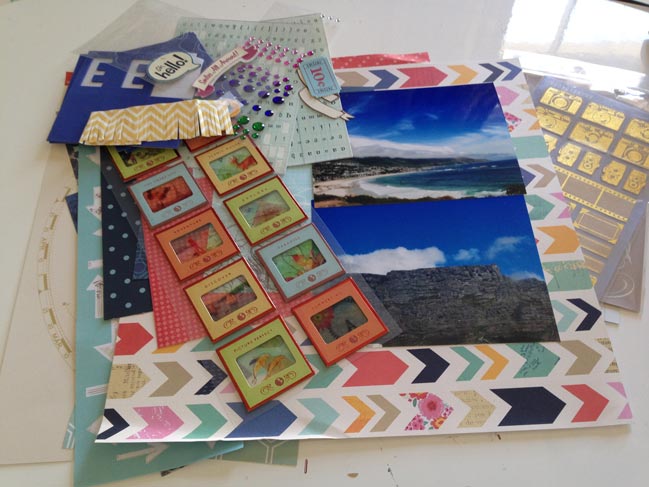 I pulled out a couple of photos that captured this colour combination. I then went to my stash to find some card stock and lettering that echoed that deeper blue and patterned paper to echo and contrast the blue and aqua. Next, I cut a big piece of ledger paper and wrote my journalling to make sure I had enough space for what I wanted to say. I inked and layered the papers, finishing with some ink and embellishment and just a little touch of gold.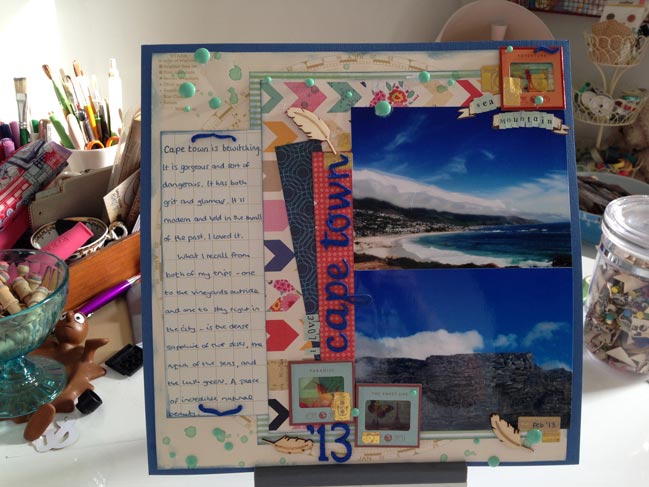 Your challenge for this week is to journal about a detail – of somewhere you have been, or a person, or an event, anything really! Be extravagant and dedicate a whole layout to a little something you love. In terms of design, you might take inspiration from these two pages with lots of layers and including ledger paper, or you might have another idea entirely!
Add the link to your layout below, and one lucky scrapbooker will win a little something we love to say thanks!

Read more about:
14 April 2014

Next post: Scrapbooking without a hint of patterned paper:: A Scrapbooking Tutorial by May Flaum
Previous post: Best of Both Worlds: My Scrapbooking Product Picks for April 2014