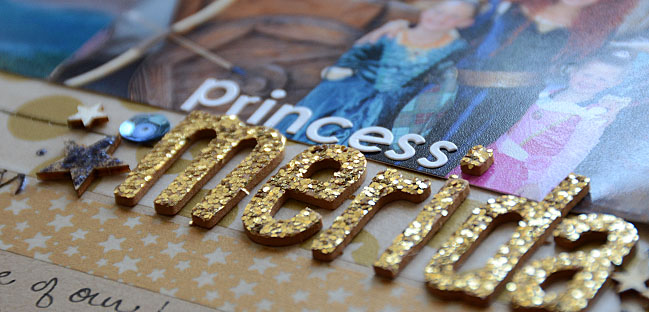 There are those who say patterned paper is a great way to start any layout. I'm not one of them.
Hey guys – May Flaum here and while I don't in fact dispute the awesomeness of patterned paper, I would like to argue that in fact skipping patterned paper altogether can be a fun, satisfying, and downright fantastic way to scrapbook as well. Today I will share with you my how-to for scrapbooking without a hint of patterned paper.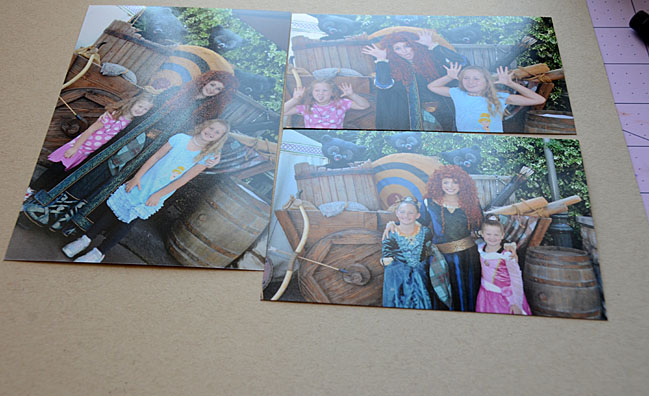 The first step is to identify the story you want to tell. When I look through photos searching for the next subject to scrapbook, I always lay them on a sheet of kraft cardstock. Sometimes I find another color, sometimes I stay with kraft. In this instance I like how the wood, stone, and dark blues in the photos look with kraft so I will keep it. Other light or neutral cardstock colors would also be good choices for this style of layout.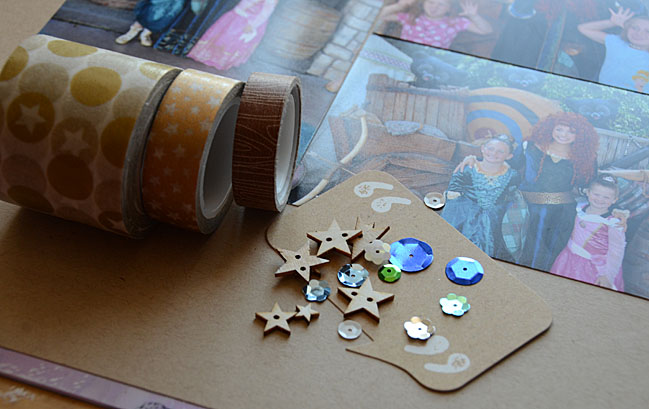 The next step is to gather embellishments that compliment my photos and that may prove useful to my layout. I am looking for things like washi tape, ribbon, buttons, and stickers. If I had a background stamp or ink I wished to use – this would be a good time to gather it near. The important thing to remember is that you are not yet committing to using these things, you're just gathering some options.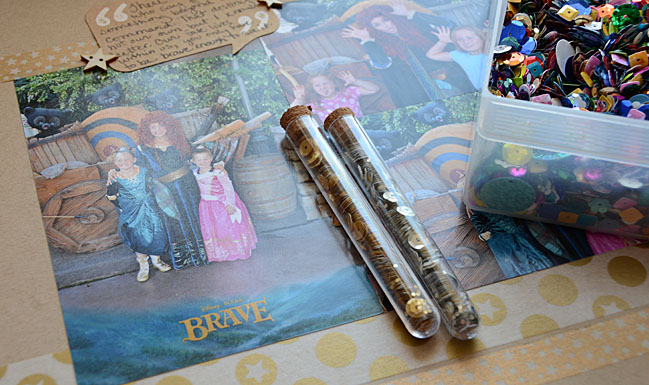 I like to start with some bigger items – this would be a good time for background stamping, misting, and otherwise adding color or pattern to your layout base. Because my photos are quite busy I decided to use a few strategic strips of washi tape. Once I adhered the tape and my photos, I went on the hunt to select accents that would add color and texture to my page.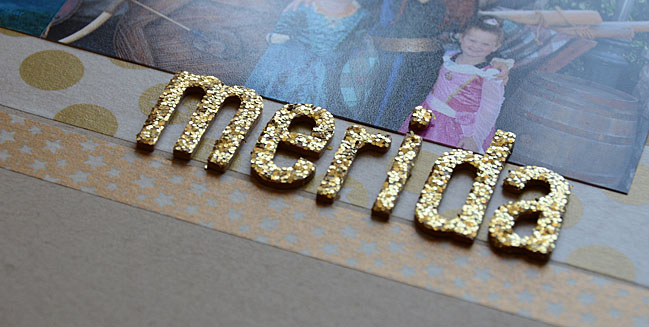 This included in my case wood stars, sequins, and glittery hearts. I can't seem to help myself – I do so love sparkly things!
The final step was to add more contrast. For my page, there was a lot of gold and kraft and not a lot of color. I decided black thread for stitching would add a good pop of darkness, and still let my blue sequins shine brightly on my finished page.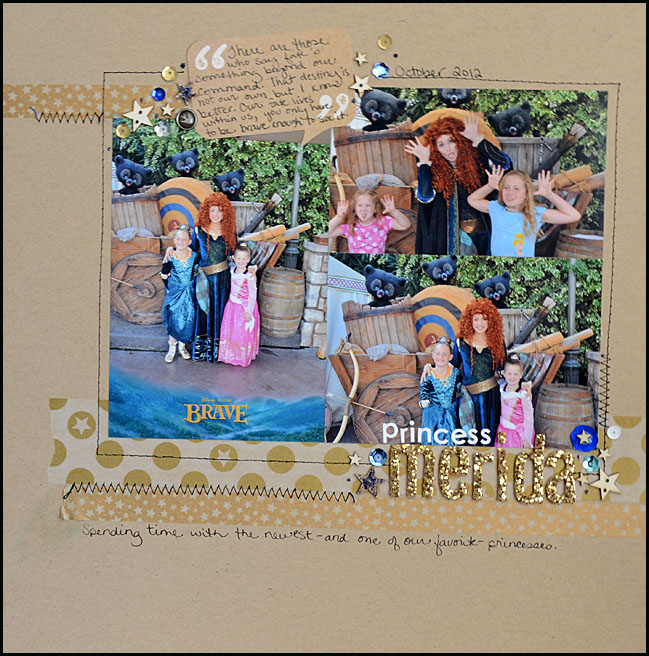 Here is my finished page – and I must tell you I just love how it came out! Thanks to all the little details, the bold photos, and my washi tape I don't even notice that patterned paper is missing. I really had fun creating this layout and making something that will fit into my Disneyland album without even a single themed embellishment.
While I relied on wood veneer accents, washi tape, stitching, and sequins for my layout you have lots of options! Here are a few of my favorites that I like to use on my (many) patterned paper free layouts:
Stamps, mist, ink, stickers, doilies, tags, brads, buttons and die cuts.
With so many fun items to choose from, I love the challenge of going without something that is usually a staple. I hope you've enjoyed my tutorial today – I wish you very happy crafting!
| | |
| --- | --- |
| When it comes to crafting May Flaum has one rule: it's gotta make her happy. She's not afraid to get super grungy or work with bright colors, dabble in lace and doilies then make something more splattered and wild. If she's not in her studio (aka 'the bat cave') then she's probably out running around having fun with her family or cooking up a storm. May has been working in the Scrapbooking industry for a decade and currently blogs her crafty adventures, teaches online classes, and works with amazing companies sharing her projects and ideas. She just launched her own on-line craft class website where she's hard at work on her next fun idea. If she has one piece of advice to share, it's always to be true to your creative heart. | |

Read more about:
15 April 2014

Next post: Weekly Scrapbook Challenge:: Scrapbook Starting Point
Previous post: Weekly Scrapbook Challenge:: Journal about Places