What appears on my work desk? Plenty of crafty stuff – paper, paint, adhesives, mists, ink… and a notebook and pens. Because it's not uncommon for me to draft my journaling on paper first, to get an idea for what I want to say and how I want to say it. Some pages work best with the devil-may-care attitude of 'I'll just write until the space runs out' but there are so many times when I'd prefer to know what words I want to use first so I can be sure to include that space in my page design. So I jot notes, I write drafts and I edit in my notebook until I get something that seems purposeful to me. Today, my notebook and I have a new five ideas to share: five ideas for journaling about places. Because lately, that's been a pretty big topic in my writing. In case you hadn't noticed. But these ideas can be adapted to other topics too, so feel free to grab your notebook and pretty pens even if you haven't been away from home for quite some time.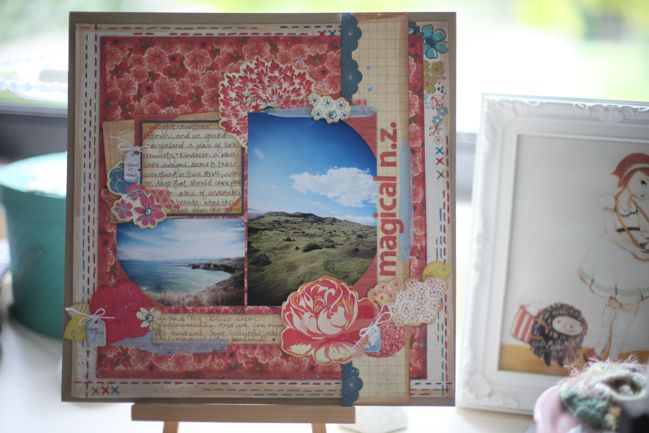 Page inspired by this sketch from the Sassafras blog.
Take something simple and repeat it three times
Repetition is such a powerful device from something so very, very simple. It's the reason why we remember advertising catchphrases for years. It's the reason why remember the chorus to a song we never tried to memorise. And it's the reason some smooth speakers can have you believing in their cause in about sixty seconds – because taking something simple and saying it three times with a bit of alteration is the perfect way to deliver information to the brain. It's a beautifully simple way to write about a memorable destination. Think of a place right now and jot this down in your notebook:
The place where…
The place where…
And the place where…
Now fill in the blanks. There must be three different things you remember about that particular location. Think of different things you might have experienced: how did you find the nature of the people there? What did it look like? How did it make you feel? Then have a look at your group of three things. Does this stand alone and create the full memory for you? Or do you want to add more text to this and include the three things at the beginning, middle or end of a longer piece of writing? Or if you're feeling particularly verbose, expand each of the three things and you'll have three full paragraphs that each start with the same phrase, combining to really tell the reader so much about your experience there.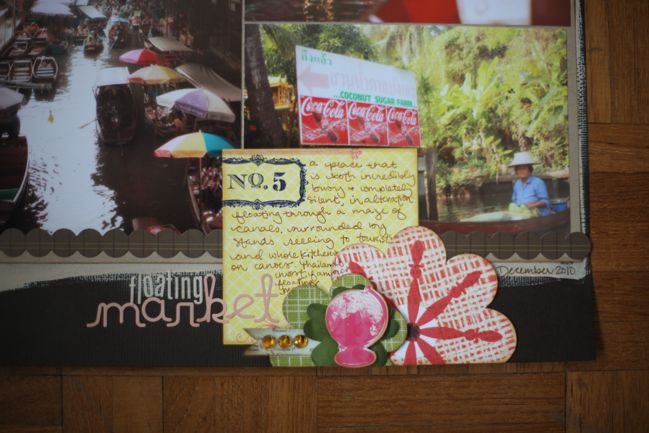 layout ©twopeasinabucket.com. Click here for full page and supplies.
List what you observed
If you just froze when I mentioned the idea of paragraphs, relax. For some reason, paragraphs intimidate some writers and really there's no need. Paragraphs are just a collection of smaller thoughts with a common theme. They are a folder or a container to keep things organised. And we all know sometimes the stuff comes before the storage. Words and phrases and ideas can come way before paragraphs too.
Grab your notebook and think back to a place you have been. Look at a photo to refresh your memory, perhaps. List things you remember as they come to your mind. This is just to gather your thoughts, so don't censor what you write down – just try to sort different memories into words and phrases. On this page about the floating market in Thailand, I started with lots of different words in my notebook, and then took them one step further to give them balance. I found the things I remembered could be phrased in the same way: with actions and positions. (If you love grammar speak, I mean verbs followed by prepositional phrases, but there's no need to be a grammar purist to use this technique yourself.)
Floating through a maze
Surrounded by stands
Selling to tourists
See how each of these has a similar set up – something active at the beginning then visual information. (Purists, you'll notice these aren't completely the same construction – I love the flexibility in finding something that is pretty close rather than feeling bound by a formula. It should help, not leave you stuck, right?) Finding a pattern for your lists can give them polish and even make them a bit poetic! In fact, one of the poetry exercises I used to work on with my students at school is pretty worthwhile for scrapbookers too. Think of a memory and write a list of -ing words (and then feel really cool and call them gerunds if accurate terminology makes your day). Then go through the list a second time and add one more word before or after each gerund. Just one word is fine, unless a word inspires you to write more. You can use that list on its own as your journaling or add more detail to this for your scrapbook page. Don't be afraid to try new formats that don't sound like a news report of the event. There is nothing wrong with something a bit more lyrical!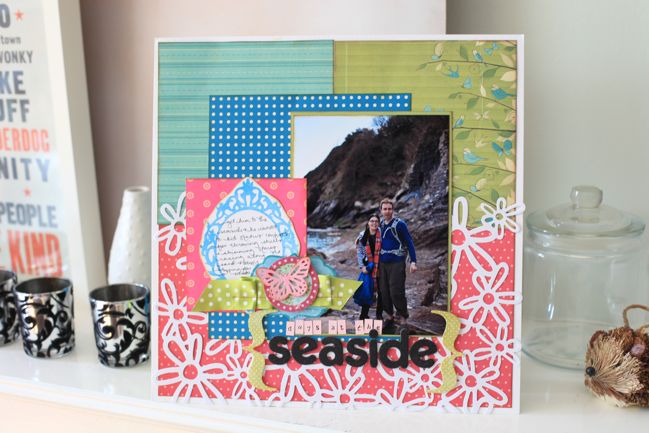 Depend on pronouns
A little secret for you: one of my very favourite ways to write is anything that would make my seventh grade English teacher squirm. Specifically seventh grade with Miss Parks. Not that I didn't get along with Miss Parks! Actually she taught me very, very much. But she also liked to play by the rules. I think I actually memorised the text book that year. At the end of the year, I could recite the rules of grammar and I was pretty darn quick with the red pen. I am forever thankful for her insistence upon learning those rules by rote because a few years later I realised just how much fun it was to break them. On purpose. And I always imagined this would make Miss Parks squirm. Depending on pronouns is one of those squirm-worthy things.
A pronoun is a word that replaces another noun – often a name. He, she, it, them – all pronouns. Words we use all the time without thinking about it. But we also know that a conversation that depends on pronouns could be very confusing. We use names and other nouns to make it clear who he, she and it may be. On a scrapbook page, we have something else to help: photographs. If you have a picture with only one male, one would assume the 'he' in your accompanying writing is that person, right? Likewise for she, it or them. Therein lies a little trick that can really focus the emphasis of your writing and make my seventh grade English teacher squirm. Seriously, everyone wins!
This scrapbook page lives in our 2009 album and it's most definitely not the only photo of The Boy and I. By the time you get to this page, you'll know who we both are. In fact, you'll also know where we are because a few pages before explain that we took a week to stay in a little converted church in Cornwall, going on long coastal walks with The Boy's extended family. I didn't need to repeat all that here – I could focus on another aspect of the story. By starting with Get him to the seaside, I could focus on how the location affects his demeanour. Throughout all the journaling, I never named him nor the particular place. Instead, all those references to what 'he' says or does or feels are a bit more detached. Almost like observing something scientifically, but also a bit rebellious. A bit aware that it's breaking the rules, but knowing that it puts the focus on the other words, which changes their emphasis. If this technique seems a little awkward, grab your notebook and write a few sentences that just retell what happened at one particular place. Write it just how you would ordinarily. Then go back and cross out all the names and replace them with he, she, it, they or any other appropriate pronouns. Read it back and see how it has changed the sound of your story.
By the way, this is probably another reason why I love organising my pages chronologically: it helps tell the story from one page to the next, even when those pages aren't created at the same time.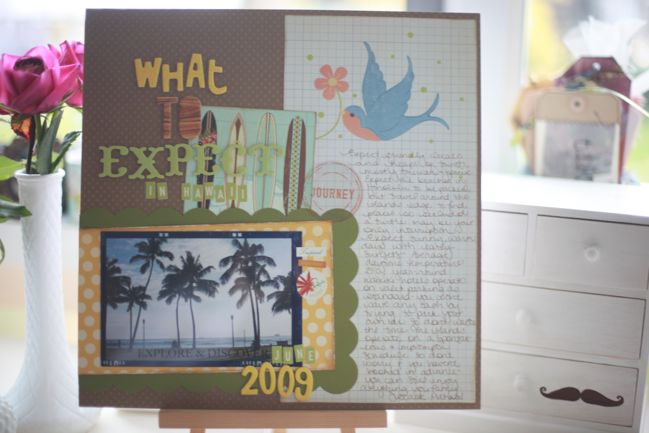 Redefine your audience
When you journal on your scrapbook page, to whom do you usually feel you are writing? Who is the intended reader? Do you feel you're writing to yourself, your children, future generations or some unknown reader that could be anyone? There is no right answer here – I just think it's worth considering. And worth changing sometimes! So take a very specific audience and write to them. In this case, instead of writing to some mystery individual who is interested in our life story, I wrote to a specific mystery individual, traveling to Hawaii. The resulting journaling covers things to expect on their visit, which was helpful in rounding up a bunch of random thoughts I wanted to include in the story of this adventure. I mean really: how much might I actually have to say about a photo of palm trees? And I have a great deal of those! Where else would a bunch of palm tree photos not be out of place? In a tourist guide to Hawaii! So that's how I found my new, imagined reader for this particular page.
Other ways you could redefine your audience include writing an instruction manual for how to pack your suitcase, an annotated set of directions for a road trip or a note to the staff of the amazing cafe you discovered on your travels. Will any of those audiences actually read what you write? Probably not. But it will tell a very different angle of the story and your 'real' reader will understand you fully. And quite likely appreciate the different perspective you've recorded.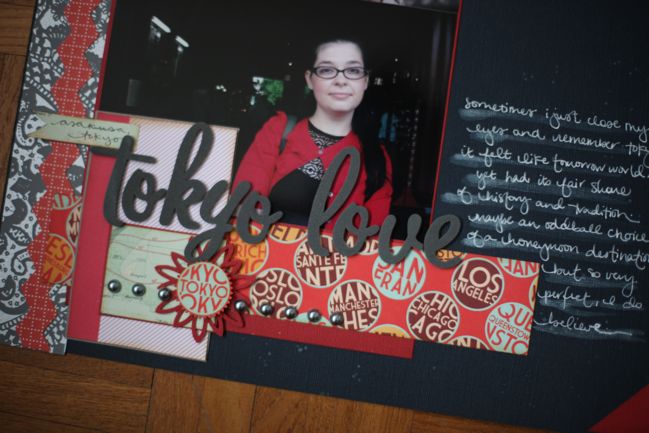 See this post for full page.
Admit a change in perspective
Which brings us to perspective indeed. Scrapbooking is by and large a case of nostalgia. We retell memories. Aside from a few projects wherein we write about goals, dreams and plan, we write about what has already happened. We don't even do that very promptly sometimes. We have photos that are months or years old and when it comes to writing the journaling, we sometimes pretend that we wrote the words at the same time we took the photo. No one needs to know that there might be a big gap between photo and words. That's a perfectly valid technique and something I do throughout my albums. But I also like to admit the gap from time to time.
Take the photo that is months or years old and grab your notebook once more. Write from the perspective of now and how that place changed you or how you are grateful for what you learned and experienced while you were there. What memories have really stuck with you? What makes you want to go back? Or stay away? I often find when somewhere I've been and loved ends up in the headlines, there is some sort of emotional link that's triggered. The financial crisis in Iceland, the earthquake in Japan and the tornado in Missouri all had tugged a bit more at my emotions than similar disasters in places I've never been. Not that I'm heartless about what happens in the places I haven't seen – just that there is simple little connection to the places we have known and loved. It doesn't have to be anything big like that either – a particular memory might just be on your mind due to an anniversary on the calendar, a friend going to visit the same place or even a dream. If you feel reflective, write it as such and use phrases that make that clear – sometimes I remember, I wish I could go back to and something that has stuck with me are all really easy ways into reflecting on a particular memory.
There is no wrong way to tell your story, and it's not about writing a lot versus a little. But when a non-scrapbooker dismisses scrapbooking as 'just' pretty paper, this is the part that makes everything a little more significant for me. I love photos, I love pretty paper but I really believe my most important pages are those that start with my notebook and a pen rather than my favourite stamp, a beautiful paper or maybe even a favourite photo. That might go a little way in explaining the entire reason why I call my blog pretty paper, true stories.
If you want to focus more on what you write in your scrapbooks, you might consider True Stories. It's an online workshop I ran last year, but you can sign up at any time and have permanent access to all the class materials so you can follow along at your own pace.
xlovesx

Read more about:
17 June 2011

Next post: Scrapbooking Giveaway Day
Previous post: Scrapbooking sketch of the week