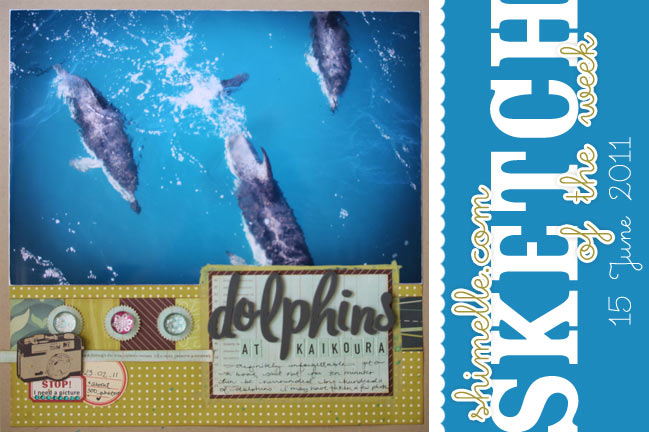 A few little things came to mind last week while I was sorting albums – thoughts about handwriting but also thoughts about the size of the photos I use. I adore my 4×6 photos and the majority of my pages include that size, but I love the variety that an oversized picture can bring to the story. Larger pictures are great for adding contrast to an album and the pages come together very quickly. I really like enlargements for pages that become the start of a section of an album, and the day we spent with about four hundred dolphins? I may have taken enough photos to make it become a definite section of the album! (For the adventure-curious, The Boy swam with them and I took pictures from the boat. Worked perfectly!)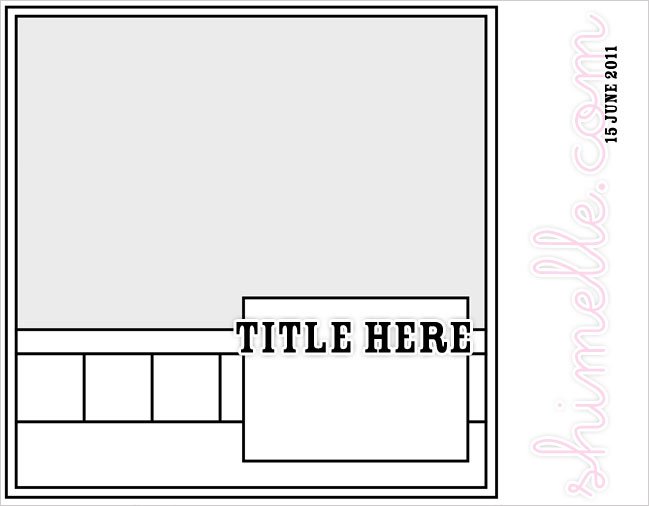 This sketch looks very plain, but I wanted to include this version here as it's what I started with to create my page. Once I had followed everything that is here, I decided I needed more and added a cluster of embellishment to the bottom left, a small stamped border and three circular embellishments on the line of squares. You can stick to the original sketch, follow my adaptations or add your own extras. Here's a look at how I created this week's page:
As always, the weekly sketch is no-stress and just for fun! If you use it, I'd love to see, so please leave a link to share.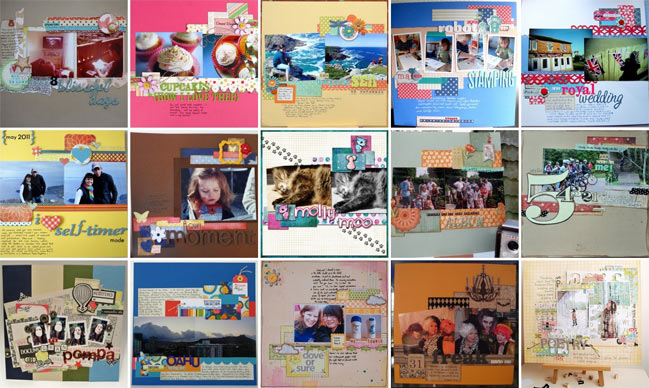 There were so many fab pages submitted last week – it was certainly the most difficult week yet to pick favourites! Here are fifteen standouts – click any of the links below to see the pages in more detail and meet the scrappers who created them. (And click back to last week's sketch for even more pages!)
Top row, L to R: one, two, three, four, five.
Middle row, L to R: six, seven, eight, nine, ten.
Bottom row, L to R: eleven, twelve, thirteen, fourteen and fifteen.
xlovesx

Read more about: sketch-of-the-week
15 June 2011

Next post: Five ideas for scrapbook journaling about places
Previous post: Scrapbookers, what's inspiring you?