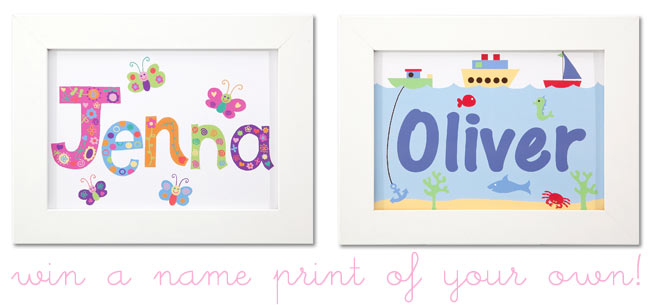 This weekend, one commenter will win a name print (with the name of your choice) from Clarkie Designs.
Clarkie Designs is the art studio of Emma Rogerson, who loves creating unique and affordable wall art for children and babies. She started Clarkie Designs when she couldn't find any wall art she loved for her own children's bedrooms. So she designed and made her own, first for her son and two years later for her daughter. It was only as they started to grow up and notice their surroundings that Emma realised how stimulating and exciting wall art can be for children. Emma reports, "My little boy loved to point out his pictures and as he grew bigger he tried to say the words. He still likes to comment on my designs!"
All Emma's pictures are either hand cut collages or fun, original prints. Included in the range are personalised names and initials as well as mini framed prints ideal to hang on bedroom doors. They all make great presents, both for children's birthdays, christenings and new arrivals. Click here to visit Clarkie Designs and have a look for yourself.
To enter, just leave a comment on this post. If you could have any name, what would you call yourself?
Entries close at midnight Sunday UK time and the winner will be posted Monday evening, so be sure to check back to see if it's your lucky day!
Good luck!
xlovesx

Read more about: giveaways
17 June 2011

Next post: Adventure Scrapbooking :: a travel journal ready for the road
Previous post: Five ideas for scrapbook journaling about places