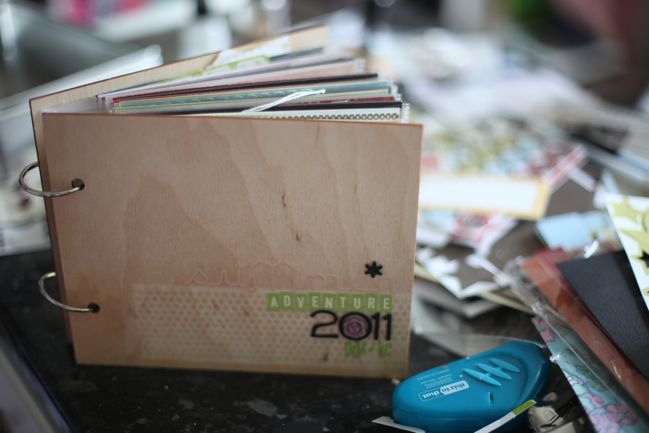 I'm heading out tomorrow for a little adventure. Small scale this time – just two stops and two weeks. Since I am checking a bag, I can take scissors. Scissors and a little travel journal to scrapbook a bit about each day for the next fortnight. (And thus, my desk is currently a total wreck.)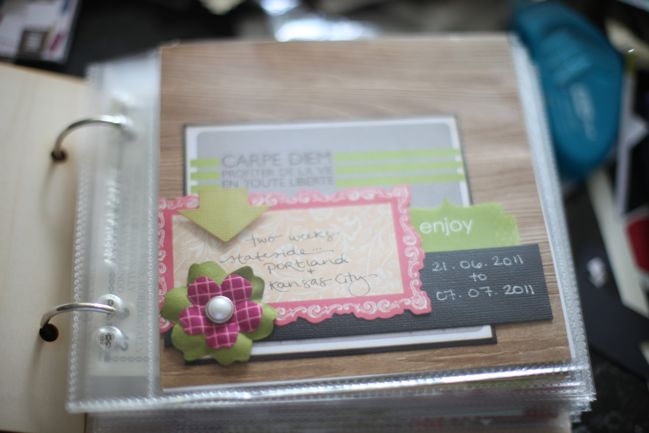 The only things that are actually created are the cover and the title page – both very simple. The book is 6×6 with wooden covers and two binder rings. Everything on the cover is held in place with diamond glaze, so that should keep it from falling apart. In theory. Most of the inside pages have page protectors (I'm using the 6×6 page protectors by American Crafts).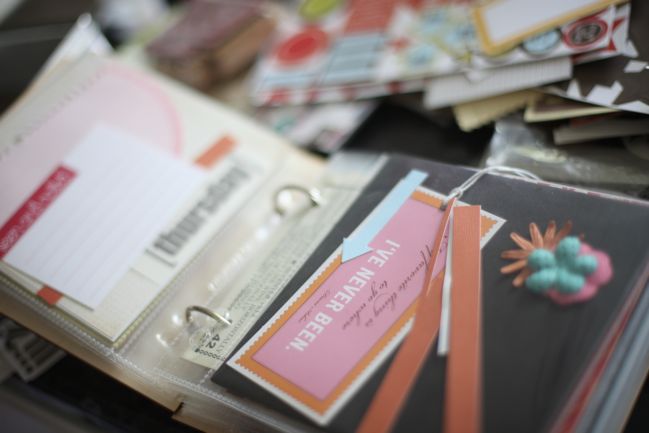 All the remaining pages have things just waiting. It's a little bit like a mini kit each day instead of all those same supplies mixed up in one big batch. But nothing is stuck down yet so if the colours seem wrong for that day, it should be easy to switch for something better.
I'm planning to fill the pages with memorabilia and writing, plus Instax photos and maybe some other images here and there. Here and there I've added black chipboard pages from 7gypsies, to make into little feature collages as I go. I try to add something like that to each of my travel journals if possible. (You can see some of those in this book.)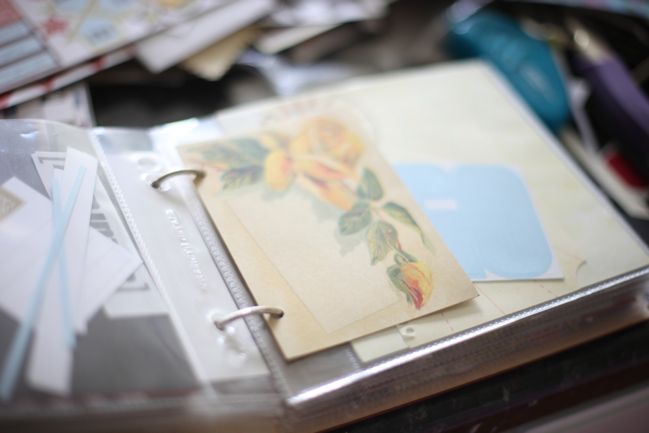 Since this little book is just for fun, I decided to allocate some older supplies that needed a purpose, including some kits. The wooden album covers and a few other bits came from a class kit that has been on my shelf more than three years. A bunch of the papers, die cuts and rub-ons came from a Creating Keepsakes travel journal kit that I ordered with great intentions but never used. When I opened it, I even found memorabilia I had stashed there from a trip in 2009, so I think I lugged the entire kit around for the whole trip and never actually used it. I wanted to include plenty of journaling papers so I went through a big stack of all those spiral-bound journaling pads and tore out about two dozen different designs and added some embellishments that matched too. Then I added just a couple newer things to jazz it up a bit: a Jenni Bowlin Hodge Podge minibook kit (separated and used throughout the scrapbook instead of as the book itself) and a few different letter stickers. But behold: no butterflies. We shall see if I give in and borrow my grandmother's Martha punch to stave off butterfly withdrawal.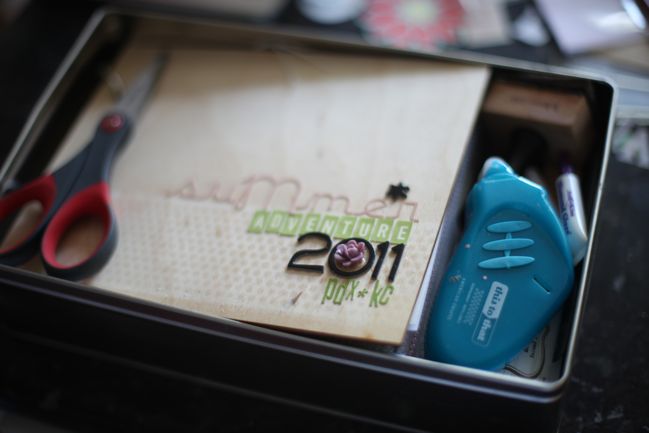 The CK album fit inside this tin, but it would take up the entire space. With the 6×6 book inside the tin, I have room for the essentials, including scissors, adhesive, pens and ink pad. This is my entire box o' craft for my suitcase! Though not to worry, as I've been working on lots of projects of the 12×12 variety to share with you here, so I'm not disappearing from blogland in the slightest.
Have a lovely week!
xlovesx

Read more about:
20 June 2011

Next post: Scrapbooking giveaway winner
Previous post: Scrapbooking Giveaway Day