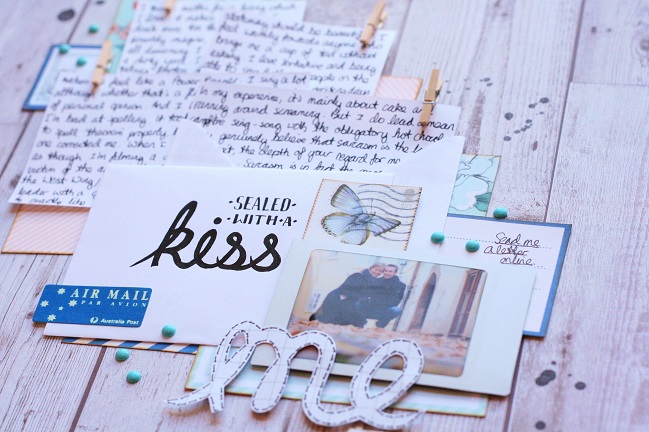 One of my 2013 New Year's Resolutions was to find Mr Second Date (Mr Right was looking like a long shot) and so it was with no small amount of trepidation that I signed up to online dating. And therein lay the first hurdle: I had to describe myself in detail so that people would, y'know, fall in love with me and whisk me off on that second date.
I'm nothing if not methodical, and not content with blurting out random information in haphazard order, I spent some time writing my profile on my computer and editing it to my satisfaction before I launched it on an unsuspecting internet. A year later looking back on that written profile, it is fascinating to see how I described myself: what was important to me, my tastes and interests and what I thought would make me sound like a good date.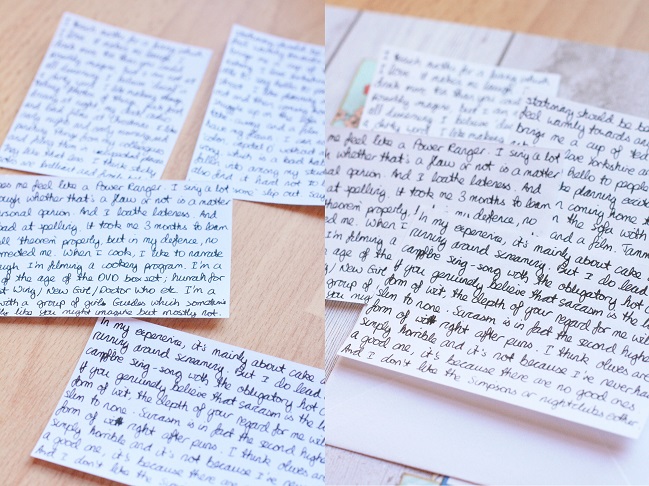 And so in true scrapbooker style, I decided to scrapbook it. I jotted out my profile on little slips of paper and arranged them on a page. Although that journaling was online for all the world to see, to me it's personal and something I feel a little self-conscious about. I wanted the handwritten journaling to be a clear design element, but I didn't really want it all to be read quite that easily. The truly interested reader of my scrapbook album is going to have to delve deeper to get to the full details.
To achieve the slightly-hidden journaling look, I organised the journaling blocks to overlap; once happy with their placement, I added a little clothes peg to the corner of each one and glued just the peg into place. The pegs will hold the journaling fast, but the paper can be unclipped to read more easily as it's not adhered to the page. I've always been a prolific (or should that be excessive?) journaling-writer, but if the quantity seems overwhelming or you're simply not as self-involved as I am, then you can create the same effect with typed journaling, book-pages or patterned paper.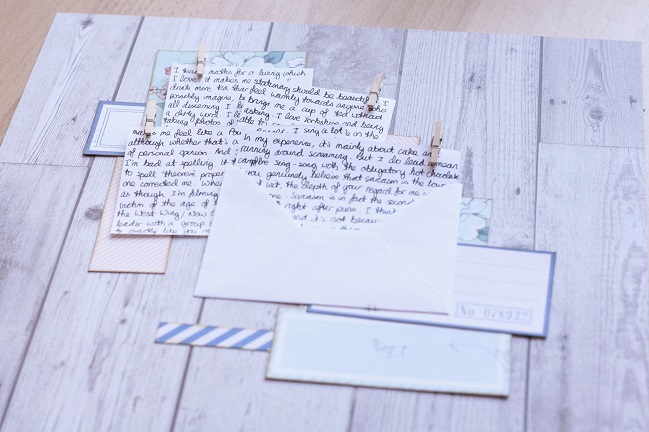 I constructed the rest of the design around those journaling blocks. Some elements went underneath and some were layered on top, but the most important thing when structuring a page like this is that if you have paper, photos or embellishments that will sit on top of the journaling, don't adhere them fully to the page. Make sure you leave enough of those elements unstuck so that the journaling can slide in behind them. A few pencil marks outlining where the journaling is going to go can really help with this process.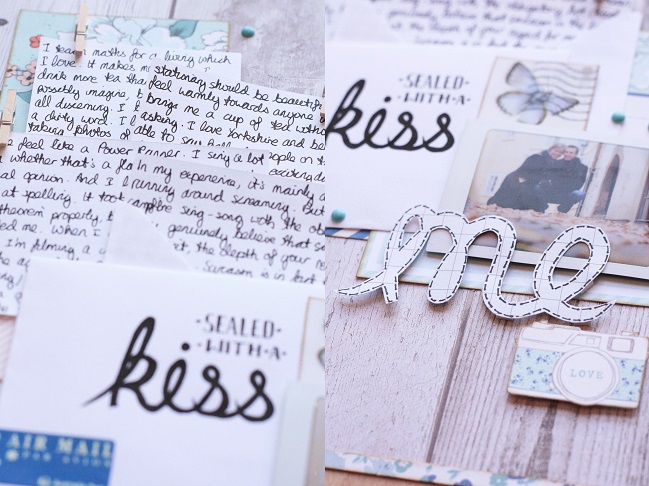 I used the idea of letter-writing to inspire the rest of the design, using an envelope to slide one of the journaling cards into, and another to dress up with some pretty writing and a couple of stamps. I finished the page with my photo, a hand-cut title, a camera snipped from a sheet of patterned paper and some of those wonderful and universally popular enamel dots.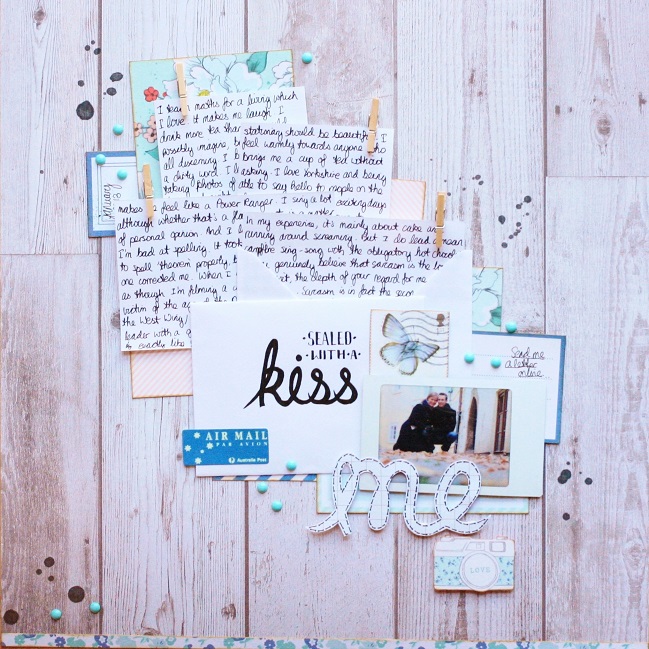 The finished page gives an appearance of a letter just opened with the contents tumbling out, and this is an idea I've been playing with a lot lately. But this layout can be deconstructed and you can read about me in (slightly excruciating) detail.
P.S. In case you're curious, I lined up three dates with three different guys in January 2013. The first two were both disappointing. And the third guy? Well we just celebrated our first year together as a couple.
| | |
| --- | --- |
| Kirsty is a maths teacher by day and many other things by night. After several years, she is still wildly excited about living in London mainly because there's so much to do and see and visit and experience. She takes her camera with her so that she can scrap about her adventures, and then she drinks tea and blogs about it all over at journalofcuriousthings.co.uk | |

Read more about:
10 February 2014

Next post: Crafting with Alice :: Heart Felt Moments Tutorial
Previous post: The Important Pages :: a scrapbook page to capture a childhood memory