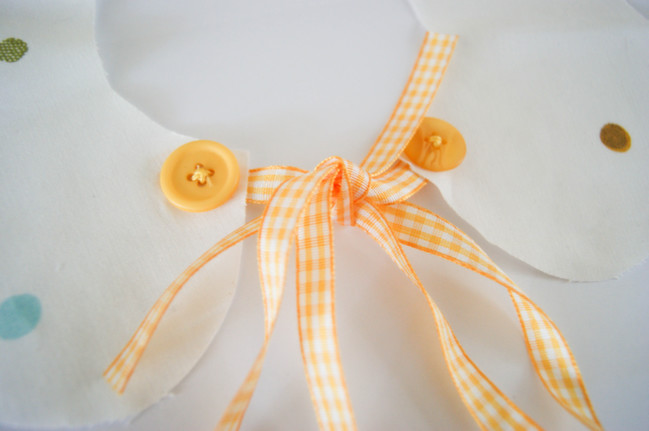 Two Tutorials is a series with two step-by-step craft projects: a non-paper project by Alice followed by a scrapbooking project by Shimelle. You can see previous posts here for further details. We hope you enjoy!
Every now and then we all look through our wardrobe and feel like it needs a bit of a lift: your favourite garment needs updating or maybe you wish you had more accessories! Well, look no further – this little simple collar is easy to make and perfect for customising any garment you wish. With free reign of fabric and embellishments, it can be made to suit you!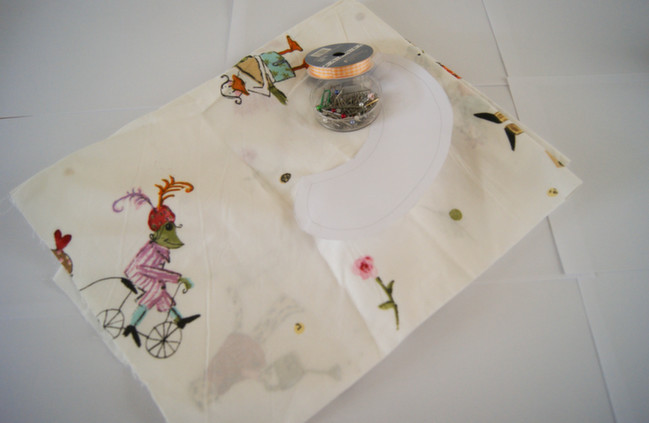 For this you shall need the essentials, such as scissors and pins. Then your chosen fabric, ribbon, embellishments and most importantly, collar template! There are plenty floating around on the internet you can use and this tutorial can suit all shapes. (Have a look here for a variety.) Because you aren't sewing the edges of this collar, check to make sure you choose a fabric that doesn't fray. (The no-hem tactic is what makes this 'no-sew' in my book. There may be a few stitches to come, but you can sew on a button, right?)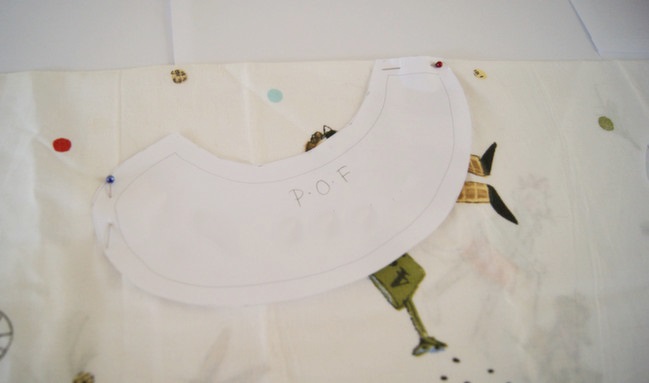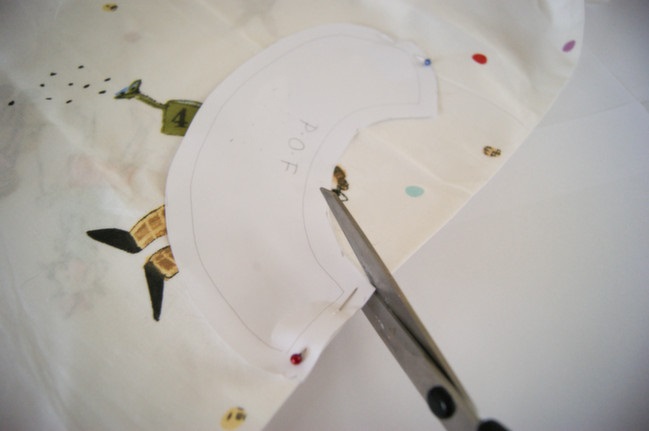 Place your collar template on the fold (P.O.F) and cut carefully around. Don't remove the template until your happy with the shape. Also, you don't have to use pins, you could draw around the shape with a fabric pen (one that washes off) or tailor's chalk – you will still get the same shape whatever you use.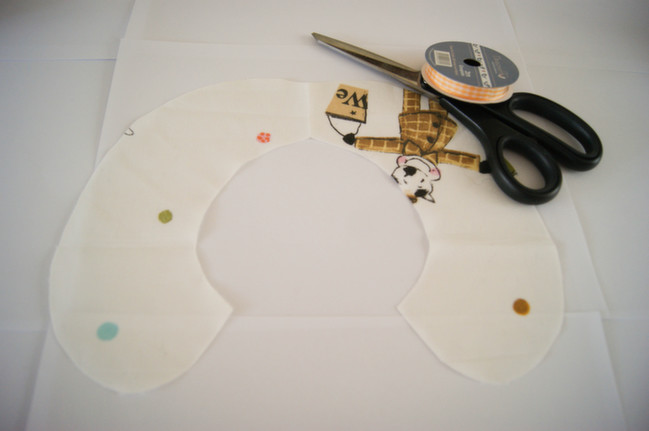 When you open it up, it should look like this. At this stage I ironed it out and tried it out for size. Next step: Ribbon!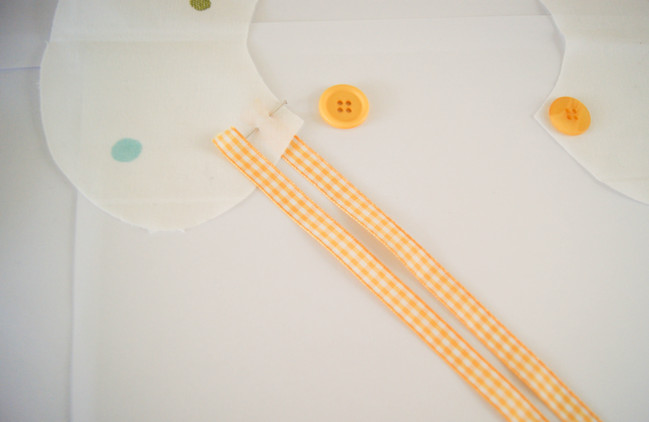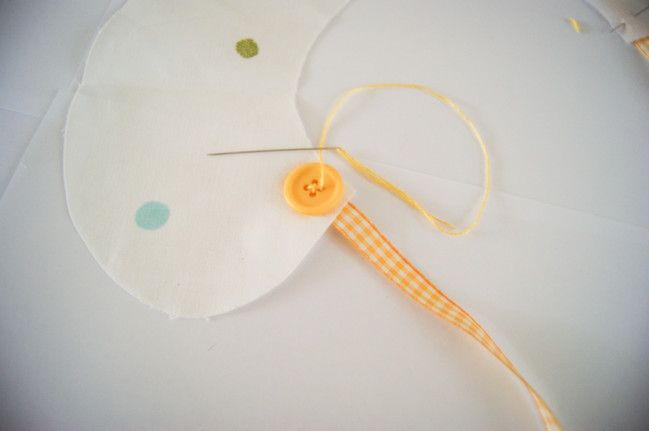 I cut 2 pieces of ribbon, 32cm in length and placed the ribbon underneath the collar (as shown). I put 2cm of ribbon under each side and pinned in place. To hide the stitching you shall do for the ribbon, I decided to sew them with a button and it made it look a lot neater! It's up to you which type of button you use, one hole, four holes! I used four holes, so it was all much sturdier.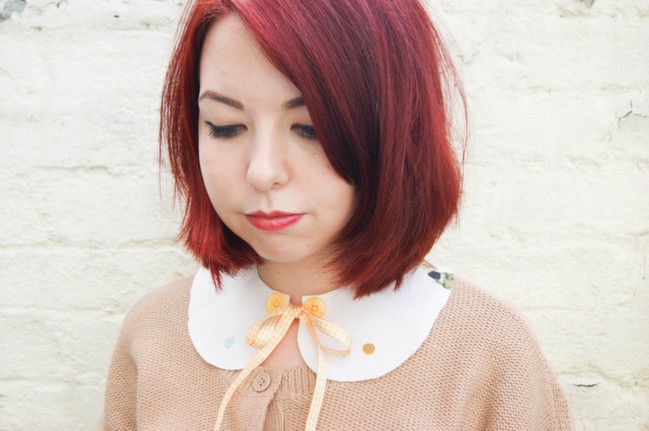 How easy was that!? There you have it, the no sew collar with a big impact. You could easily make a ridiculous amount of collars and have one for each day of the week. I get excited just thinking about how many fabric and embellishment combinations you could use! I hope you've enjoyed this tutorial and will join me again next week.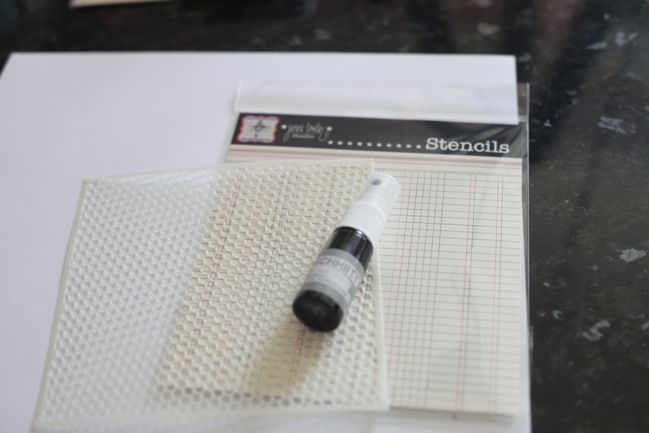 Taking inspiration from Alice's project and heading to my paper this week gave me a little something at the start and a little something at the end of the layout! To start, I was taken by how the full piece of fabric in Alice's project looked quite different to the pattern shown in the finished collar, and thought I might use this idea to make use of some patterns that wouldn't necessarily be my very first choice. I started with the new Jenni Bowlin fishnet stencil, plus some white cardstock and grey spray mist.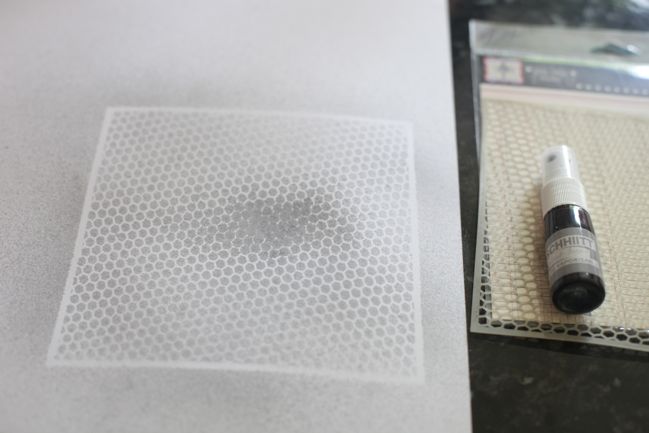 With a few sprays, I ended up with this look. I sprayed too close to the paper in the centre, resulting in that section where the pattern isn't at all clear. Easy to remedy with another try, but I didn't worry about it since I was pretty sure the photo would cover it in the finished design.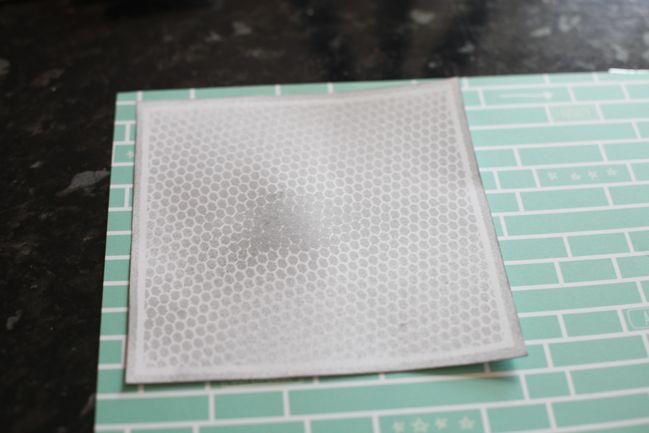 I trimmed that down to the square (I like the frame that the edge of the stencil created, so I left it intact) and cut a larger box of paper in a brighter colour (High Five paper by Elle's Studio)…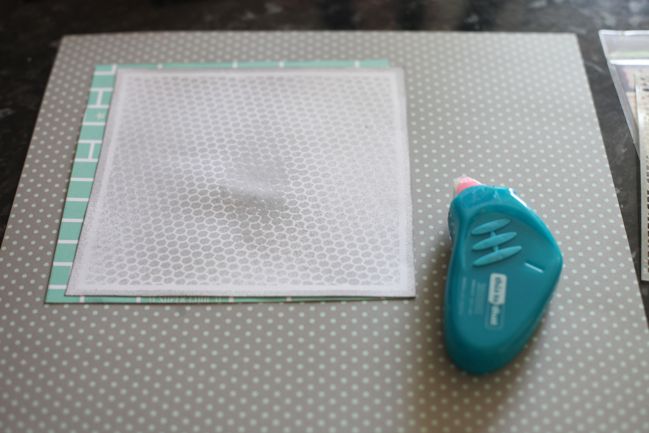 …and layered those two in the top left quadrant of a background patterned paper (Mix Tape paper by October Afternoon) that included both those colours – the neutral grey and the bright aqua.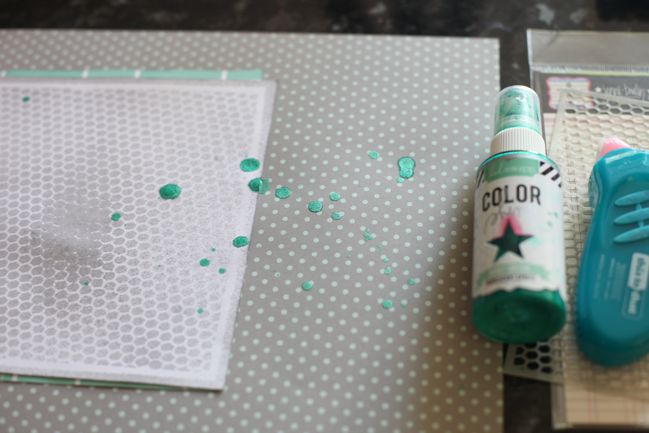 Sticking with that same bright colour so far, I added droplets of ink following a loose horizontal path across the page, around the midpoint of the patterned paper block. I used metallic ink here but non-metallic for the grey at the beginning so it wouldn't be too much sparkle overload, especially considering I already had the super glittery letter stickers waiting on my desk.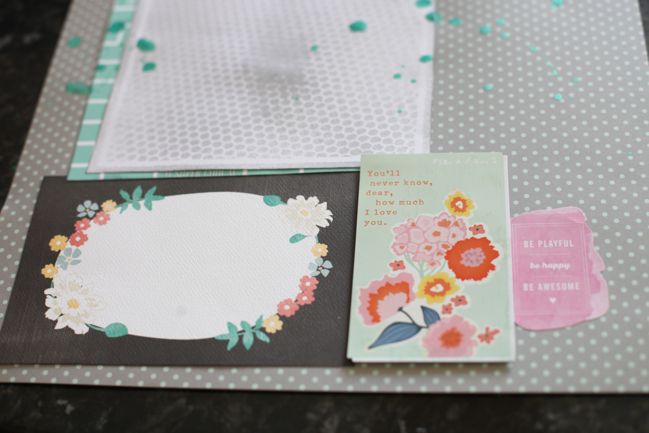 Next I added a series of blocky elements to fill the bottom half of the page. I started at the left and worked right, letting some element of each card help choose the next. The first card was inspired by Alice's design, as the flowers looked like a collar to me (vaguely!) and the colour of the leaves was a great match for the mist and the patterned paper so far. The next block to the right is a Dear Lizzy sticker, chosen because the flowers here shared a similar look and colour. These two florals together strike me somewhat as two different artists interpreting the same bouquet, if that makes sense? The style of the illustration is different, and yet they both have similar colours and shapes repeated through the blossoms. The final block to the right is an Amy Tangerine sticker, chosen because the colour was a good match for the colour in the Dear Lizzy flowers.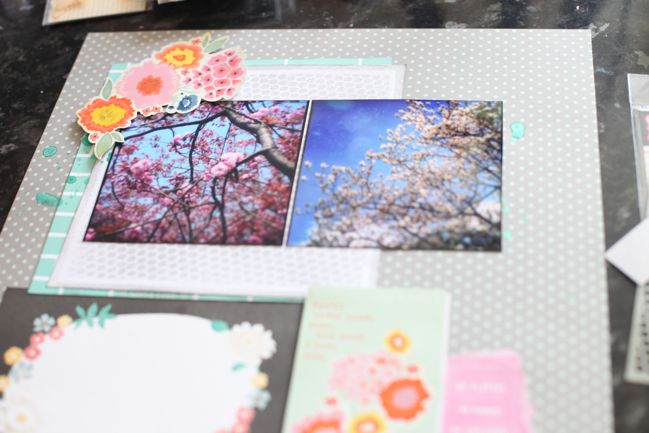 Wanting to take that one-linked-to-the-other concept and move it to other areas of the page, I added the photos and topped the corner with a larger floral sticker from the same Dear Lizzy sheet, with the matching flowers.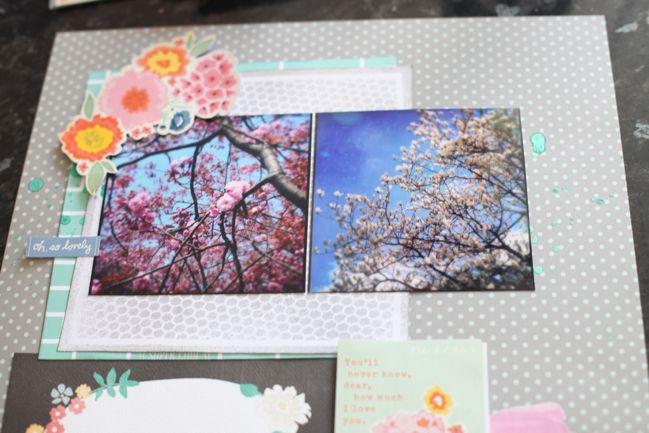 Smaller stickers can be very useful for covering up any ink drops that didn't wind up quite so aesthetically pleasing as the others!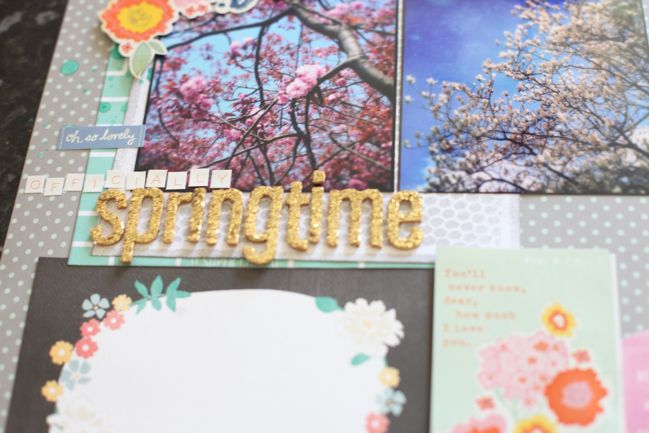 If the trapped white space between the photos and the cards made you nervous, you can breathe now. That space fit the title, with the super sparkly Maggie Holmes Thickers, plus small letter stickers from the Dear Lizzy sticker sheet.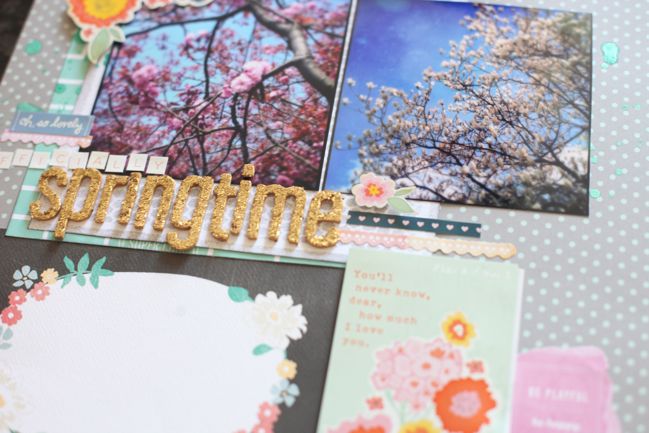 Even with the title in place, there was some trapped space that needed help. Border stickers were useful for filling the space to the right of the title and also just above of the small letter stickers.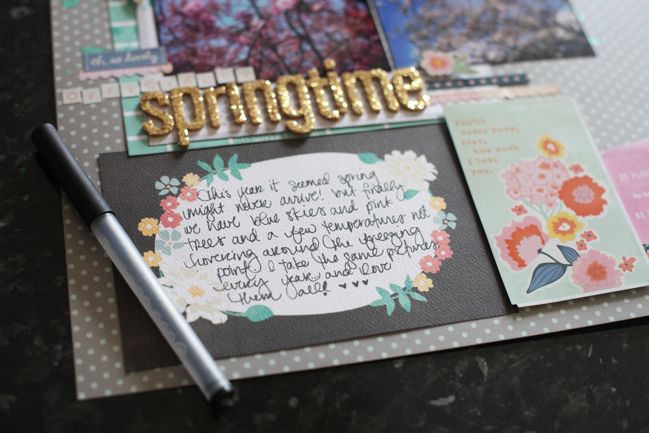 Then I filled in the journaling card, and got so carried away that I apparently thought the word 'all' had three Ls, so I may have tried to turn one into an exclamation point. Can't contain the excitement! (I guess.)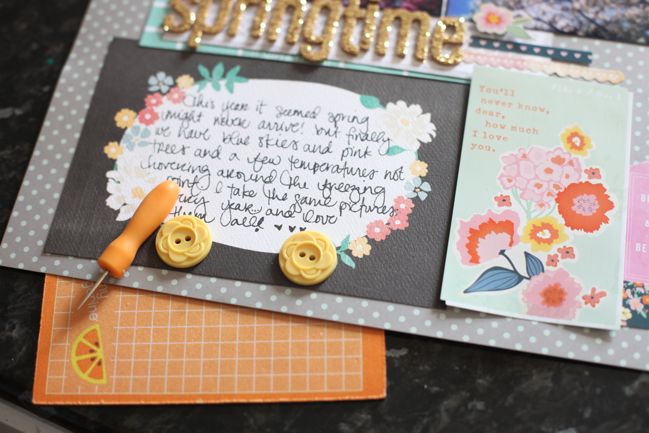 Then for the finishing touch to match Alice's project: some button and twine detailing to that loop of flowers. I tack the buttons in place with normal adhesive while I punch the holes and stitch them onto the page. If you hate sewing buttons on, then glue dots will hold them really well, but I like my buttons to have string through them, and sewing through glue dots is just more trouble than it's worth, I think.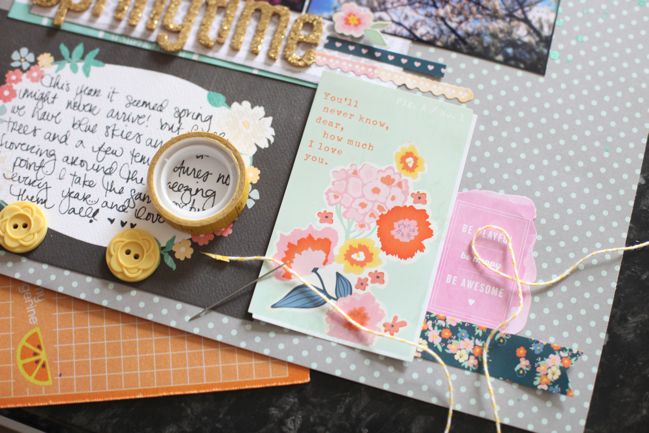 Baker's twine is a pain in the neck to thread through a needle. Either you have to use a giant needle, have the patience of a saint, or be very careful with a threader, else the baker's twine will split into the two different colours and one will feed through the needle and the other will stay on the other side. I didn't have too much luck using threaders with this, even with reasonably sized needles, and have found washi tape to be far easier. Run a bit of tape over the end of the twine and press it against itself so there is no sticky left. Then take your scissors and cut it into a really skinny triangle so the washi tape has a point that can go through the needle, but the twine is still sandwiched between the ends of the tape. Pull that through the needle, discard the tiny bit of tape, and you're all set.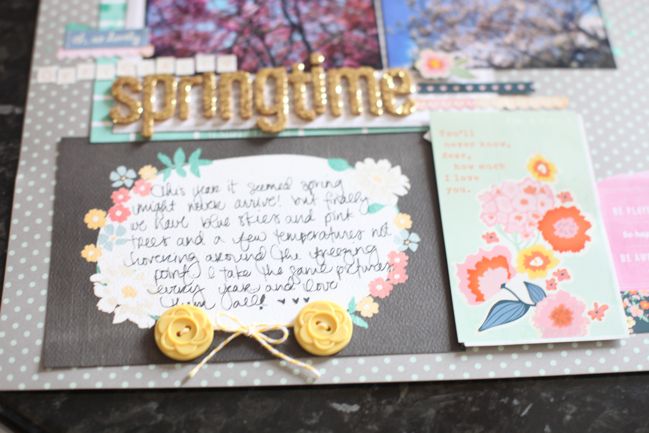 Buttons stitched in place, then thread tied into a cute little bow to mimic the collar! Of course this could also be done with ribbon, but I didn't have anything that was a good match. I wished I had a lush yellow satin ribbon for a very pretty bow! Maybe next time.

Here's my finished page for this week's project! Supplies, apart from the twine, mists, and mask, are from the August Best of Both Worlds kit.
That's it for this edition of Two Tutorials! We'll be back most weekends with a new pair of step-by-steps, so if there is a craft or technique you'd like to see, let us know and we'll keep it in mind. Happy crafting!

Read more about: two-tutorials best-of-both-worlds-kit
20 August 2013

Next post: Five Ideas for Creating with Circles by Jill Cornell
Previous post: Five Ways of Getting Creative with Confetti by Kasia Tomaszewska