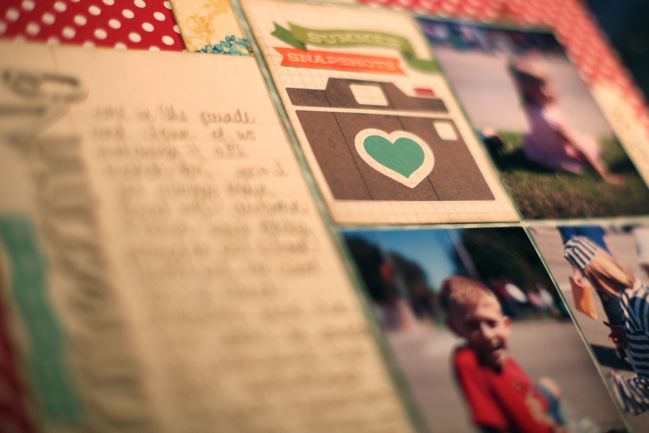 I've been tempted to photograph my stack of Project Life cards, but I'm a little afraid to show you right now. I'm not quite sure how I've managed to convince myself that I need quite so many when I work far, far more in the 12×12 format than pages with 3×4 pockets. But the truth is I still like the designs and enjoy the challenge to incorporate 3×4 cards in a variety of styles onto the 12×12 canvas. Plus by sharing core kits with a group of friends, I have far more designs on the cards in the same amount of space… it's something.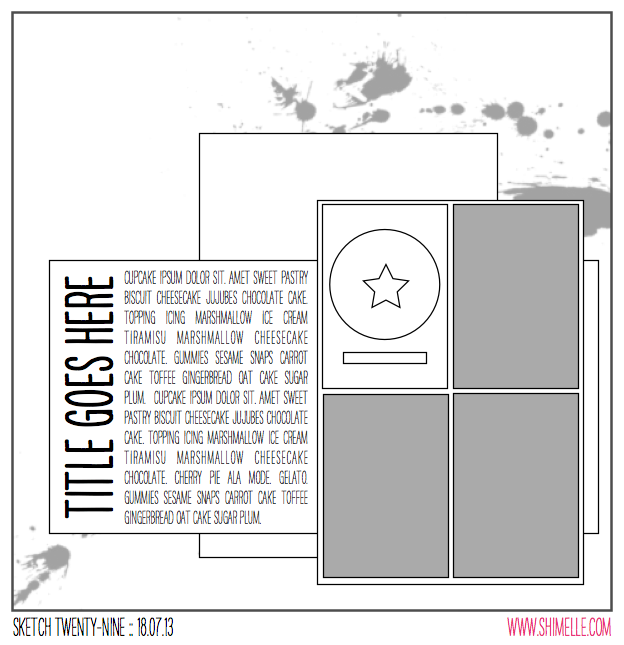 This sketch didn't originate with the 3×4 thought in mind, but when I looked at my desk, it seemed just right. Originally I had imagined a page that was all quite simple but one rectangle of that grid was layered and embellished with plenty of detail. That's where I would spend my time. It turned out that by picking a 3×4 card that I really liked, I didn't want to layer anything on top and it cut my scrapping time back to just minutes!

The 3×4 card is from Simple Stories, from a cut-apart sheet in the June kit, and the papers, stamps, and letter stickers are from July.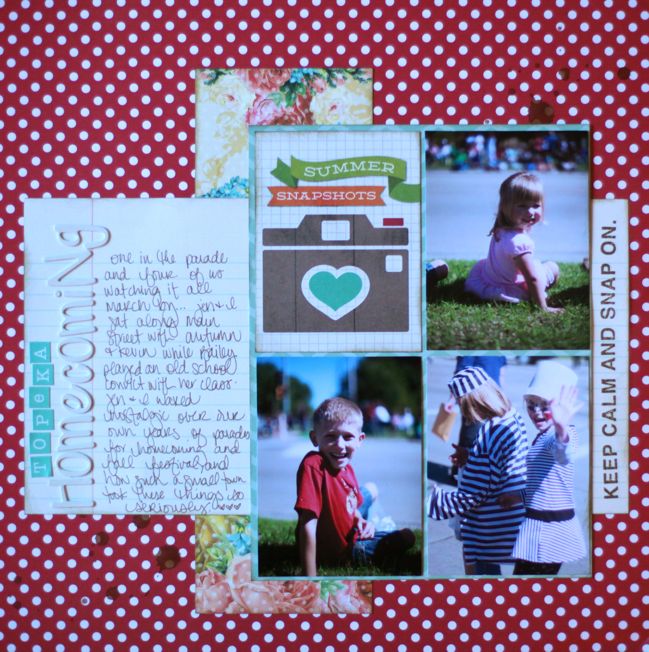 I'm really drawn to tone-on-tone titles lately, like using the cream Thickers on the cream notebook paper. I think with the dimension of Thickers it's still quite easy to read, but I'm guessing some of you may prefer more contrast? Just curious.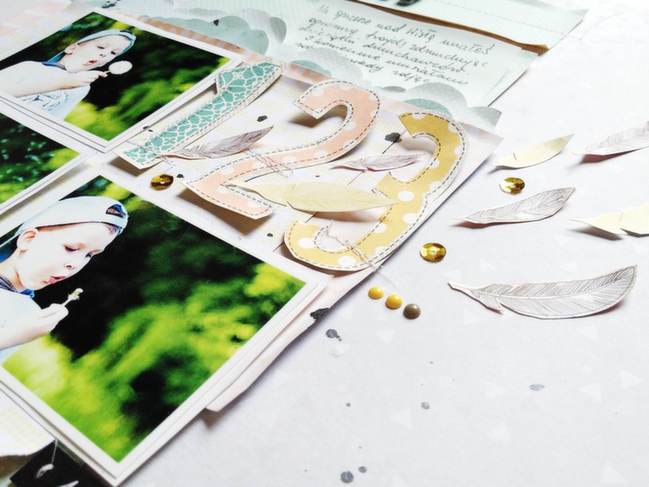 For a second interpretation of today's sketch, please welcome Monika to the blog!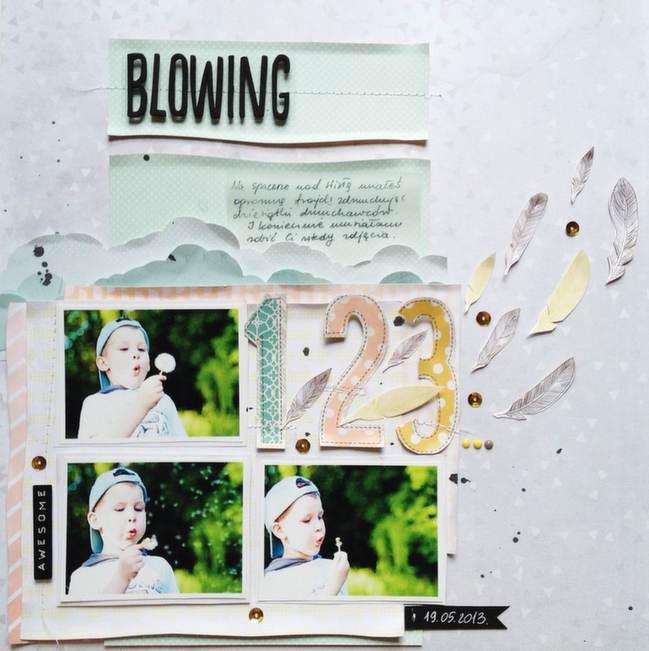 When I first saw this sketch I was so happy that I could use more than one photo. I took these photos in May when we were walking by a river, and there were a lot of dandelions. My younger son was blowing dozens of them and asked me to take photos. I wanted to use all three photos taken at every step of blowing, I used also numbers '1-2-3' to highlight the steps. I very much love the paper from Studio Calico's Sundrifter collection, which is full of feathers, so I cut those out and used them to highlight the blowing effect. I love layering, so I used a couple of papers in pastel colours and layered them, as well as some clouds cut out from patterned paper. I think that this sketch worked out very well for this story and you can almost feel the wind.
| | |
| --- | --- |
| Monika Głód loves to scrap and take photos. Scrapbooking since 2006, she is a member of American Crafts design team for 2012-2013 and also designs for 4heures37. Her work has been published in Scrapbook Trends magazine and Create Idea Books. Monika also runs her own blog and has galleries at Two peas and Studio Calico . | |

Read more about: best-of-both-worlds-kit sketch-of-the-week
04 August 2013

Next post: Sketch to Scrapbook Page :: A design for landscape and portrait photos
Previous post: Sketch to Scrapbook Page :: A vertical design for smaller photos