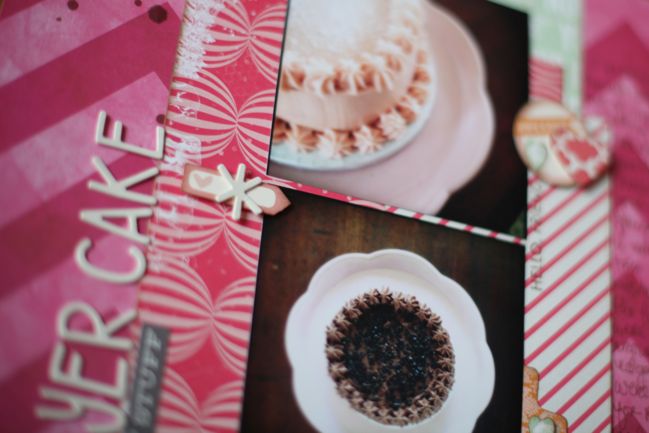 With Noell's design leading me to work more on the vertical and then that idea staying with me through the next few projects, it made me laugh to come to sketch 28 and see that it was such a vertical design. I planned out the sketches way back in December, so apparently I just knew way back then that I was going to be on a very vertical kick come July!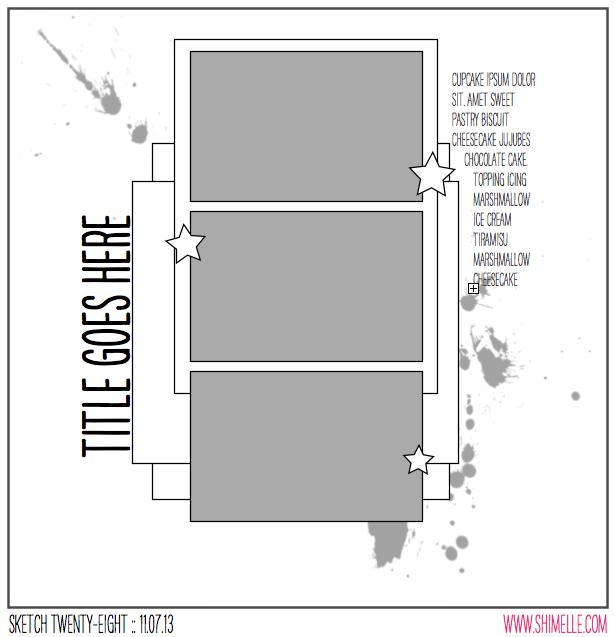 This sketch is drawn for three landscape photos, probably printed at 2×3 inches, but I opted for two square photos at 4×4 and that worked fine too. It's a great design for scrapping quickly and with partial sheets of patterned paper, since it just takes a few simple blocks to layer the background.

These supplies are from the June and July Best of Both Worlds picks, plus some dark brown Mister Huey mist and two sizes of heart punch.

Today I'm delighted to welcome someone new to shimelle.com, with a second interpretation from Stephanie Berger, a very talented scrapbooker from Germany.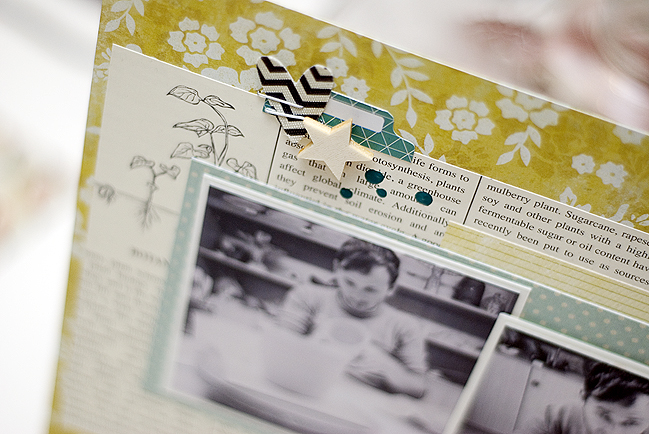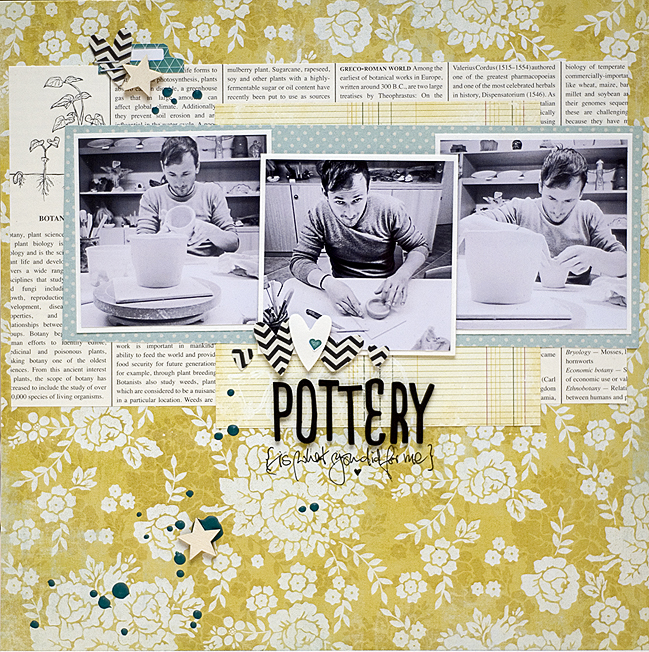 When I first saw the sketch, I instantly knew what pictures I wanted to use. I love the pictures of my husband, totally sunken into pottering a teacup. I took these photos via Instagram and as always I printed them 9 × 9 cm (about 3.5" square). After selecting the supplies – for a wonder, this was a quick step – I placed the pictures as shown in the sketch. However, it didn't feel comfortable to me, so I decided to rotate the sketch. And behold, it was perfect for me. I enlarged the smaller papers, so the background paper does not look so dominant. Usually I do not use a lot of embellishments and so I added only a few. Some punched hearts, wooden stars, some splashes of turquoise colour for contrast and it was finished.



Together with her husband Stephanie lives in Southern Germany near Stuttgart.
There both spend their time together exploring the country, playing some sports, and taking a whole lot of pictures. Stephanie is working as an assistant in real estate management – doing some craft is the balance to her job. Scrapbooking is the thing that puts all the outdoor adventures, taking pictures, and working with paper together. Stephanie has been on several German design teams, such as Scrapping the Music Germany and Scrapbook-Werkstatt . She also designed three of her own paper series for Scrapbook-Werkstatt. She teaches photography and scrapbooking workshops.
You can find her on her blog , Instagram and Pinterest .



Now it's your turn! Create a project from this sketch using any supplies you like, and share it with us here.


Read more about: best-of-both-worlds-kit sketch-of-the-week
04 August 2013

Next post: Sketch to Scrapbook Page :: A gathering in 3x4
Previous post: Scrapbooking with a stack of punched pieces