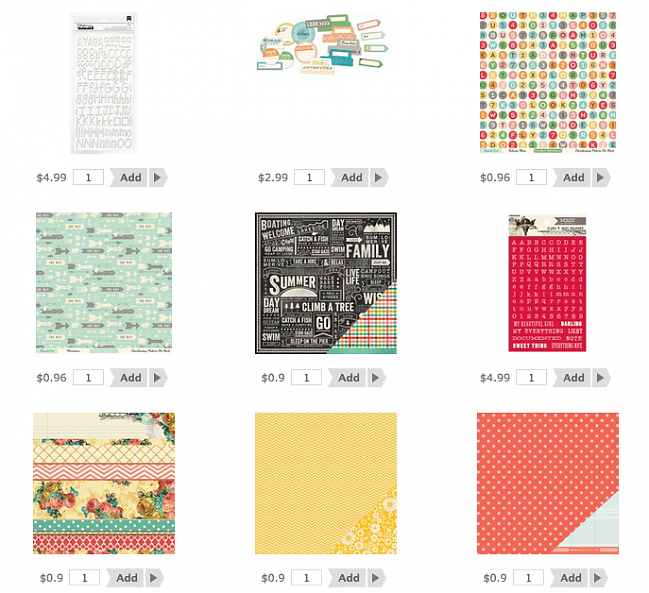 Ooooh, what an eventful day. This is the first month that I had to do some major changes to my plan for the Best of Both Worlds kit because some of the items I had ready to highlight as of last Friday ended up jumping in too many shopping carts over this past weekend! But items replenished and switched around just a little, and now I'm back to a kit that we have in stock and I'm happy with the choices!
But… it means my video and photos are wrongedy wrong wrong. So I'm going to take new pictures and make a new video. Huzzah. (ETA Video is below now! Yay!) I don't want you to have to wait to shop, so you can find the kit online now and shop right away if you prefer. Click here to shop for the May Best of Both Worlds scrapbooking product picks.
That small set of letter stickers seems expensive because it looks like you get one sheet. You get way more. If you want to see these in use, Glitter Girl showed the whole pack in this video.
A couple items are at big discounts – these won't be restocked, so if you want them, grab them at that bargain price. Items that are in newer inventory tend to be restocked if they sell out, so if you're reading this post a few days later and items have run out, click the 'request and notify' button to make sure you get the first chance to grab them when they return to the shop.
It's a very paper-based kit this month – the embellishments are paper die-cuts. If you want to mix it up with some other items, I would recommend the Freckled Fawn paper clips and enamel dots for a different texture available in great colours!
Right: I will be back soon with actual photos and the normal introduction post for this month's kit, and I look forward to scrapping with these goodies and sharing all that with you!

Read more about: best-of-both-worlds-kit
01 July 2013

Next post: DIY Embellishments:: A Scrapbook Tutorial by Ann Schneider
Previous post: 20 Minute Layout:: A Scrapbook Tutorial by Relly Annett-Baker