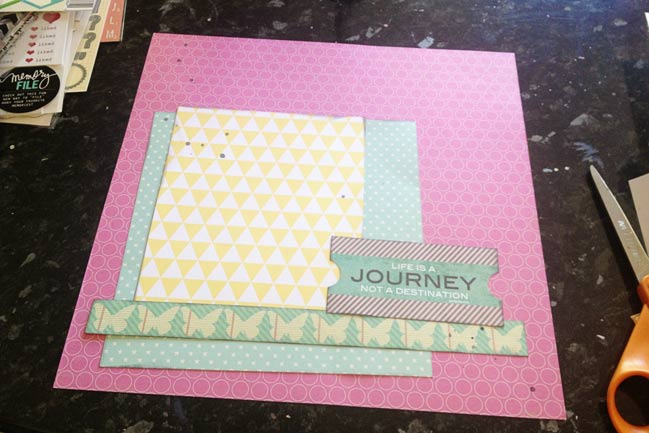 If you open a box of new supplies and are filled with a small terror that there is no easy place to start, you are not alone. I often find I look at all those fresh paper sheets and I'm not sure exactly where to go from there – perhaps for fear of messing up a much-loved sheet of paper, but more likely for an overrun of ideas and the worry that if I cut into a sheet that could be perfect for a background, I'm not sure where I'll go after that. Usually I just have to start something, anything, and then go from there, living with the consequences of whatever pieces are left from the papers after they are cut. And this starting point is just that sort of project.
Select one patterned paper as the background and keep it 12×12. Cut another to 8×8, and attach in one corner. Choose a paper with a design that can be cut into a horizontal strip to run across the bottom of the 8×8 block. Cut a block from another patterned paper in a size that will be slightly larger than your photo, and run that vertically, above your horizontal strip. Add a die-cut to the mix at the spot where those different paper elements join. Find the diagonal across your page design and add a few droplets of mist at the ends of that imaginary diagonal line. From here you can add anything you want: photos, title, writing, more embellishment… take it as you would like!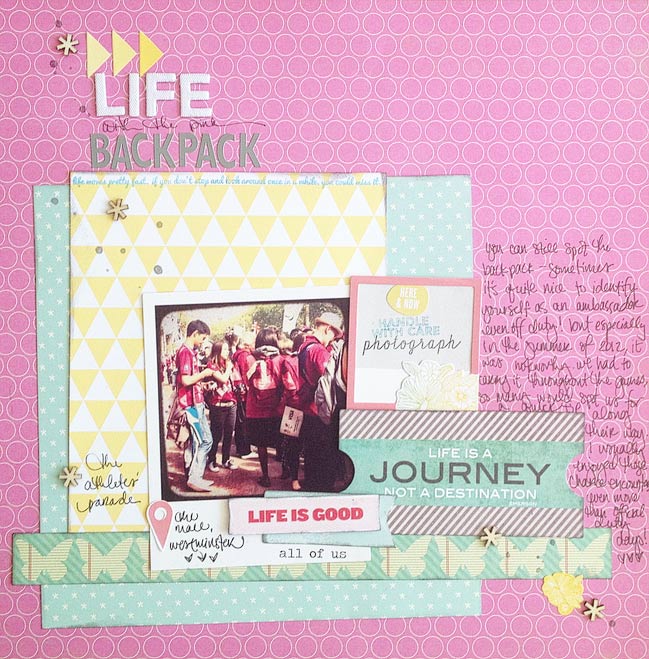 My finished version includes some of the die-cuts from the Sundrifter pack in the kit – which turns out to include stickers really. There was no mention of that on the packaging that I could see, so I was somewhat surprised. The mistable Thickers can be sprayed to any colour you would like, but I wanted to add a bit more white to lighten the top of the page, so I just used them as they were. I used three of the different sentiments from the stamp set, and the 'all of us' below the photo is a rub-on from the Instaframes pack.
This page is a great example of a warm-up. When I've taken a little break from scrapping (which in my world is often a couple days, but the same principle works for much longer breaks too), I need something that is simple, colourful, and lets me get all the important elements onto the page without a huge element of creative challenge. I think this is honestly a really important part of my creative process, and it really helps me scrapbook in the morning specifically, as I am not a morning person, but that's often when my scrapping time is found. Your warm-up page design might be a very different look, but the same concept can apply if you find a design that you love and you could almost put together without looking. Just something to keep in mind. If you get that new paper paralysis, jump in somewhere and remember there is always more pretty paper in your world, so there's no need to panic if you cut into a sheet that could have been a fabulous 12×12 background. There are plenty more fabulous 12×12 backgrounds, I promise.
A very happy Monday to you, and may the sun be shining at least a little bit in your part of the world! I have a variety of projects to share with you over the next few days with the May Best of Both Worlds kit, and thought we might start with a starting point! As good a place as any, right?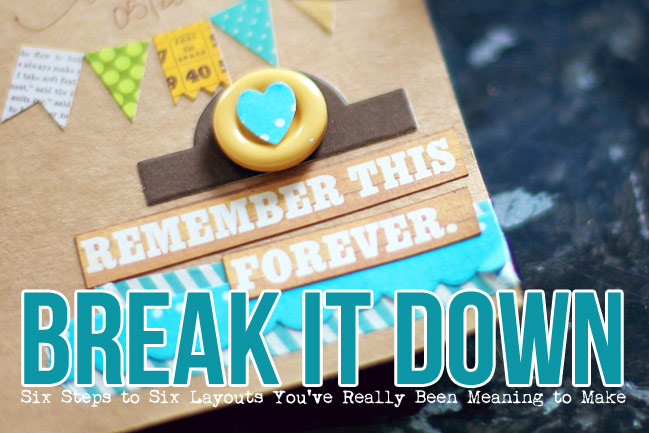 Today also marks the start of a six week scrapbooking project I'm leading at UKScrappers. You can find that project here, including the first prompt and a thread to introduce yourself. There's no charge to join UKScrappers or to participate in the project. Though the site is certainly about scrapbooking for those in the UK, any scrapper is welcome to join and participate, regardless of where you live. Find all the details about Break It Down at UKS.

Read more about: best-of-both-worlds-kit scrapbook-starting-points
03 June 2013

Next post: Double Page Layouts made Easy:: A Scrapbook Tutorial by Jinny Newlin
Previous post: Best of Both Worlds :: My scrapbooking product picks for June 2013