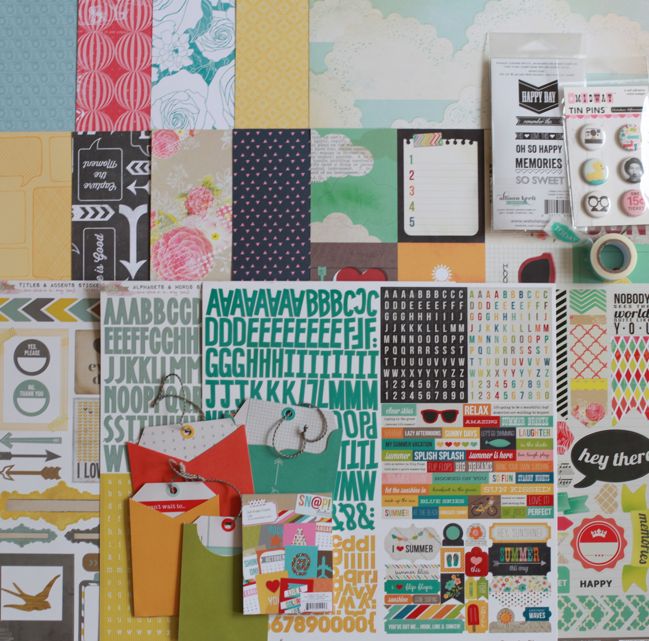 Welcome to June! To kick off the month, I'd love to share my product picks for a very summery edition of the Best of Both Worlds scrapbooking kit. You can jump right to the shopping list if you prefer, or carry on if you want to see the kit contents in video form or take a look at some of my shopping thoughts for this month.

Best of Both Worlds is a selection of supplies that can be used as a kit, announced here on the first of each month. It's called the Best of Both Worlds because it has the ease of a monthly kit, with a set of supplies chosen to work well together, but there is no subscription, no minimum purchase, and you can customise the kit to work with your style by eliminating duplicates or items you won't use, increasing papers you would use more than once or over a double page layout, and replacing things like swapping a 3×4 set of cards for 4×6, for example. I select the products for each month's kit and post it here on the first of the month. Ordering is all done through Two Peas in a Bucket.
Click here to purchase the June 2013 Best of Both Worlds product picks!
Need to bring the price down a bit?
The stamp set is the most expensive item in the kit, so if you don't stamp, that's your quickest savings straight away. If you do stamp, I will say these stamps are really high quality for that $6.99 price.
Another way to savings would be to choose just two of the four sticker sheets: if your style is quite colourful, keep the Simple Stories alphabet and the My Mind's Eye accent sheet; if your style is more muted, keep the two from Glitz Design. Choose just two instead of all four sticker sheets will bring the kit down by just shy of six dollars.
The third option would be to make your savings in the embellishments, omitting the tape if you already have one or more that you're happy to use with these colours, or the tin pins if you have other flair badges you need to use or you would like to make your own embellishments with a circle punch or die.
Want to add-on more to the kit to reach the $50 free shipping level?
I always go to paper first when I have more room in my budget. With this kit, I would ask which colour suits your scrapping style most: navy, yellow, turquoise, or pink? Then I would add more sheets in those colours to get the most of the kit. Choose anything you fancy! My suggestions include…
to add more navy: numbers, stripes, floral, large dot, mini dot, script, chevron.
to add more yellow: hearts, feathers, text, die-cuts, confetti, herringbone, anchors, chevron.
to add more turquoise: triangles, dots, clouds, ledger, vintage, cameras, butterflies, chevron.
to add more pink: chalkboard, plaid, doilies, numbers, chevron.
If you prefer collection kits or 6×6 paper pads, the collections represented include Echo Park Here & Now, My Mind's Eye Find your Wings and Fly, and Simple Stories I Heart Summer.
For those who love more embellishments, I've pulled together this list of all sorts of things that would coordinate well with the kit. I don't have any plans to show you how I would use each of these things – that's just too many ideas to think straight! But I thought it might help to narrow down from the whole store and let you see a list that is still quite extensive but would let you pick the things that appeal most to your style, be that brads or wood veneer or flowers or whatever! (Let me know if you find it useful and I'll see if I can make this a normal thing.)
If you keep a Project Life album or use lots of divided page protectors, I would definitely suggest the cut-apart sheets from Echo Park Here & Now, available in 3×4 cards or 4×6 cards. There are also additional 3×4 and 4×6 tablets from Simple Stories (plus this specific summer tablet) that would help extend this kit to a full summer of Project Life documentation if you so desired!
Love washi tape and happy to spend a little more on a set of two rather than one on its own? The second option I showed in the video is this set, and both tapes are absolutely lovely.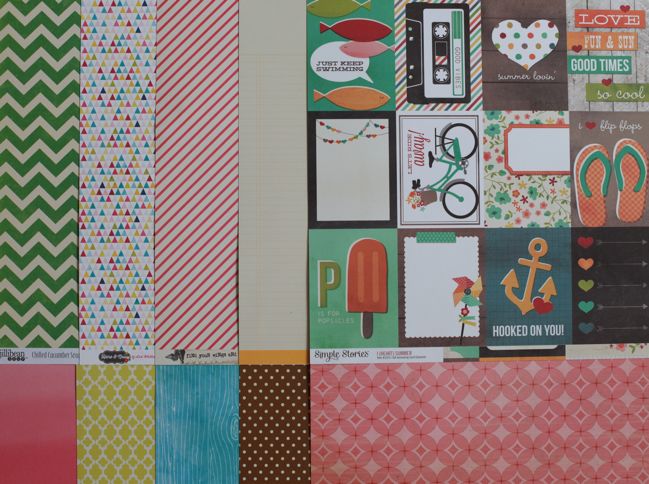 A look at the b-sides of the patterned papers.
Curious about shipping prices and times?
For free US shipping on orders over $50, you will need to enter the discount code for this month found in the newsletter. That link also includes the fine print on how to qualify for the discount, for your reference.
If you are ordering just the items on the kit shopping list, the shipping cost would be $7.40 for US addresses, $13.28 to Canada, and $20.07 to many other countries, including the UK, Australia, Germany, and France. When you check out, international orders may quote high on the shipping (it quoted $26.08 for me here in the UK). If you open a ticket within thirty days, Two Peas will make sure you get the rest back. (I know I've been reporting for several months that Two Peas is working on improving this. They really are, and I will be thrilled to let you know when a change happens!)
I placed an order early this morning, and my order is scheduled to ship from the warehouse on Monday, so the turnaround time is pretty quick right now!
What about projects with the previous kits?
I have not forgotten! In fact, I have a big stack of projects to share with you – it's the video editing and uploading that has smacked me in the face this month. My big project this weekend is to get as much of that posted as possible, but it may take Monday to get videos uploaded. While I love nearly everything about moving back to the flat we never wanted to leave, I have to be honest and say the internet here is rubbish for uploading videos! They take about a day and a half to upload here, while the same file will take fifteen or twenty minutes at the office on Monday. I will see how we go and do my best to get them all online as quickly as possible. If I can get them all edited this weekend, then I can upload them on Monday and have a little video explosion! But I'll be posting some non-video inspiration from both the April and May kits here this weekend so I hope that's a little helpful.
Just to clear up some confusion – the upcoming Scrapbook Concentration masterclass video on layering does not use the kits – you never need to pay to see the projects I make with the kits. But Scrapbook Concentration is to blame… that two hour video (and figuring out this new video-on-demand format) and the nearly-an-hour NSD video just took up a bit too much of my time this May and that's why I'm behind. I'll be all caught up with everything posted by the time your June kit arrives, and we can carry on from there, which I hope sounds like great news.
For those wondering on the release date for Scrapbook Concentration, we've fixed some technical things requested by the video hosts, and I've been given an estimated date of release for Monday! Oh goodness: Monday is starting to look like it's going to keep me on my toes for sure. I'll be sure to let you know as soon as they have released it for viewing! Thanks for your interest in that new project.
Are previous kits still available?
Well, yes and no. In order to get the best value for money in each kit, I tend to pick a few things that are on sale – and those tend to be items that won't be restocked once they are sold out. But the full price items are often restocked and available, so that means the older kits are just missing a few things here and there, and they will have just disappeared off the list entirely. But you can still find them in the store: January, February, March, April, and May. And all the posts related to Best of Both Worlds in some way (shopping lists, finished pages, videos) can be found here. (That's the same link that appears at the end of any Best of Both Worlds post after 'filed under', and it lets you navigate just one category of posts at a time.)
Any other questions?
As always, there is no subscription to this kit and everything is first come, first served. Items are not reserved in your shopping cart – if you decide to come back in a few days, they may be sold out, I'm afraid. But there is a good stock of all the items on the kit list right now as I post this, and we have increased the numbers from previous kits. (The items I suggested in the extras have varying inventory.) If the items still sell very quickly and it looks as though not everyone who wanted a kit could get everything in time, I will look into the possibility of having somewhere you could express an interest so we can get a more accurate number of how many of you would like to join in each month. Sound like a plan?
Anything else I haven't answered, feel free to ask in the comments. Leave a valid email address and I'll get an answer back to you wherever possible!
Thanks so much for your continued support and I hope you enjoy this month's Best of Both Worlds product picks!

Read more about: best-of-both-worlds-kit
01 June 2013

Next post: Scrapbook Starting Points :: Life with the Pink Backpack
Previous post: Five Pretty Ways to use Washi Tape by Azumi Izuno