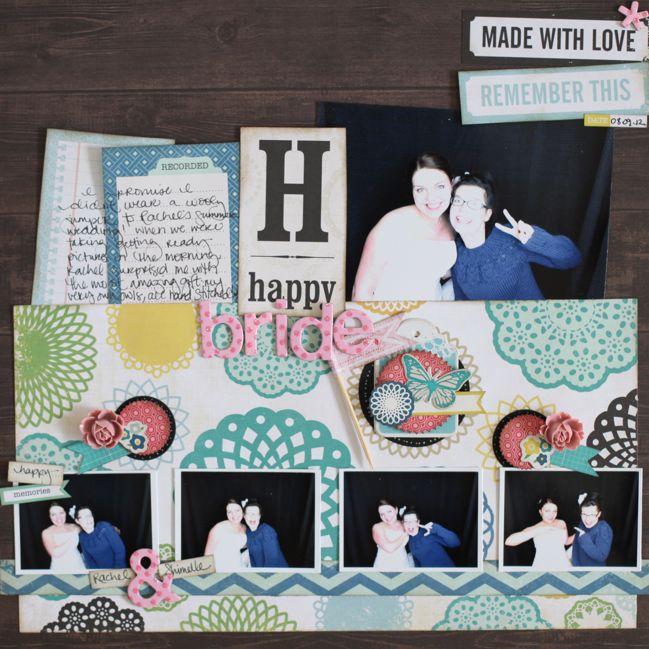 I think it's still pretty common to get started in this craft as an 'event scrapbooker', right? I focused on events for years – birthdays, graduations, weddings, performances, parties, and that sort of thing. And I actually think that's a perfectly useful and practical way to scrapbook! It does, after all, create a record of the special events in life. But there is also this lovely simplicity of recording more everyday moments against a world that continues to pick up speed and technology. Scrapping from that perspective can be a sort of ongoing gratitude exercise – a way to slow down and pause life and spend time making something that in some way celebrates your gratitude for some simple, lovely moment in life.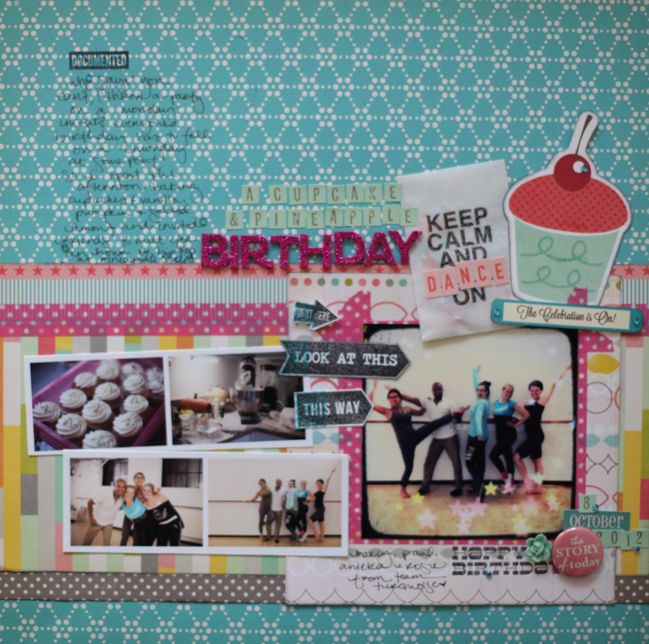 That either makes complete sense or is total rubbish, but it is the sort of motivation I find ongoing in creating pages for my albums – wanting to create a record that keeps things humble and acknowledged and reminds me to be grateful for all the good even when life tries to get busy or stressful or pull my focus away from what's really important. Even for pages that are more traditional 'event' scrapping, like a birthday party, there's now that awareness while I'm making pages, working with photos, and writing the journaling. I think this kind of scrapping keeps me more grounded in life, and though I could always do with more grounding, it is a huge help to finding some balance in this crazy world!

It's often the pages with the more lengthy journaling that really brings home the gratitude concept for me when I turn the pages of my albums. With travel experiences especially, I find that I write a great deal on the road about comparing and contrasting my life at home with whatever I'm experiencing that day, and there's a a certain tone of learning and appreciating and being more aware that creeps in – it is what makes travel so meaningful to me and I suppose that's a bit of a personal journey it itself. In any case, the writing for this project was one of those instances. (Please see this page for further details on this Glitter Girl Adventure. The journaling can be found here, in the form that I recorded while we were still on the road. I made a few changes when I printed it for the layout, because I always want to change something when I re-read my own writing. Which is a dangerous compulsion for a blogger, I tell you, but that's an entirely different conversation.)
And now for guest artist Marianna Barone, who even has a step-by-step process for scrapbooking with gratitude but not taking all the live-long day!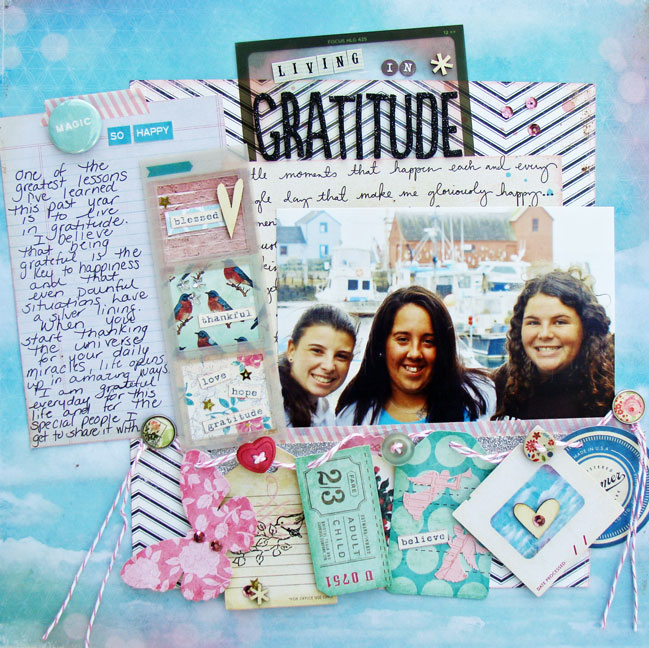 Scrapbooking feeds my creative soul. I like nothing better than to sit down with a stack of photos and some brand new supplies and let my creative spirit soar. Best case scenario, I should have a pretty bit of paper that reflects my memories and my feelings within an hour or so. Worst case, I sit among the stacks of pictures and patterns and think, "How do I do this again?" Like most of you, I could probably scrap 1000 photos and never have to run out and buy a thing. All that product can be stifling to creativity when the possibilities are endless. Enter scrapbooking challenges. They help me narrow down my creative choices and focus on being productive. Here are five steps to getting that challenge page scrapped… fast.
Step One: Find a challenge that speaks to you.
A challenge about gratitude? That speaks to me on a soul level. Not sure if I have a photo for that! What else am I grateful for? Laughter! So I went in search of a picture about the people in my life that make me laugh. That's how this page started. Gratitude also makes me think of Thanksgiving. Have you scrapped those photos yet? What else are you thankful for?
Step Two: What's the first thing you think of when you look your photo?
Is it love? What color is love? Red? Pink? Maybe you're thinking about turkey? Turkey is brown…and gold. Ah….autumn colors. Aside from gaining direction from the challenge at hand, I also look to my photo to guide my creative picks, A seaside photo with pretty blues? I grabbed my newest, prettiest collection that I knew had blue in it and just decided, "I will use this." Honestly, when you want to actually get a page done, you have to settle. There are probably several "perfect" choices in your stash. Stick with the first one that looks good. This just cut an hour off your average time, right?
Step Three: Is the challenge technique or embellishment driven?
The problem of deciding what to add to your page has just been solved for you. Recipe challenges are great for telling you exactly what needs to be on your page. Look at a page you have pinned or bookmarked. Copy that design and embellishment placement. Groups of threes and visual triangles are also solid design principles. I had a bunch of matching diecuts for the collection I picked. I dumped them out of the package and thought…banner. So that's what I made.
Step Four: What's your title?
Glitter Girl will tell you to use Thickers. They make every page look good. Just ran out? Black sticker letters work on every page unless your background is black cardstock. If that's the case, use white sticker letters.
Step Five: What's your story?
I bet you've been reliving the memory half the time you've been working on the page. Write down your thoughts or your memory on your page.
Another memory captured! Sit back and admire your creation.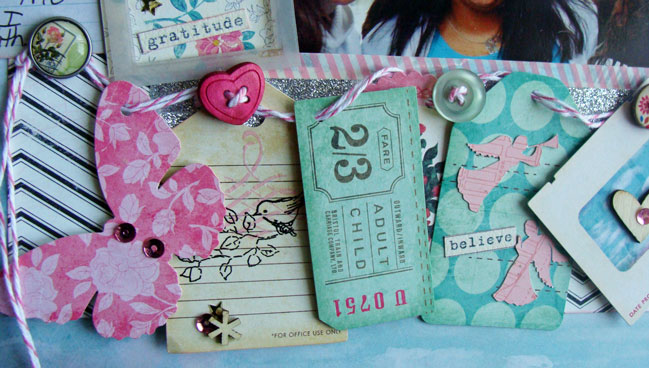 About the Artist
Marianne Barone (aka Scrapnatya) lives an hour east of New York City with her husband and two teenage daughters. She has been scrapbooking and paper crafting for over fourteen years years and tries to carve out time to be creative every day. She is currently on the design team at the Color Me Scrappy Challenge Blog and hosts a weekly stash busting challenge on the General Scrappin' board at Two Peas In A Bucket. She shares her scrapbooking creations on her blog at marianne in the moment.
Your sixteenth challenge is to record hope or gratitude! Entries close at the end of next Sunday, the 12th of May. Please check back on the 14th of May to see if you have won a prize.




Read more about: inspiration-party
04 May 2013

Next post: Scrapbooking with Fabric
Previous post: Line up small embellishments on your scrapbook page