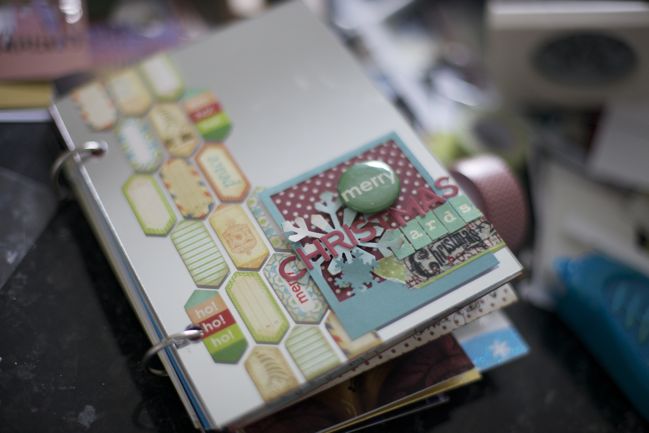 The rhyme may go 'pretty maids all in a row', but in scrapbooking design terms, I tend to think it's 'pretty embellishments all in a row', especially with those tiny bits and pieces we collect for our pages. Gathering them together in a row gives them more purpose and impact, so they don't get lost!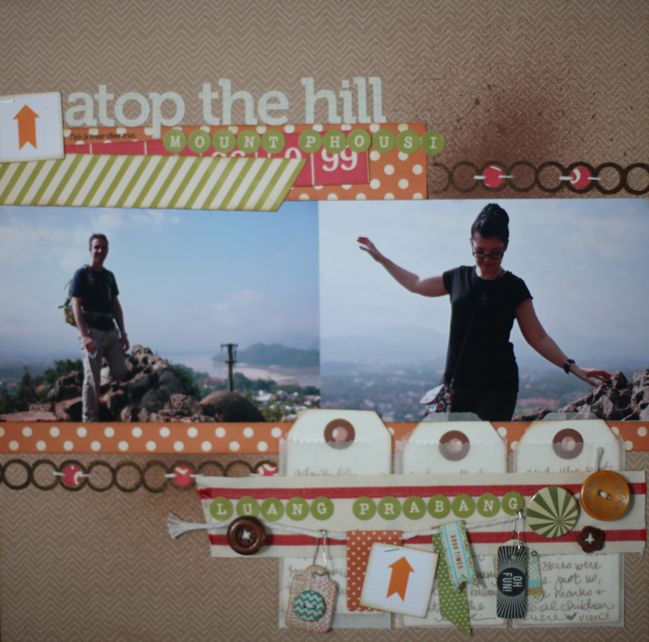 Of course, gathering small embellishments in a line needn't be restricted to orderly, grid-based designs! Banners allow that same idea to be a bit more freeform and organic, and they are perfect for using a collection of somewhat random embellishments.

Glitter Girl agrees with that idea of gathering things for a banner – and also believes in gathering ideas from the gallery and stringing those different ideas together to come up with a new page whenever the dreaded 'scrapper's block' kicks in! (See this page for more details on this Glitter Girl Adventure.)

For a twist on this challenge, I also sent guest artist Lisa Truesdell this sketch – which also can be used to line up several small photos as well as the embellishments – but you'll see that's not necessarily required!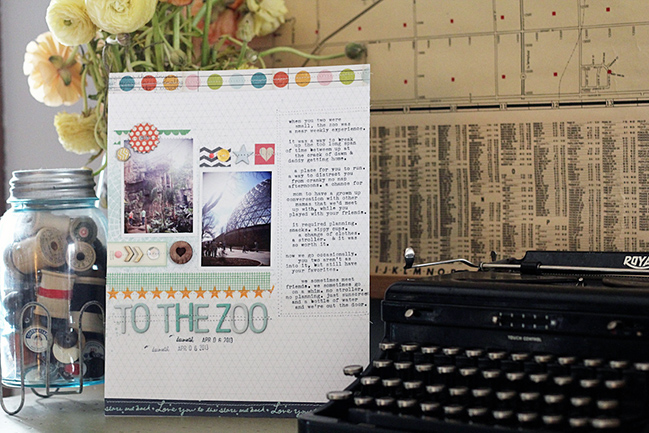 I have to be honest – I have a love/hate relationship with sketches. I love the idea of having a framework laid out for me, but I hate when I get so tied up in those guidelines that I lose sight of letting the page go where it needs to go. Before I started this page, I opened up the sketch image, and took in the main elements. A vertical block of journaling along the right, a grid of squares to the left, and a title underneath. And then I closed it and got to work. This method, as you can imagine, invites a little more wandering than if I referred back to the sketch to make sure I was staying on track.
I started with a piece of patterned paper from Studio Calico, stuck it in my typewriter, and began typing. Once I'd said all I wanted, I had a nice tall column of text, and I reinforced it by stitching around it. I then turned to the grid of squares. I tried a more literal take on the sketch by building a photo mat out of squares of patterned paper, but it really wasn't working for me. I pushed the squares around for a bit and then abandoned them for a more imperfect grid made from two staggered photos, and bits of patterned paper and embellishments from Studio Calico, My Mind's Eye and Cosmo Cricket. From there, I added a bit of washi tape and a title and called it done. While the elements of my page don't really match the original sketch, you can see their similarities. The three main elements on my page carry the same visual weights as in the sketch, but the looser grid is more in keeping with my own scrapbook style.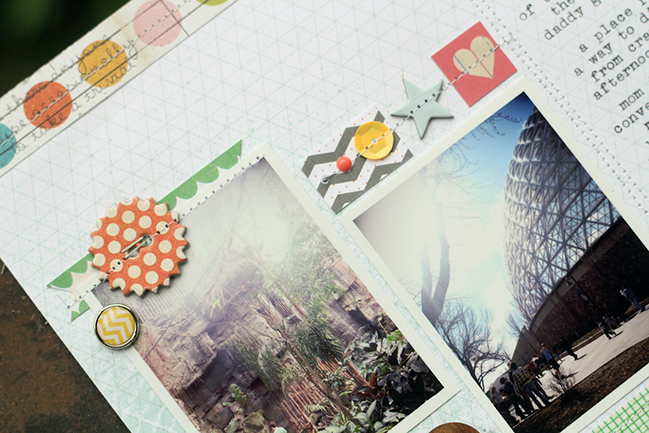 About the Artist
Lisa Truesdell lives in Omaha, NE, in a midtown neighborhood filled with big trees and old houses. She has been married to Matthew for 15 years and is a drive them all over town mom to their three boys – Alex, Ben and Sam. When she's not making pages or chasing her boys, she is slowly making progress on a never ending list of home projects. She subscribes to too many magazines and is useless from the moment she starts a new book until she finishes it.
Eight years ago, she fell in love with a craft that allowed her to experiment with color & patterns, words and photographs. She is now thrilled to be able to immerse herself in paper + glue on a daily basis as a Creative Team member and Education Coordinator for Studio Calico.
Your fifteenth challenge is to line it up! Using the sketch is optional – do whatever inspires you most, of course! Entries close at the end of next Sunday, the 12th of May. Please check back on the 14th of May to see if you have won a prize.




Read more about: inspiration-party sketch-of-the-week
04 May 2013

Next post: Ideas for Recording Gratitude in your Scrapbooks
Previous post: Scrapbooking double page layouts