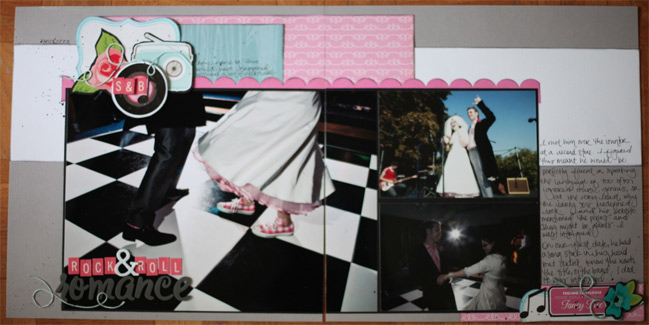 Believe it or not, there were several years of my scrapping wherein I only created double page layouts! Somewhere along the line that changed, and now they are the exception rather than the rule, but I actually love for all my albums to have a few double pages mixed in with all the single pagers. Sometimes it's a traditional two page layout in the sense of two 12×12 facing pages designed as one 24×12 canvas and other times it's a mix of 6×12 pages or 12×8 pages mixed in to extend a single page to a double or triple, but I like how it's a change of pace within an album and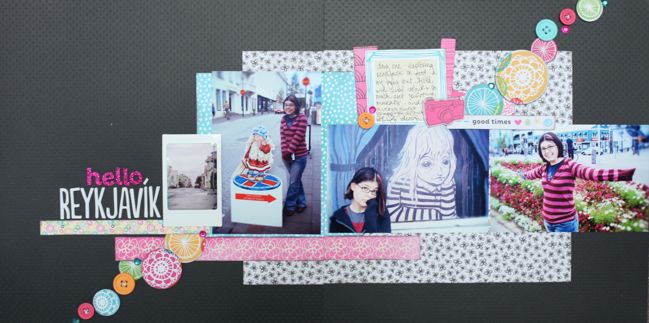 We've been having a pretty in-depth discussion about double pages on the Two Peas message board, and I have to admit I've been reading and not having enough time to go back and write more at the moment, but I have a head full of notes and ideas to get back there once this weekend's celebrations (NSD and a wedding!) conclude, so do jump in the conversation if you're a two page scrapper who would like to see more inspiration out there in that format.

Here's a look at an almost-recent Glitter Girl episode with a two page layout. No, I don't see anything at all odd about the fact of all things that I decide I have enough photographs to stretch it to two pages, the photographs would be of a queue for a cheese toastie. Nothing odd about that at all, I'm sure. (See this page for further details on this Glitter Girl Adventure.)
And now for guest artist Lisa-Jane Johnson, who loves her pages two at a time!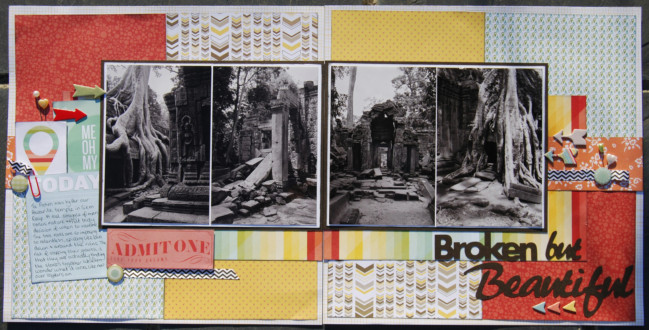 _It's no secret that I am quite partial to a double page layout. I often have several photos from the same perspective of an event but I am hopeless at deciding which ones to use. Creating a double layout means I can include more photos without restricting the story or inhibiting the design. Using two pages also gives you some design versatility by either stretching the placement over a wider canvas or making two more separate but still cohesive pages. Doubles don't need to be a mirror image of each other and if the pages can stand alone then I leave them in their respective pockets. If the design is stretched over the two pages though then I use double sided tape to join the seams of the pockets together for continuity. Using D ring albums means I can move the pockets as a whole which is great for me because I don't scrap chronologically but I do file layouts in my album in roughly chronological order. This way I don't feel a pressure to make sure that the next layout in the album starts and finishes on the right page unless it would really interfere with the flow of the story like a new baby layout coming before a pregnancy story. _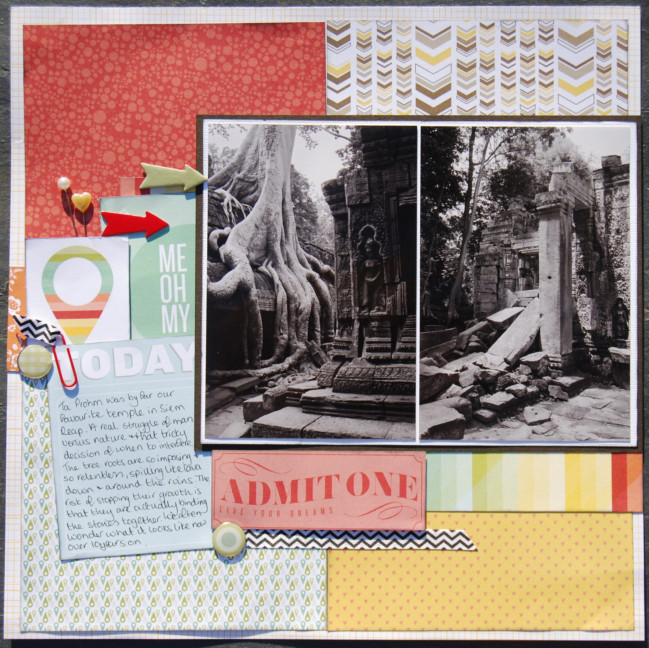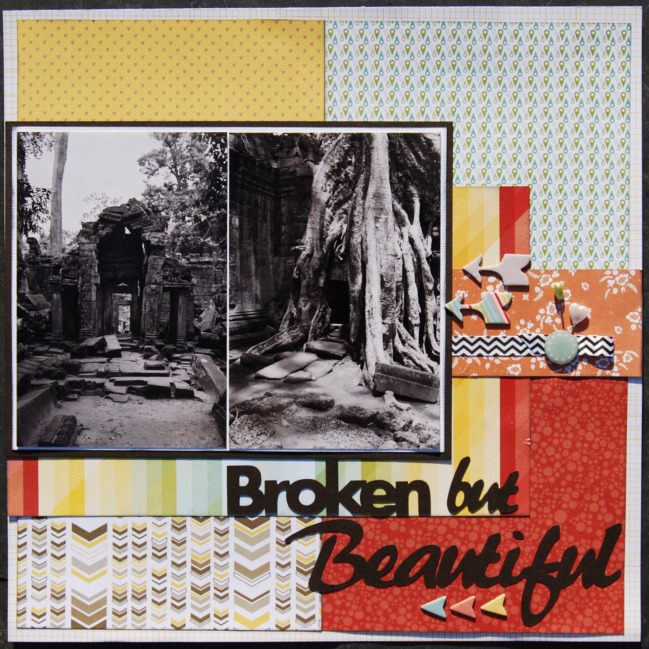 Because this challenge was about scrapping at a pace, I was inspired to be quite specific about my decision making and avoid getting into the cycle of "but what about this (design, photo, paper, embellishment, etc)? I didn't have time to scan my books and files of sketches, or to peruse Pinterest and get distracted by cup cakes, so I flicked through my own albums to find a double layout that I loved. This is definitely something I will do again because it really speeds up the initial process. I chose a design that flowed across the larger canvas so that I was thinking about one continuous layout rather than two linked pages. In this instance, the original layout was one of my favourite single page designs using quadrants. I mirrored the design and then tweaked the elements once the base layers were in place. Once that was decided, I knew I needed 4 bold portrait pictures. As the black and white photos were travel themed, the colourful Studio Calico Snippets collection with its arrows and geo-tags was an ideal match. It was then simply a case of following the original layout. I didn't want to waste time finding the right colour and size of letter stickers for my title and then try to spell something sensible from what was available – we've all been there, right? Instead I cut my title on my Cameo using a typeface I was familiar with so that I wasn't spending time experimenting. I added some American Crafts ribbon and finished off with some of the Snippets arrows. Using one collection like this is really efficient – you don't waste time looking for something that is just right because it is already perfectly coordinated. This also helps with the continuity across the pages too by easily repeating colour and pattern. Replicating elements helps lead the eye around in much the same way as a single layout and really helps the pages to come together as a whole. Flowing papers and even the title across the gap between the two pages also helps it to feel like one continuous design. You don't have to reinvent the wheel every time you produce a layout. By reducing your decision making process and by using what you know, you can still make beautiful pages in a limited time.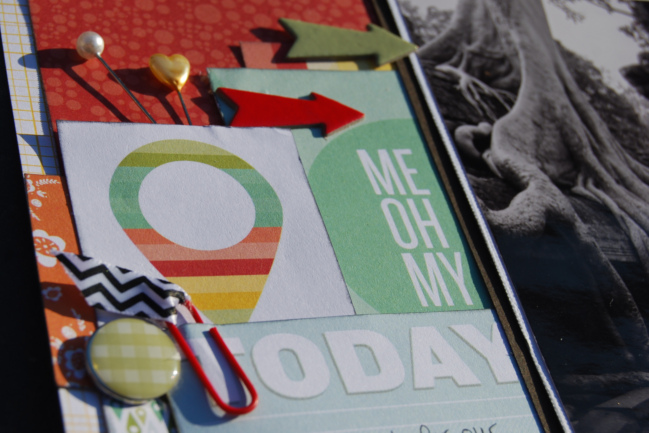 About the Artist
Lisa-Jane is a full time mum, part time Open University Student and aspiring writer. She lives with her 2 young children and soul mate husband in Southampton, Hampshire, where she scrapbooks from a tottering pile of family photographs. Scrapbooking is her therapy and combines her love of storytelling with her obsession for playing with pretty paper. Her other therapy is fitness training and she is developing a certain fondness for kicking and punching imaginary opponents and running away from zombies at the gym. She is on the design team for S J Crafts and shares her papercrafting projects and other activities on her blog.
Your fourteenth challenge is to try a double page! If you are happiest working on single pages, perhaps choose a single page you've already made and make a coordinating page that will sit opposite this in your album. Entries close at the end of next Sunday, the 12th of May. Please check back on the 14th of May to see if you have won a prize.




Read more about: inspiration-party
04 May 2013

Next post: Line up small embellishments on your scrapbook page
Previous post: Scrapbooking with American Crafts Papers