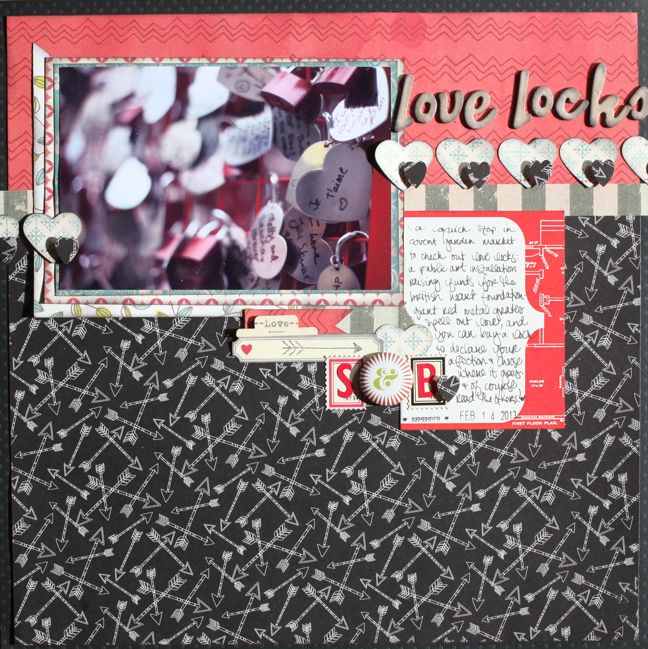 Sometimes you just fall in love with a scrapbook line so much that you barely even look at the paper previews before you add it all to your shopping cart. I'm that way with American Crafts papers, and they've been some of my most-used papers for many years. I love that their collections vary enough that there's always a new look to be created, but they are also consistent enough that they mix and match well from season to season, collection to collection.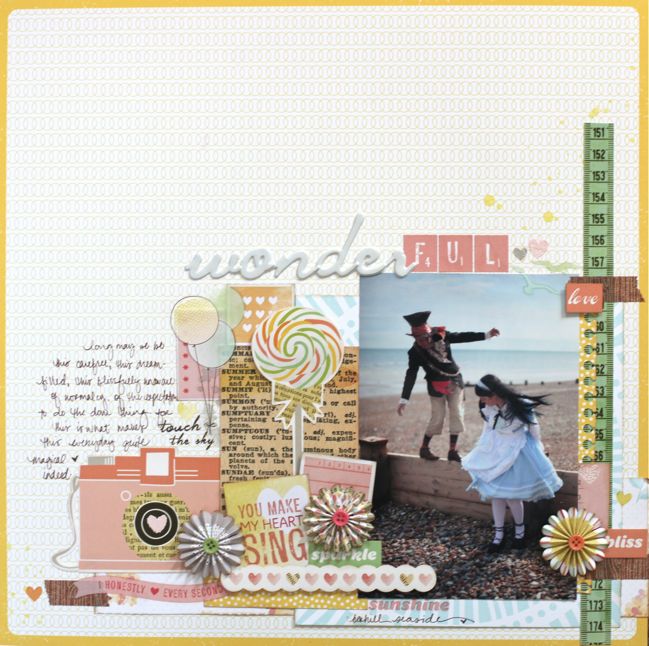 From bold patterns to delicate pastels, there's just something for all themes. And they have a brand new collection that has just hit Two Peas yesterday. I may have it all in my bucket right now, just deciding which pieces will stay there and which ones I'll have to skip so that bucket comes back into my budget!

Glitter Girl often uses American Crafts papers on her pages, but mixed with other brands in most instances. This video from the Sketch to Scrapbook Page archives focuses solely on American Crafts products. It's also an example of scraplifting a page in my own album.
And now for guest artist Paige Evans, who falls in love with paper on pretty much a daily basis!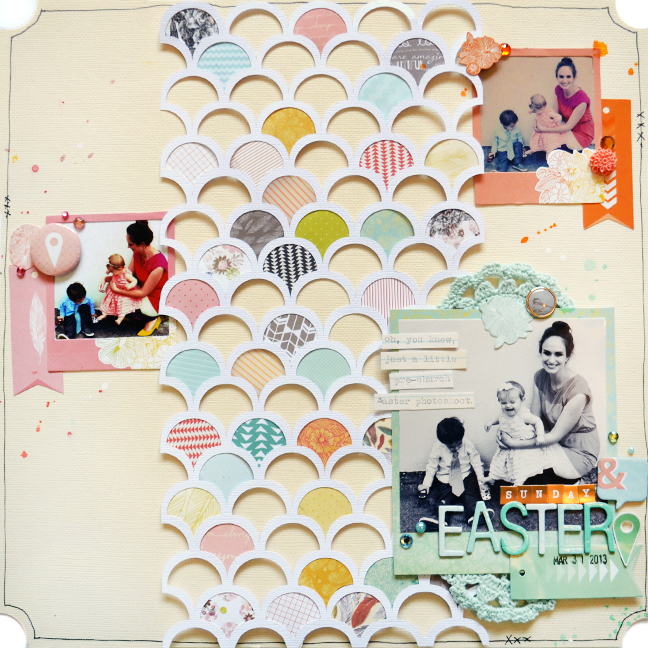 Perfect challenge for me! I chose to go with the Sundrifter line by Studio Calico. The pastel color palette paired with pops of brights and black/white matched perfectly with my Easter photoshoot pictures. I've never scrapped about Easter before so I was really excited to make this layout! The scalloped background die cut looked like stacked Easter eggs and I thought it'd be fun to back the shapes with patterned papers for a unique focal element.
To create this page, use a circle punch to trim away the corners of a cream cardstock background then go around the edges with a black pen, adding a few trios of "x"s here and there. Die cut a scalloped background from white cardstock and back most of the shapes with patterned paper as well as patterned vellum from the Sundrifter line by Studio Calico. The 6×6 patterned paper pad is great for cutting tiny shapes because the patterns are smaller. Add photos behind Polaroid die cuts and adhere them on the layout. Embellish around each photo with matching colored elements like jewels, pearls, crocheted doily trimmed in half, acrylic flower, additional die cuts, a brad, a badge, and more as shown. Drop matching colored spray mist around each photo cluster. Create a title on the largest photo using Thickers and gold mini alphabet stickers. Stamp the date below the title on a pennant tag. Type journaling on a typewriter, cut it into strips, and glue them on the empty space of the photo.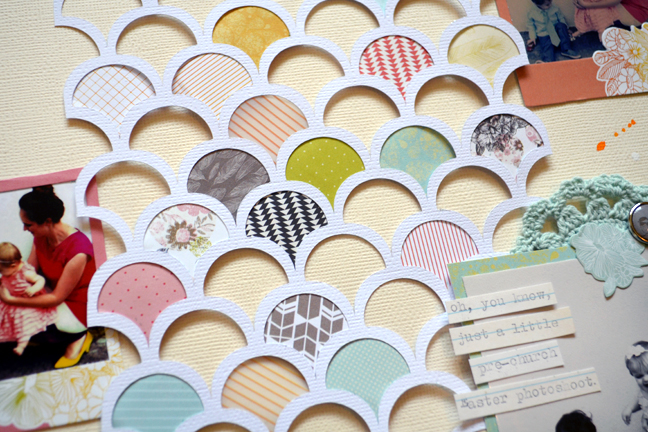 About the Artist
Paige Evans scored her very first job at a local scrapbooking store in Redmond, WA called Yesterdays when she was just sixteen. She's been addicted to scrapping ever since! Paige works full-time from home for Northridge Publishing, who create Scrapbook Trends, CARDS, Simply Handmade, Bead Trends, Cricut, Cricut Idea Books, Create: Idea Books, and Signature Series. She also serves as the American Crafts Blog Hostess/Design Team Coordinator and is a Garden Girl for twopeasinabucket.com. You can follow the adventures of Paige and her family of husband Chris, son Fox and daughter Jane on their blog, plus find Paige on Pinterest , Twitter @PaigeTEvans and Instagram: paigetaylorevans.
Your thirteenth challenge is to highlight your favourite papers! Entries close at the end of next Sunday, the 12th of May. Please check back on the 14th of May to see if you have won a prize.




Read more about: inspiration-party
04 May 2013

Next post: Scrapbooking double page layouts
Previous post: Dear Scrapbook... journaling in a letter format