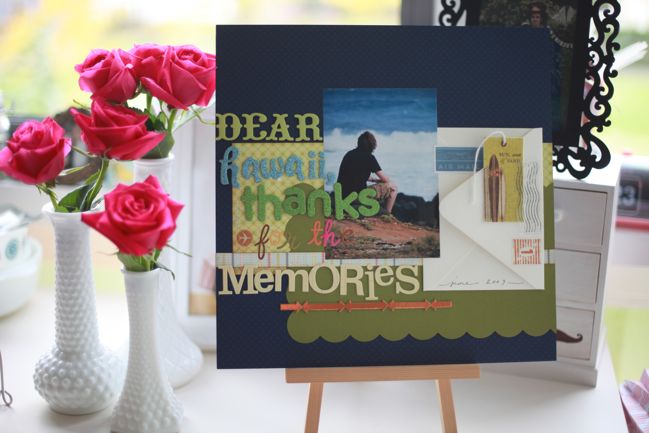 Writing a letter can be one of the simplest ways to get out of the feeling that writing on a scrapbook page is some sort of exam or essay that will be marked and red penned. I probably write more handwritten letters to places (see also this page) than to actual people, which is probably something I should address in my own world, but nevertheless, it serves me well when trying to get my ideas across on my scrapbook pages.

Sometimes my journaling on page feels like a letter in my head without actually writing the 'Dear…' at the beginning and the 'Sincerely yours' at the end. That works too. I could definitely write a letter of admiration to the good folk at Sensory Lab in Melbourne. Except I would need to be careful because it would be really easy to ask an honest question in that letter. When can we move in? (I am rather grateful that they have opened a sister coffee shop and restaurant here in London, but there was something extra fabulous about our twice-daily sojourn to this spot while we were there.)
And now for guest artist Jill Sprott, who knows a thing or two about writing letters!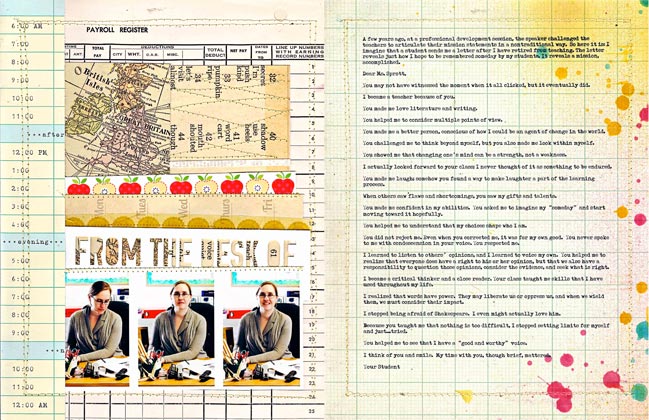 On every layout, we pose and compose ourselves, and thus, the journaling that we include on layouts is, by nature, personal. Journaling in the form of a letter is, perhaps, the most personalized approach to documenting our feelings. On this layout, I took up a challenge that I had been posed a few years back — to imagine a letter written to me by a future student — and so absorbed did I become in the process, that it filled an entire page! In that moment, a two-pager was born, with one side featuring the journaling, and the other including some surprise snapshots my daughter took of me at my desk the other day, worked into the page with patterns and colors that remind me of school. I love that the words "voice" and "teach" happened to peek through the die-cut letters as I assembled the page. Kismet!

About the Artist
Jill Sprott lives on Oahu, Hawaii, with her husband, daughter, and their menagerie of pets. She is a high school English teacher, which makes for pretty busy days, but on the weekends, when not grading papers, Jill shifts from working with words to playing with words and pictures, surrounded by patterned paper. Like teaching, scrapbooking is a creative, challenging, colorful, and rewarding endeavor. Jill is currently on the design teams for October Afternoon and Jenni Bowlin Studio, and is a Garden Girl at Two Peas in a Bucket. You can follow Jill on her blog, Word Play Word Work.
Your twelfth challenge is to write a letter! Entries close at the end of next Sunday, the 12th of May. Please check back on the 14th of May to see if you have won a prize.




Read more about: inspiration-party
04 May 2013

Next post: Scrapbooking with American Crafts Papers
Previous post: Add some sparkle to your scrapbook pages