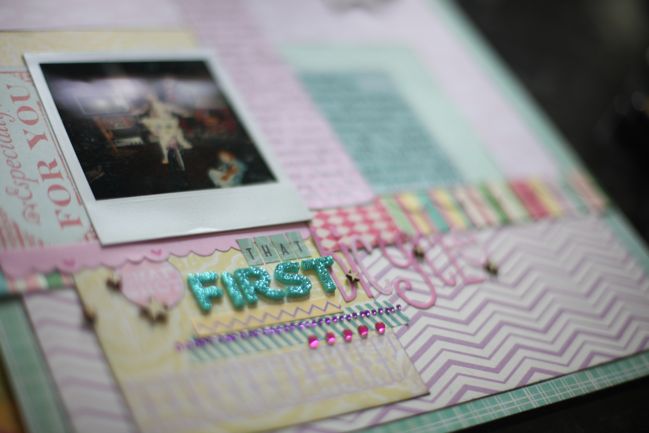 You know, for someone who loves sparkle as much as I do, I have a relatively low glitter factor on my actual pages. In almost every case, the glitter on my scrapbook pages comes in the form of glitter Thickers letter stickers, which is a relatively low-mess way to add a bit of sparkle to any design. Definitely less messy than the glue-cover-pour-back-in-the-jar method we all learned as kids. I'm quite a fan of that process, but not such a fan of the complaints I get from anyone who steps foot in my home and wonders why their feet are now so sparkly. Frankly, I don't see why this is a problem. To me, it sounds like a reason to celebrate. To each their own, I guess.

I think I'll continue to celebrate all things sparkly, so here's a bit of inspiration from the glittered archives. It's a card that ends up quite sparkly, but surely the idea could work for the background or embellishment on a scrapbook page? (And back in our die-cutting post, you might have noticed a way to use glitter as a finishing touch – perfect as a replacement for gems, pearls, or enamel dots.)
And now for our guest artist, Jennifer Grace, a fellow fan of all things sparkly!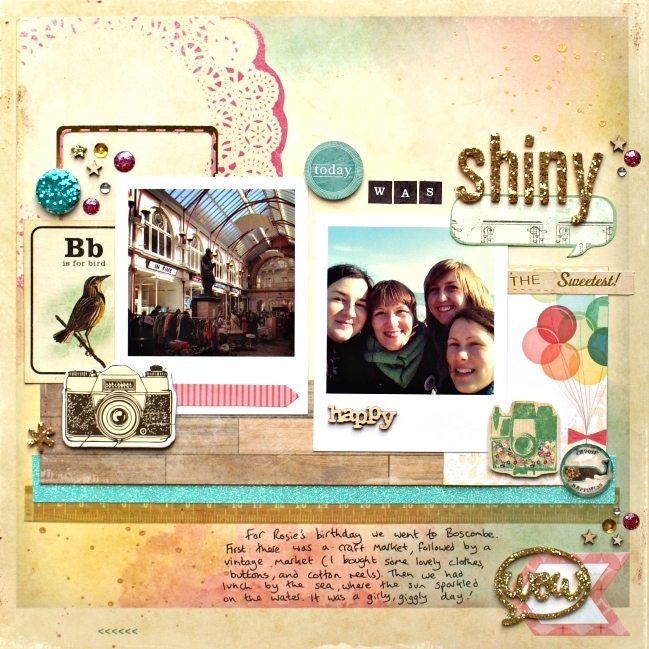 A sparkly challenge is right up my alley – to me projects don't feel finished without a little bit of twinkle! Of course I still had a challenge to work quickly, and I pushed myself to use several types of sparkle without overwhelming the page. I store my stash by manufacturer; each brand has a pizza box that's filled with papers and embellishments all together. So when I'm crafting quickly I grab one of these boxes – for this challenge I used Crate Paper – and I use mostly their supplies for the project. If I remember something else I want to use, like the wood veneers or the Glitz rhinestone then I will go and get them, but I don't go looking through other supplies without knowing what I want, or I'd be there all day! I made sure I used fast drying glue like Mod Podge and Glossy Accents, so adding glitter to wood veneers didn't slow me down. I also use my newest supplies as they are the ones I'm most excited about – those Maggie Holmes glitter alphas make the layout feel perfectly finished, even though it was all put together quickly!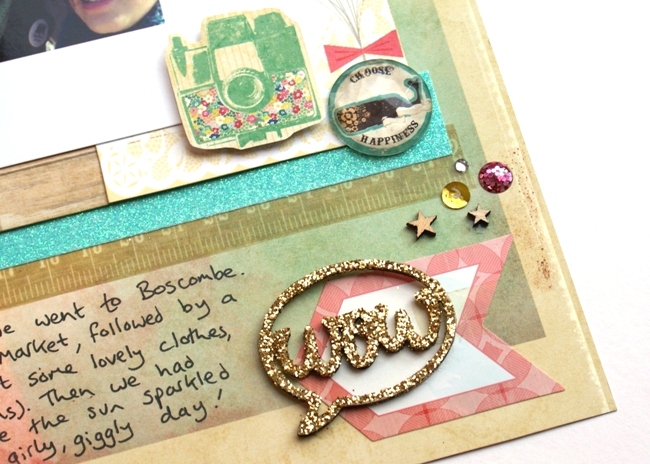 About the Artist
Jennifer Grace is a mum-of-two from Dorset, UK. She blogs at www.jennifergracecreates.com, where she shares layouts and other papercrafts, as well as holding online bi-annual blog events with tutorials, giveaways and more – there's one coming next weekend! She Designs for SJ Crafts, The Counterfeit Kit Challenge Blog, and PaperHaus Magazine, and has had projects featured in books, magazines, and on manufacturer blogs like Crate Paper, My Mind's Eye and Glitz Design. You can also find her on Facebook, Twitter, Pinterest, and Instagram.
Your eleventh challenge is to make it sparkle! Entries close at the end of next Sunday, the 12th of May. Please check back on the 14th of May to see if you have won a prize.




Read more about: inspiration-party
04 May 2013

Next post: Dear Scrapbook... journaling in a letter format
Previous post: How to make a mood board for scrapbooking inspiration