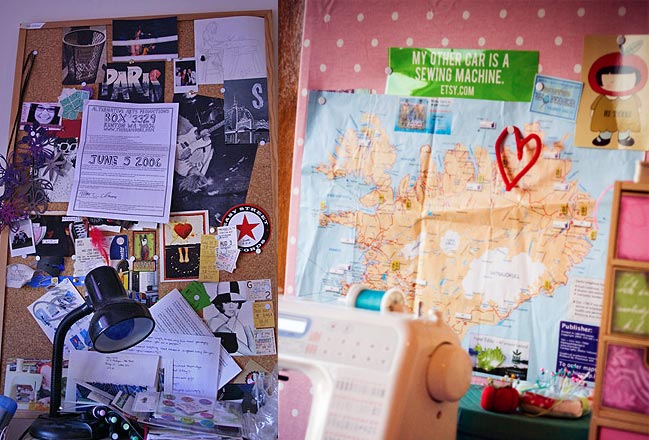 Lately we call them mood boards. A few years ago we called them inspiration boards, and before that they were just bulletin boards, but they all serve the same purpose: a place to pin visual inspiration to help curate your style and develop new ideas that combine different aspects of a bunch of other things. I still love a physical mood board for inspiration, and have always had one in my crafting space in one way or another, though it does seem that they have gotten prettier over time looking at the significantly older board on the left! But if you prefer a paper-free, clutter-free way to collect visual information, then Pinterest is certainly your friend in this day and age. I'm rather fond of the resulting mood board from last month's colour theme at Two Peas, for example. It has such a beautiful rainbow effect as you scroll down the page! Makes me want to make a page in each colour imaginable.
Making a mood board is simple enough: collect different images (either physical items like pages from magazines, postcards, and photographs or digital images from the vast catalogue of the internet) and place them together. It's a different process than taking just your scrapbooking supplies and putting them on the desk. You're taking inspiration in different forms – maybe some for colour, some for pattern, some for texture, some for theme, some for typography. That means your inspiration might be drawn from a photo of an interior, a collection of threads in a bowl, a well-crafted label for a brand that catches your eye, and a beautifully worded and typeset quotation. All different corners of the creative realm brought together to that one place on your mood board. Then you can take bits and pieces from all those different images and translate them to your scrapbook supplies. The photo of a fluffy yellow curtain in the sun leads you to choose layers of yellow washi tape or a sheer ribbon, perhaps. Another photo might lend you a colour scheme, and so on until the work is certainly your own but with this bit of a creative bicycle in your head where the mood board is the wheels but you are very much driving the pedals.

I love the In the Mood to Scrap video series at Two Peas, and Wilna's videos and scrapbook pages always inspire me, even though our finished pages never look much alike. This combination of videos helps illustrate how I take inspiration from the series – starting with Wilna's mood board and project presented here…

…and Glitter Girl then used that same mood board and made a few changes in line with her own style to come up with her own page. I love how mood boards can be used for multiple projects in this way and still produce different looks. (For further details on these projects, see this page for Wilna's project and this page for Glitter Girl's Adventure.)

_I compiled my mood board on Pinterest, and you can find it here to see all the pieces I collected before I started to create my layout. The first piece I chose for the mood board was the yellow flag banner, because my first thought when I saw it, was how simple it would be to make it from yellow ribbon or washi tape. I then came across the photos of the watercolor paints, and thought about all of my mists and paints gathering dust on the shelf, and that wonderful sheet of orange ombre chevron paper from Amy Tangerine's Yes, Please line. That lead me to select some photos of orange, pink, and coral ombre for my next choices for my mood board. I saw some photos of colorful watercolors and flowers that fit the feeling I wanted for my page (warm, pretty, and girly).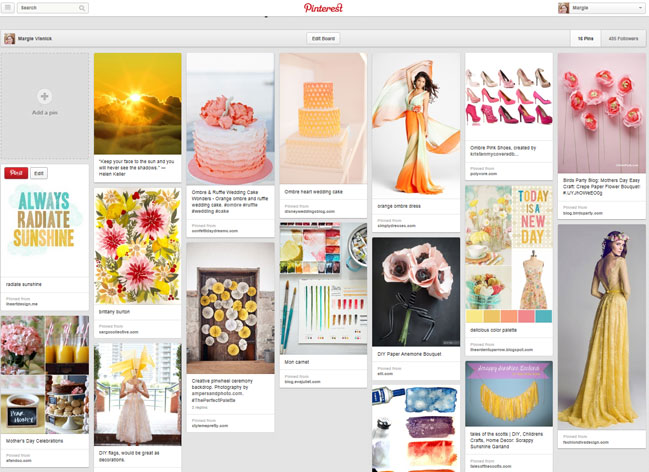 At this point, It was time to get out my pretty papers, and start playing! I started with a 12×12 sheet from Crate Paper DIY Shoppe, and then scattered blocks of paper that I cut down from several 6×6 pads. I misted and dripped my Heidi Swapp Color Shine mists across the page on the diagonal, and then watered down a bit of the Primrose color to paint a watercolor/shimmer frame around the edge. I die-cut the title from the Amy Tangerine paper, and painted it with varying shades of the Primrose paint (watering it down more to paint the word Always, a little less for Radiate, and full strength for Sunshine), to give the ombre effect to the title. I attached a strip of Webster's Pages washi tape across the blocks of paper to ground them, and ruffled a bit of yellow tulle from Glitz to add to the dreamy effect of the page. I mounted my photo on a piece of the Amy Tangerine paper, and inked and ruffled the edges with my fingers a bit for texture. I added the photo with pop dots. I dripped more color shine across the page, and then set about making my banner from ribbon. I took a piece of stretchy yellow trim from Glitz as the base (any bit of twine string would be fine for this part), and all of the yellow ribbons from Dear Lizzy Lucky Charm. Making the banner itself was a simple matter of folding it over a bit of glue dot adhesive, and trimming the edges in various lengths. I tucked in a tag with a bit of journaling, and called it finished!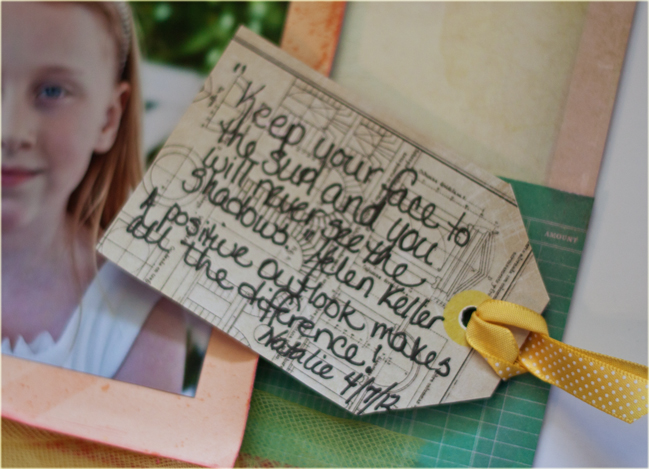 About the Artist
Margie Visnick is a full time stay At home mom to four children; Caitlin, Evan, Natalie and Cecilia. She has been involved in artistic endeavors all of her life, and started scrapbooking as a creative outlet when she was pregnant with Caitlin over 14 years ago. She has been on the Lindsay's Stamp Stuff digital stamp design team, the Sketches 4 All design team, and, most recently, the Counterfeit Kit Challenge blog design team. You can find her at her blog, Two Peas In A Bucket, and Pinterest.
Your tenth challenge is to use a mood board! You can make your own, or use the boards from Margie or Wilna. Entries close at the end of next Sunday, the 12th of May. Please check back on the 14th of May to see if you have won a prize.




Read more about: inspiration-party
04 May 2013

Next post: Add some sparkle to your scrapbook pages
Previous post: Is a digital cutter just what your scrapbooking needs?