Recently my sparkly friend Glitter Girl shared a process she uses for limiting her scrapbooking supplies to combat any feeling of being overwhelmed by too many options. Of course her strategy can work with plenty of combinations of papers, so I wanted to give them a try and share the looks I created following the same plan of action but with a different selection of papers and photos.

This will make the most sense if you start by watching Glitter Girl's Adventure if you haven't seen in yet. You can find more details (and all the products and the three finished scrapbook pages) here at Two Peas in a Bucket.
And though my voice is currently a husky mystery that fades in and out of existence by the word, I happened to have filmed a little something more on this topic before it went away!

There are two significant differences between this video and Glitter Girl's original: the supplies and the order in which things are done. The supplies are easy: I used the April product picks for the Best of Both Worlds kit. The process is something that takes just slightly more explanation.

I call this style of creating Batch Scrapping – and it's something I do when I have a lot of ideas in my head or a bunch of pages to get done before a set deadline. Instead of doing one full layout from start to finish, I work on a few at a time, laying down all the papers and photos, then coming back to do titles and writing on each page, then working through the set again for embellishment. I don't scrap like this all the time, and it's part of my process in the same way that many things are a some-of-the-time process for me: varying between things like ornate layouts or simple layouts, photos first or supplies first, sketch or no sketch – having all those different options keeps me productive because I never fall into one set routine. Batch scrapping falls into that too. Sometimes I am just more motivated to work in that slightly disjointed process, but not always. I know several friends who have to do multiple pages for a deadline for design teams or similar commitments that work in this fashion, and it's especially useful if you want to use a kit each month and make sure you spread all the embellishments and papers around for several pages. Interestingly, making these three pages actually used more paper than I would ordinarily use from a kit, I feel. It could be a misconception, but it seems like I have relatively little left after three pages. We'll see how far I can stretch the rest – there is after all a lot of paper in the 6×6 paper pad.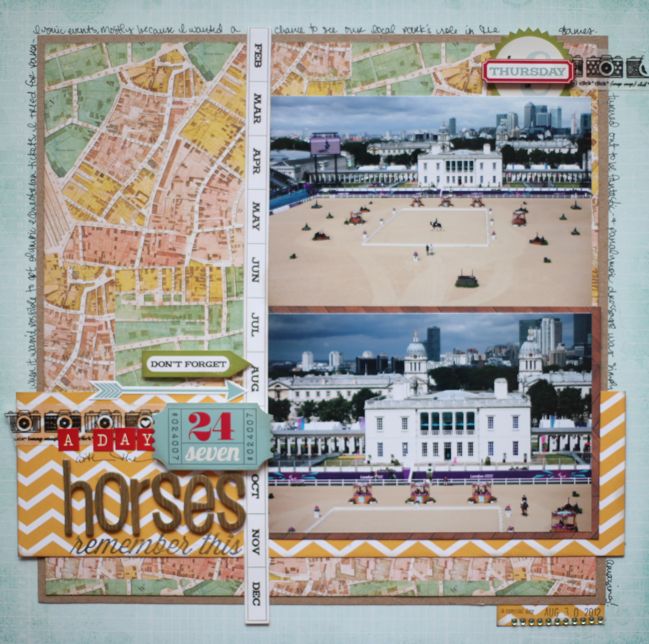 By the way, if mixing all these patterns is still something you wish came a little more easily for you, you might be interested in Scrapbook Remix. This class originally ran last autumn, but after the recent episode of Paperclipping Roundtable, I've been persuaded to run it once again on a live schedule. That starts TOMORROW! So go sign up now if you would like to join in with all that fun. If you participated before (or indeed signed up at any time) and would like to receive the live emails, you are welcome to do so and there is no charge for that, but you do need to request them. For that, please see the details toward the end of this post. (It's just before the last photo in that post.)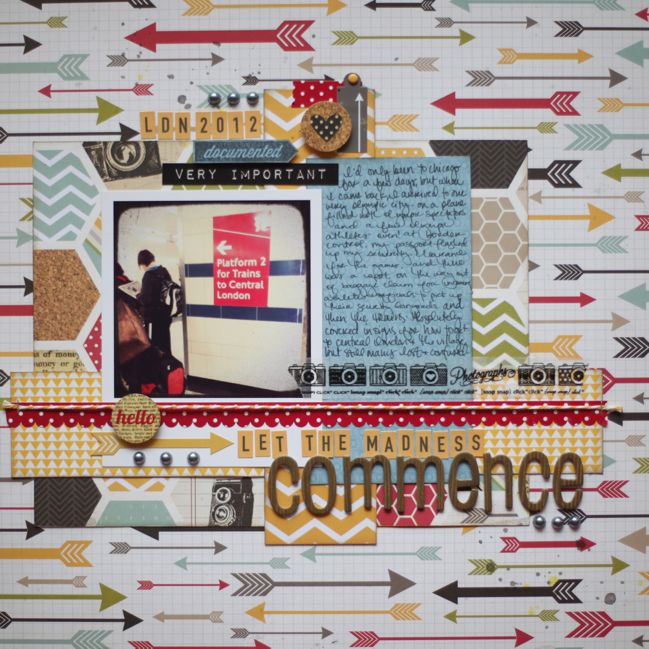 And you may have looked at your calendar and realised April is marching steadily on, which means May will be here soon. May is the month with a SCRAPBOOKING HOLIDAY. How fabulous is that? National – or International – Scrapbook Day is Saturday the 4th of May this year, and I can give you a big nod that there will be lots of exciting stuff at Two Peas and here at shimelle.com, so I hope you have some scrapping time to join us!
This coming week I'm hoping to be up to using the rest of my April kit, though it remains to be seen whether I can manage to speak in a video or if it will be better just to write out some notes to show you how things come together. We shall see! Take care, and have a fabulous week.

Read more about: best-of-both-worlds-kit adventures-of-glitter-girl
21 April 2013

Next post: Working with Watercolour:: A Scrapbook Tutorial by Lilith Eeckels
Previous post: Five Ideas for Using Your Paper Scraps by Melissa Stinson