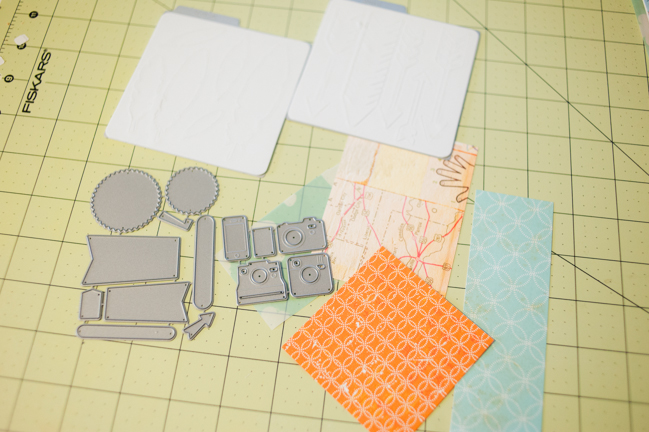 Scraps. They're something that every papercrafter deals with at onetime or another, and you can bet that in any given week on the scrapbooking message boards someone will ask a question about how to sort, store, and use these little bits of left over paper. I'm a big fan of finding ways to use these pieces as soon as possible (since once stored they seem to never see the light of day in my scrap room again), and today I'm going to share five ideas for using up some of your paper scraps.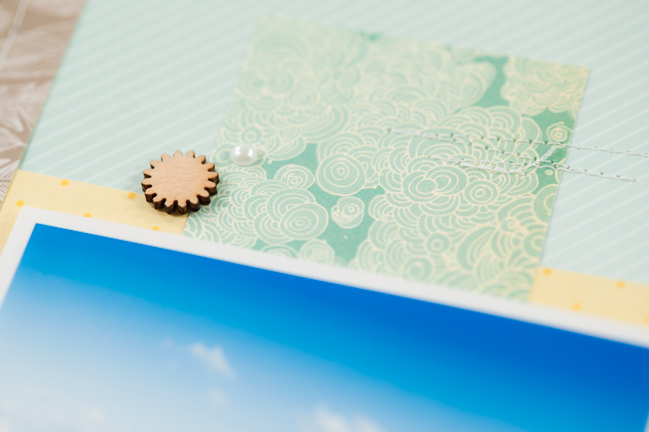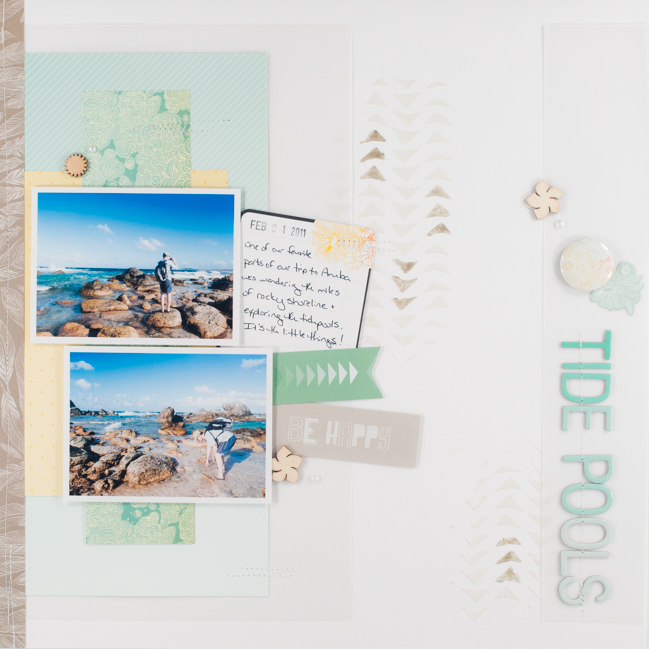 Layer Them Up
This might be the most obvious way to put paper scraps to work, but it's also one of the most effective at using up lots at once! I recently worked on a project with the Sundrifter collection by Studio Calico, and when I was finished I had a small pile of blocks, strips, and bits of patterned paper scattered across my desk. Rather than go through the trouble of finding a way to store these little pieces with the rest of the collection (my preferred method of storing scraps), I decided to use a bunch of them on a layout instead. Sundrifter also has lots of pinks and peaches in the mix, but for this page I decided to stick with an aqua, gray, and yellow color scheme. I picked two photos, added a sheet of vellum and some embellishments, and then just played around with the placement of the scrap papers on my page until I was happy with the look.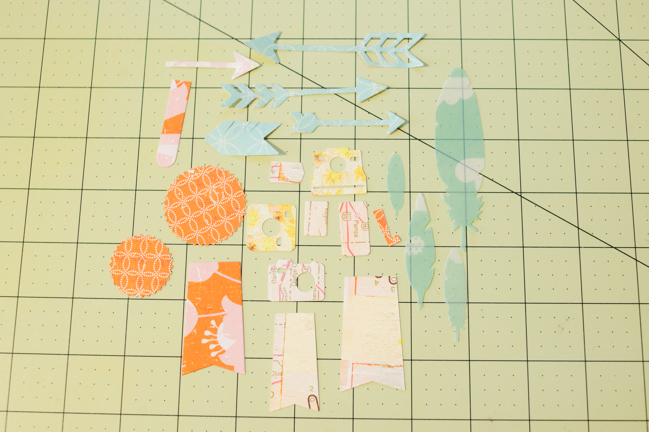 DIY Your Own "Ephemera Pack"
Many scrapbooking collections today include die cut and ephemera packs as embellishment options. The same goes for scrapbooking kits, but sometimes I find that the range of sizes and shapes included in the mix doesn't really suit my scrapbooking style. While working with an older kit from Studio Calico (June 2012- So Cal), I found that I really wanted some smaller, less dimensional embellishments to work with, and there weren't many of them in the kit. I fixed the problem by making my own die cut pack to coordinate!
I started with some of my favorite dies (Laina Lamb Designs for My Favorite Things and the feather and arrow 4×4 Quickutz dies were used for these cuts) and a few scraps of paper from the kit, and in no time I had a small pile of trendy, perfectly matched embellishments to work with! You could also achieve the same result with punches or an electronic cutter such as a Silhouette.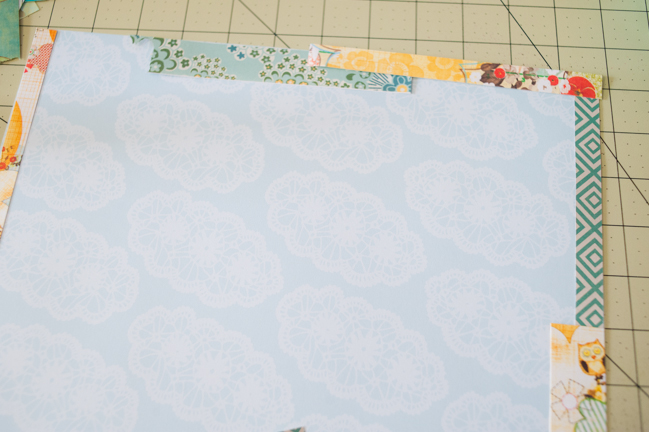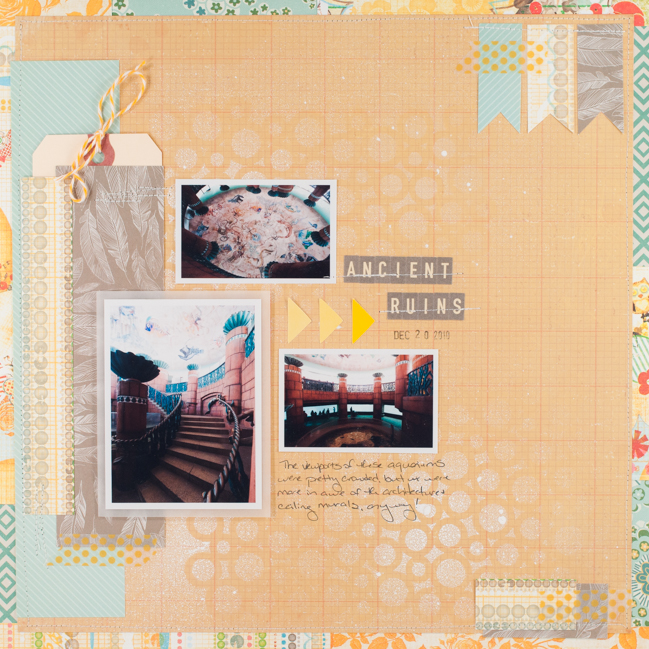 Create an Eclectic Border
I love the look of a mismatched border around the outside of a layout- there's just something wonderfully playful about it! It's also the perfect place to use up small strips and slivers of paper that you might have in your scrap stash. I started my page with a 12×12 base that I knew from the beginning I would completely cover. (In case this worries you, I bought this particular paper in a pack of 25- all of the same sheet in one of those closeout deals where it was literally just a couple of dollars for all of them!) I lined the papers up all around the edges, and you'll notice that it didn't matter at all if they were the same width or not. That's because my next step was to trim another sheet of paper (a grid in this case, though you could use any paper including solid cardstock) to 11.5" x 11.5" and adhere it to the middle of the page, instantly evening out all those edges. If you like the look of mismatched widths, then you can use a sheet of paper that you actually want to have on show as a background and just omit adding that final layer on top.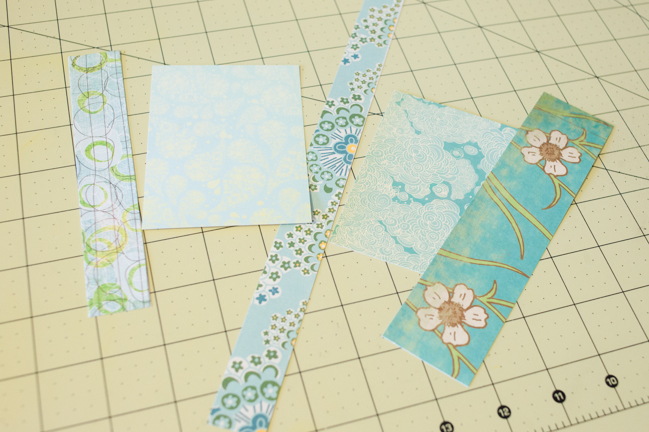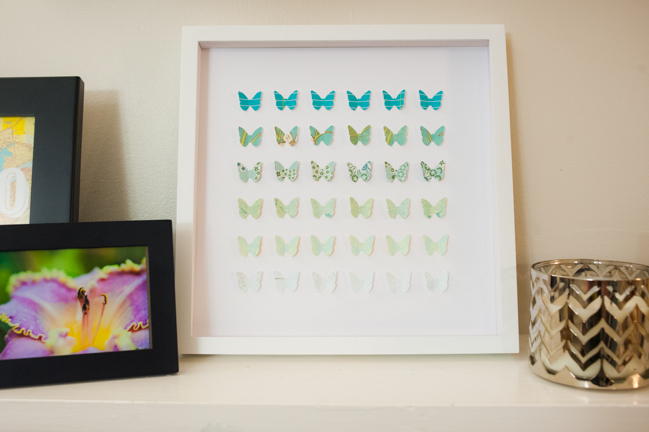 Think Outside the Page
This use for paper scraps was inspired by my love of all things aqua and my absolute lack of interest in using these papers on a layout…again. They've all made appearances in my albums several times, but I just couldn't bring myself to evict the last little bits of them from my scrapbooking stash- I simply love looking at them!
With several shades of aqua paper available to me, I decided to make something to hang on my wall instead! I've already made several seasonal versions of these Specimen Boxes by Tater Tots and Jell-o (where they have a free printable template available should you wish to make your own), and now I have a lovely spring version, too, complete with ombre aqua punched butterflies that finally put to rest the tiniest remaining scraps of some of my favorite papers. This is a project that can be repeated with any shape or theme of punch or die cut and in any color scheme you can imagine!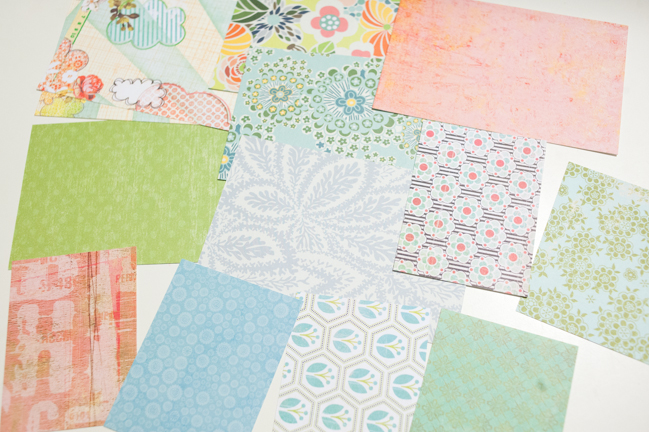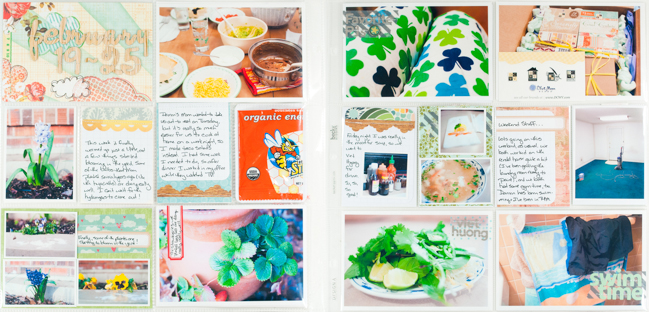 Cut Them To Size
This final idea for using scraps is one that I'm just now experimenting with, but I'm quickly finding it the most useful way to keep my scraps in constant rotation along with the rest of my supplies. The idea is to take the leftovers from your project and cut them to whatever size is most useful to you before filing them away, but of course the trickiest part there is knowing what size you need to cut to! Cardmakers often find that they uses 6×6 papers time and time again. Project Life enthusiasts love 4×6 and 3×4 cuts. This tactic can work for traditional scrapbookers, too, especially if you have sizes of paper that you know you use again and again on your pages. This method is also a great way to use up some older papers or papers from big stacks and pads that you perhaps aren't so crazy about, as discussed on this thread at Two Peas in a Bucket
I actually fall into two of those categories mentioned above and find myself most often either filing away the larger scraps in sizes that normally make appearances on my layouts with the collection that they match (I tend to store papers by manufacturer) or cutting the smaller pieces down to 4×6 and 3×4, storing them sorted by color, and using them for Project Life.
If the layout above looks familiar, then you may be recalling another set of features on my own blog that I've done on using scraps- Use Your Scraps Week . Under that label you'll find not only that Project Life layout, but a look at how I pulled it together using a color palette along with many other ideas for using your scraps!
Now that you've been exposed to a whole new arsenal of ideas for using your scraps, is that pile of leftovers and off-cuts looking a bit more inspiring? Using up your scraps is a great way to make the most of your scrapbooking supplies and budget!


Melissa Stinson is an engineer by day, scrapbooker by night who lives in Huntsville, AL with her husband, Darren. When not working, Melissa enjoys reading (Star Wars books, of course!),

DIY

home improvement (which would explain why she's lived with a partial kitchen wall for several months now), photography, and exercise. She has been published in the books Scrapbook Workshop (F+W Publishing), Everyday Storyteller (Simple Scrapper), and Fast and Fabulous (Ella Publishing). Magazine credits include Somerset Memories and the Russian publication Scrapbook-Info. Most of the time, though, you can find her hanging out on her blog, The Scrappy Jedi and also occasionally on Twitter and Instagram. She is currently a member of the Lawn Fawn and Citrus Twist Kits design teams and is a Garden Girl at Two Peas in a Bucket.






Read more about:
19 April 2013

Next post: Batch Scrapbooking - and following Glitter Girl's advice to use my kit
Previous post: Scrapbook page sketches to get you creating