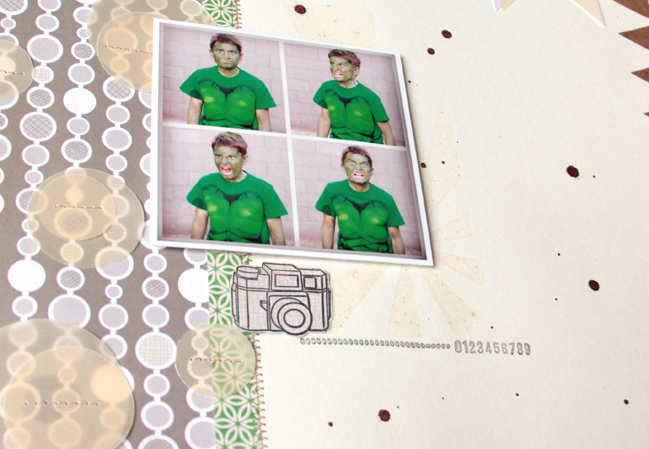 Strangely, Glitter Girl sounds a little hoarse lately, and I've wound up down for the count. Instead of coming to you not-quite-live from the camera in my studio, I come to you propped up on a zillion pillows and ready to be over this already. But I'm not. Trust me to go all winter without succumbing to a cold and then doing so in a royal fashion once spring arrives.
I am mostly upset that I am currently missing Pink Tree Week as frankly, this is not acceptable.
But to get back to the point of all things crafty, I really want to share these sketches and guest interpretations with you even though I'm not quite up to crafting just yet. I'm hoping soon. Very soon. To sweeten the deal until then, I have two sketches for you, with pages by Diana Waite and Amy Tan, and a special discount code for a very limited time, all here for you today.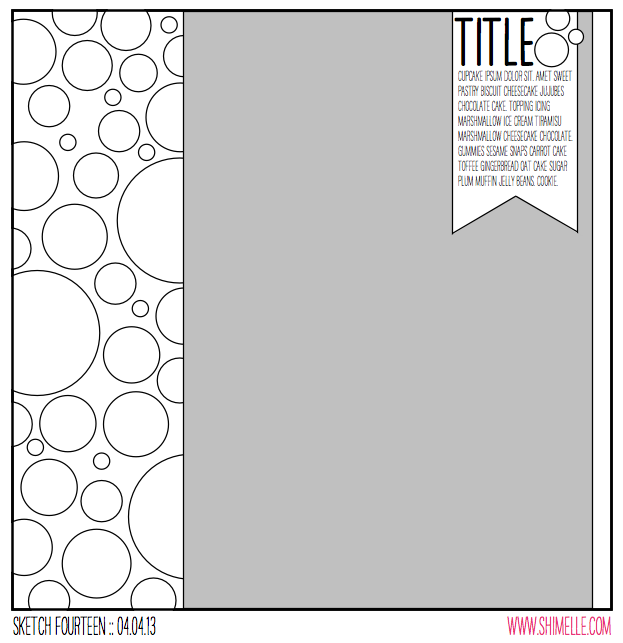 This sketch might remind you a little of a layout from years ago that I reposted just yesterday in that discussion of what to do with scraps. Except then I used it with 4×4 photos, and here the idea of lots of circles is matched with an oversized photo. Or at least that was what I imagined in my head… it's not exactly what spoke to Diana, however!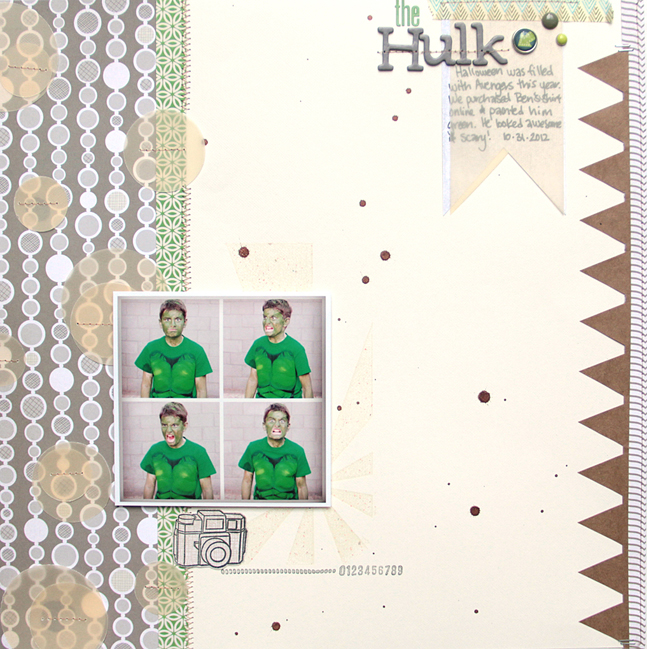 I really liked the clean lines of the sketch. I had a few goals in mind: add some techniques I don't normally use, try something I haven't done while using up my stash! One of the techniques I decided to try was adding vellum to my page. I've had vellum in my stash for a long time and have been afraid to use it! Using my 3 different sized circle punches I punched out circles and added those to the side of my layout generally following the circles found there. I carefully sewed those pieces of vellum down for my adhesive. I also added a piece of vellum to top of my journaling—and I like the look! I also added mist which isn't a new technique, I just don't use my mist very often. I wanted to highlight one last technique that I have always thought was magic; heat embossing. Using a versa mark ink I stamped behind where I knew I was going to place my photo, then I covered the ink with clear embossing ink. I used clear embossing powder because I wanted my layout to stay in a monochromatic tone so that the green in the pictures would pop! I mentioned before that liked the clean lines of the sketch I wanted to keep that "feeling" while multiple photos in a four inch square. I kept them small so that the viewer's eye would really focus on the hilarious faces my son was making. Of course being a boy there were noises as well!
The photos were taken on Halloween right as the sun was setting which meant that my son was REALLY wanting me to be quick so he could go trick or treating! Within about 5 minutes I had the perfect ANGRY pictures of the Hulk.
Diana Waite lives in Arizona. She has realized that not only is scrapbooking a creative release but a joyful way to reconnect with her family. One of the best rewards is to catch the kids pulling out their albums and looking at them. Diana has been published in Creating Keepsakes, and Scrapbook Trends Magazines. She is currently designing for American Crafts and Scrapbook Circle. When Diana isn't paper crafting she is enjoying time with her family, reading, eating chocolate, and exercising. You can find more of Diana's work on her blog.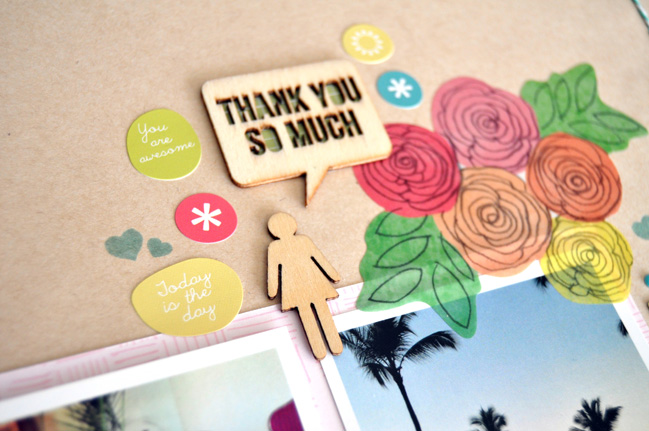 No, thank you, Amy. (No really, that's actually funny to me in this current state. I've just laughed for three minutes and then felt quite sheepish that I thought I was funny at all, much less that funny. Anyway. Forgive me. Let's get away from my bad humour and back to something relevant, shall we?)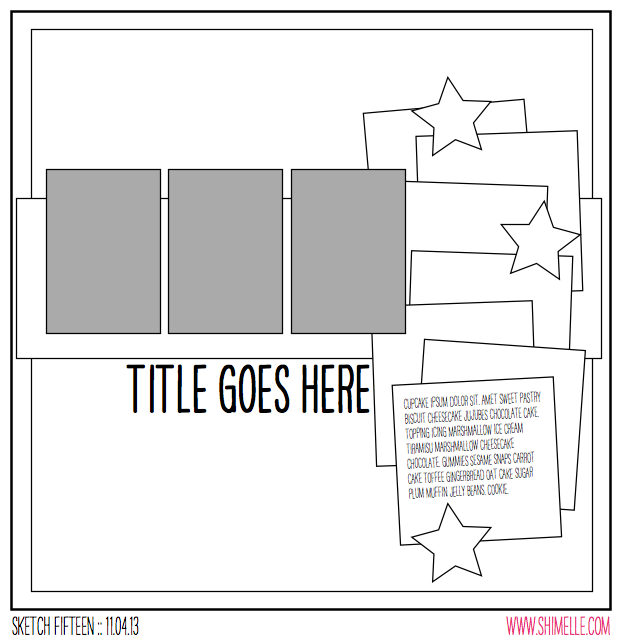 I do love a stack of papers all spread out like that, but this sketch was inspired more specifically by a previous Sketch to Scrapbook Page design, found here. (That one does include a video, by the way!) But I wanted to repeat a similar feel but a different finished structure to the design. If you compare those pages to what Amy made, you'll see just how varied you can get with such a similar exposition!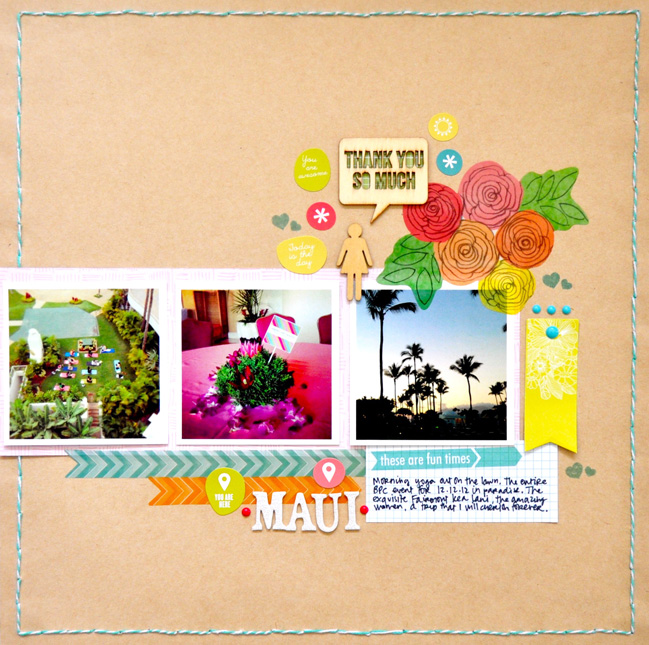 My mind was full of ideas when I first saw this sketch. I thought about stacking various patterned papers and embellishments along with 3 photos together. Then I got a bit overwhelmed at the thought of it, so I decided to start with some kraft cardstock by American Crafts. To follow the outside line of the sketch, I poked holes around the entire border and back-stitched using baker's twine. Then I decided to use 3 square photos (3×3" Instagrams from Persnickety Prints) instead of the rectangular photos, and mounted them on a sheet of Studio Calico patterned paper. Embellishments like stickers and wood veneer are some of my favorite things, so I decided to sprinkle them along the side. For journaling, I used an Elle's Studio tag. I stamped some hearts with Hero Arts Shadow Ink and placed some enamel dots as a finishing touch.
Amy Tan loves creating, leisurely bike rides and relaxing in her little Venice Beach apartment, which she shares with her boyfriend, JC, and her two Jack Russell Terriers, Buster and Bamboo. She's been working on perfecting what she likes to think of as the "art of truly living," which includes working smarter instead of harder; globetrotting; achieving balance in daily life; and collaborating with other creative people. You can see what she's up to at her blog.
SPECIAL OFFER
Amongst other things, Amy Tan designs with Studio Calico, and just for fun we have a special discount code if you've been considering a kit club description. Code Shimelle30 is good for 30% off a new scrapbook kit subscription starting with the current kit, Spencer's. But it is for a very limited time, and the offer ends at midnight (Studio Calico time) on Saturday (the 20th of April). Click here, select the subscription button, and enter the code at check out to claim your discount.
Thank you Amy and Diane for sharing your beautiful pages, though it is making me want to get up and paste things together even more! Soon, soon!!

Read more about: sketch-of-the-week
18 April 2013

Next post: Five Ideas for Using Your Paper Scraps by Melissa Stinson
Previous post: Scrapbooking with scraps of paper :: A new episode of the Paperclipping Roundtable