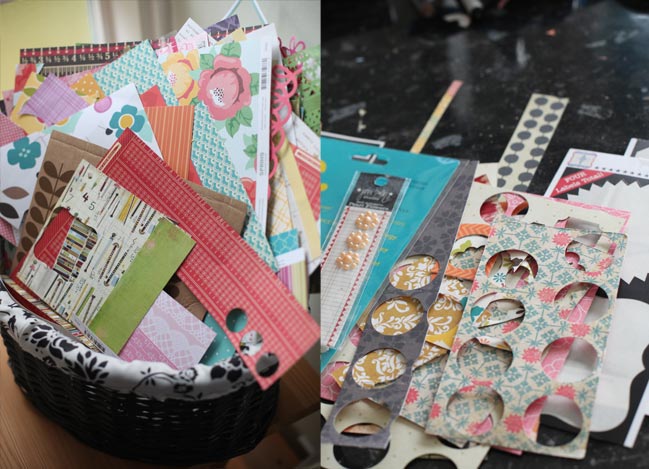 A few days ago Noell from Paperclipping sent me a message asking if I might do an episode of the Paperclipping Roundtable all about scraps of patterned paper. Patterned paper scraps? On the PRT? That's all kinds of yes. Because honestly, there are days when I feel I could write a book with what to do with scraps of paper. I spend a lot of my working days with bits and pieces of paper, and I'm pretty okay with that. So yes, Noell, yes I would be delighted to talk about scraps of paper on the Roundtable!
We recorded this just a few hours ago, but you can listen already. PRT Episode 155: Torn by Patterned Paper. You can also subscribe for free in iTunes and listen on your computer or mobile device. Just search for Paperclipping Roundtable in the podcasts section and you'll find it!
This episode started with a reader (maybe listener is a better word in the case of a podcast?) comment that each of us (fellow guest Erin Bassett, host Noell Hyman and I) thought about for a while on our own, then we got together online to chat about it. It was surprising which things we all had in common, but of course we had some differing ideas too. So that original prompt to start the episode was from Laura McCarty:
I watched a membership video of yours [Noell's] and then one of Shimelle's. You both use a lot of pattered paper and I LOVE how your layouts turn out. But I'm so torn about using so many sheets for a single layout. I am intimidated by using the leftovers. What to do when you're a scrapbooker afraid of the scraps?
Of course we discussed our answers on the show, but I also wanted to compile some references for you here in case this is a topic near and dear to your scrapping heart!
Storing your scraps
This was something we all had in common! Between the three of us, there wasn't a single sorter or organiser! I keep something I call my scrap basket (that's it at the top left of this post) and when I clear off-cuts of paper from my desk, I literally swipe it all off the side and into that basket! When the basket gets too full, I remove a bunch from the back and it goes into my donation box and I don't look back. Noell and Erin have similar boxes, tins, and baskets for keeping their paper scraps and none of us devote time to organising them in any certain way. We find that the random mixing of different papers in the controlled space of one container helps us find new combinations for colours and patterns that we might not have discovered purposefully if we were selecting full 12×12 sheets from our collection. Yet the single space for these scraps keeps them from taking over and reigning in chaos.
I'm very aware, however, that not everyone's creative process is fuelled by random, and some scrappers really prefer to have the order of separating their scraps by colour or pattern or manufacturer. We had a great discussion about it here during a previous online scrapping weekend, and you can find that discussion here. Scroll down to the comments for the good stuff, because there are dozens and dozens of replies that share different methods for storing scrap papers and off-cuts.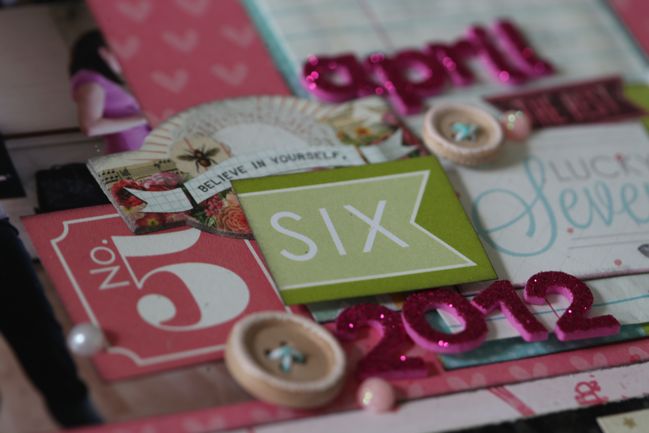 Worrying about value
I know it literally stresses some of you out to see a piece of paper get 'wasted' by being mostly covered by another sheet or using the b-side that is a subtle polka dot rather than the bold and beautiful floral of the a-side, for example. Right now there's even an entire thread discussing patterned papers used for just a quarter inch frame around the whole of a 12×12 page at Two Peas. Here's how I view the value question: once I use a patterned paper once, it has 'earned' its value that I paid. If I get more from that page, then that's a fabulous bonus. But using it once means it was worth buying and I've invested well, unlike some of the patterned papers that sit on my paper rack and eventually leave here still as full 12×12 sheets, off to some other crafter! Take that idea of using a patterned paper for a quarter inch frame around a page: sometimes I will save some of the centre since it will be covered, but other times I won't. It depends on so many things, including my mood and whether the other patterned paper on top is sturdy or flimsy! I don't show this step on video because it doesn't need explaining and it doesn't make for very exciting viewing, so just because you don't see it happen on a video doesn't mean it doesn't happen at all. But I really don't have any problem covering up another sheet of paper because I know this might be a surprise, but patterned paper is really not in short supply around here. There is plenty to go around, even for quarter inch borders. I know I'm not the only scrapper with an extreme amount of paper to hand!
But a specific query has come up a few times with my classes, and that's how layering often means you'll only see a tiny little bit of any particular patterned paper. That's true! And showing just that tiny bit is an essential part of that look – it will not work with big sections of each paper on display, which would overwhelm the photo. When I first cut into a 12×12 pattern for a page, that tends to be the time I will really feature the pattern on the page. Then the rest goes into the basket and anything in the basket is fair game for being tucked and layered and almost entirely hidden. I love the subtle continuity this can create in the scheme of an entire album, how you will have seen one pattern somewhere and then elsewhere you'll see just a tiny bit of it and without seeing the full design, you'll actually know what it looks like. Maybe that will help the worried crowd know that when you see just a tiny bit of a patterned paper on my pages, it's rare that I will have cut that from a full sheet of 12×12 – chance are I have already used the pattern elsewhere and now the rest of the sheet is fair game for any placement that might work on the page. But also, I am really not scared of cutting or using new papers, largely down to my experience with what I call the story of the special paper, something I know many of you have already read. It's one of those things I come back to so many times when I'm scrapping: use it while I love it, otherwise I really will fall out of love with it and then the purchase is a total waste! That is what I aim to avoid, so I am fearless in using what I've purchased while it's still new and exciting to whatever creative part of my mind makes all this stuff work.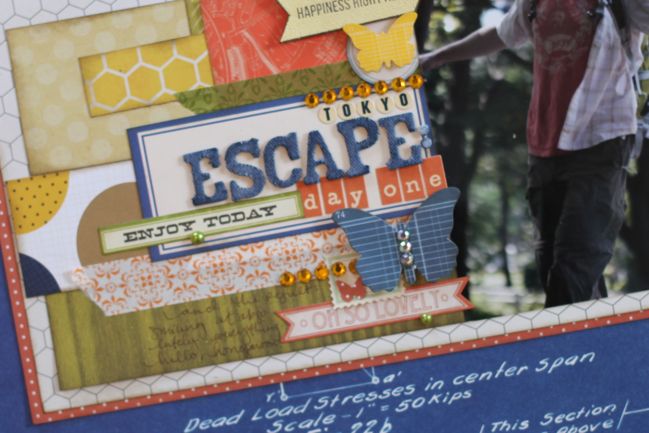 Patterned Paper class resources
There are a few different classes and workshops from my corner of the world that could be useful to you if you're aiming to make more from your scraps or get over the fear of cutting into perfectly lovely sheets of pretty paper. The Hitchhiker's Guide to Scrapbooking covers a lot about layering in addition to ways to choose your products and just plain get started. It is suitable for beginner scrappers or scrappers with experience who feel they haven't really found their style or really struggle knowing where to start. Many scrappers have told me they took this class after returning from a break from the hobby and that it successfully got them scrapping again, which makes me very happy to hear! But I also think that helps you know where it sits in terms of an 'is it right for me?' scale.
For something quite light, The Perfect Collection is a stand-alone video workshop designed for using up every bit of a collection kit. (We talked about this on the show – this is the class with the guides to different sizes you can cut.)
For something with more detail and specifics, there are two classes here: Pretty Paper Party and Scrapbook Remix. Pretty Paper Party came first, and is more technique-based – covering different things you can do with papers. It includes both scrapbook pages and cards (and a couple mini books) as examples. Scrapbook Remix is a more recent class from 2012 and it focuses more on the idea of how to mix patterned papers, with plenty of examples of how one paper collection can be mixed and 'remixed' with other papers to take on many different looks.
All of these classes can be taken any time on a self-paced format. (The first example is hosted at Two Peas; the rest are all hosted here at shimelle.com.) On the PRT, I mentioned I could be persuaded to set up live emails for those who would like to do Scrapbook Remix right about now. I don't often rerun classes, but earlier this year we did this with Pretty Paper Party so a group who had missed it on its original live run could participate all in the same time frame, and I don't see why we couldn't do that for Scrapbook Remix, and start next Monday. You can sign up for Scrapbook Remix at any time, but you will need to let me know if you want to receive emails for this special PRT-inspired repeat. (If you signed up months ago, you're welcome to get in on this – you do not need to pay again.) Just send an email to shimelle+remix2013@gmail.com with the subject line 'Yes Please'. Ideally, make this message come from the same email address you used to sign up for the class! If that's not possible, or your emails need to be sent somewhere else, please indicate those addresses in the message. (Because I will need to collate this list of email addresses by hand, it is really important that I be able to match your email address from your request to the payment you made, whenever that may have been.) I will need your request by Sunday morning if you want to start receiving messages on Monday! Okay? Go, go, go if you want in on that!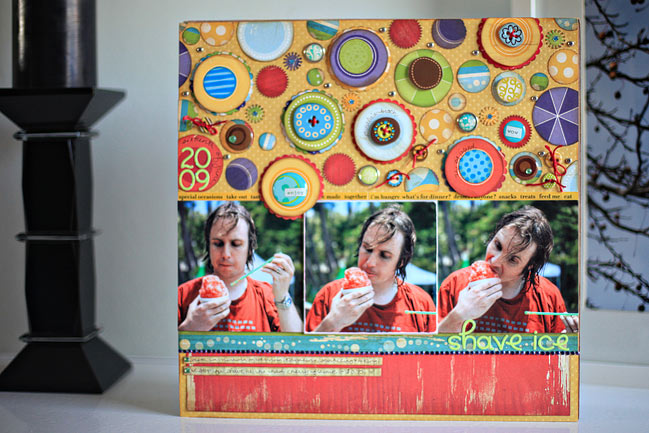 Free resources for using patterned paper scraps
Of course Glitter Girl has used her share of patterned paper scraps, and scrapping to the end of my Best of Both Worlds papers each month is making me do a lot of that too! So here's a quick round up of some links that might be useful:
Glitter Girl's tips for mixing and matching different patterns, with one big tip for colours
Glitter Girl's tips for using your scrap papers as embellishments, instead of spendier premade items (Glancing at the supply list for that one, there is a lot that is now on sale, so that would make things even more affordable!)
Glitter Girl's tips for choosing patterned papers for your page, which is something a little different to what we discussed on this episode but I think it's probably still relevant in applying what we did discuss to making actual pages with your photos
and the most specific Glitter Girl episode on this topic: Three Scrap Strategies, all about three different page designs you can make easily with scraps and off-cuts, and it will always look different when you choose a different mix of patterns.
From mild-mannered scrapbooker Shimelle Laine, you'll also find the end-of-month kit wrap-up posts like this, include plenty of scrap-built pages (see also this and this). Many of the tutorial posts can be done with scraps, like this one combining scraps with a single stamp to form most of the page. Even if you go back to older posts like this, you'll find there is still a lot of cutting patterned papers into those similar sizes. If you get so far back that the patterned paper disappears to a world of all cardstock layouts, then you've gone too far. (For my pages anyway. There are some who can still make the cardstock look fabulous… I'm just not one of them!) Stop and step back into the present and enjoy all the patterned paper!
I hope those are some useful resources and more than anything, I hope you enjoy the new episode of the Paperclipping Roundtable!

Read more about: paperclipping-roundtable
16 April 2013

Next post: Scrapbook page sketches to get you creating
Previous post: Washi Tape Frames: taking scrapbooking inspiration from Wendy's tutorial