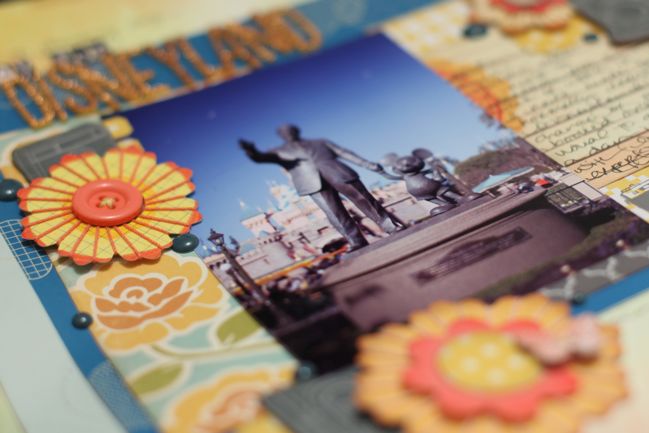 Pretty much every winter for several years, I've headed to Anaheim, California, for a week. Except I've occupied pretty much every moment of the day with work, and barely had time to breathe and sleep. Every year I would try to find some time to steal away to meet with two localish friends, and we would catch a quick cupcake or lunch, and they would ask if I wanted to go to Disney. You know – that reason why most people visit Anaheim, California! And I would say maybe next year and then forget about it all over again.
Except this year, I remembered. I could only do a little more than five hours, but to Disneyland we went, where we ate pancakes shaped like Mickey Mouse and spun the teacups and sang It's a Small World and drove through London on Mr Toad's Wild Ride and even played some sort of alien laser tag with characters from Toy Story. Don't ask me which characters: I have never seen Toy Story. None of the Toy Stories. I know, it's weird. I just… like my animation hand-drawn. (No, I haven't seen Shrek either. I've seen Finding Nemo and I was sorely disappointed. But oddly, I quite like Monsters, Inc. Anyway, I digress.)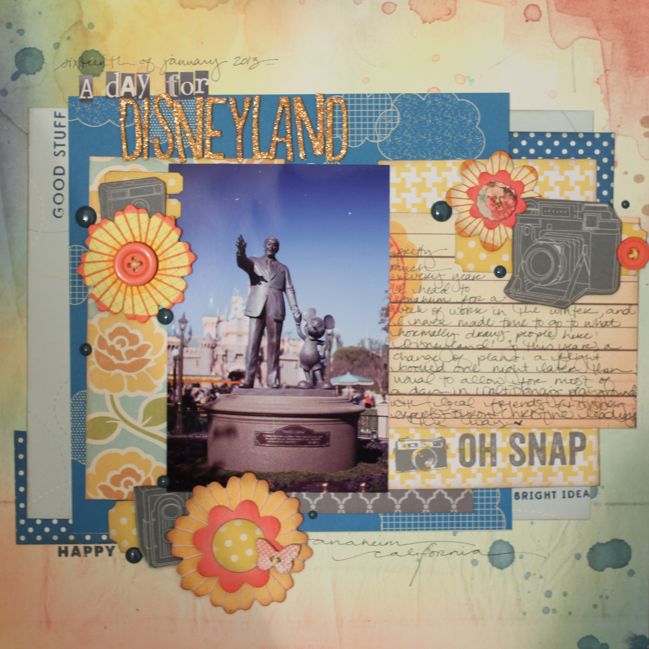 I've been saving that piece of BasicGrey paper with the lovely watercoloured-fabric texture. Saving it to use as a lush background for something with lots of layers. Except I didn't have a lot left to layer, so to finish this last page from the January Best of Both Worlds kit, I headed to my scrap basket and ended up including some paper in the one-to-two-years-old category along with some positively-ancient-KI-Memories paper in a colour that makes me swoon.

I don't tend to use a sketch with the very last remains of a kit – I tend to just move the scraps around until an idea emerges! If you're looking for more ideas for what to do with those last scraps at the end of a kit, the end of this video might be useful too. I'll see if I'm able to share a last look for most of the kits – though sometimes it may just happen that the pieces fit perfectly into the sketches and starting points… we'll see!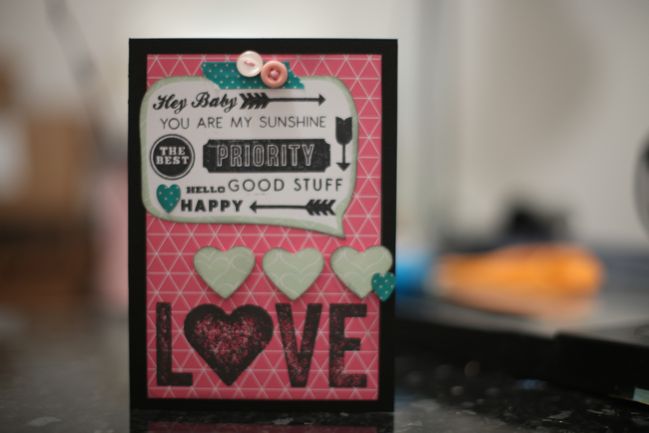 If you watched the last Sketch to Scrapbook Page video, you might remember the two hot pink 4×6 cards I considered throwing into the mix before deciding the colour was just too much. In the end, I put both of them together with a black cardstock card blank and made a simple card with the stamp set and two heart punches. There's quite a bit going on on the front of this card and I'm not completely convinced that I love the chaos of it, but I do really like all the different word and arrow stamps together in the text bubble. I think I'll try that on a page soon too, because it could make quite a clever embellishment on the right sort of page. Show of hands: should this be my Valentine card to The Boy or should I try again? Ha! I am definitely a scrapbooker first, but still like to make a card now and then.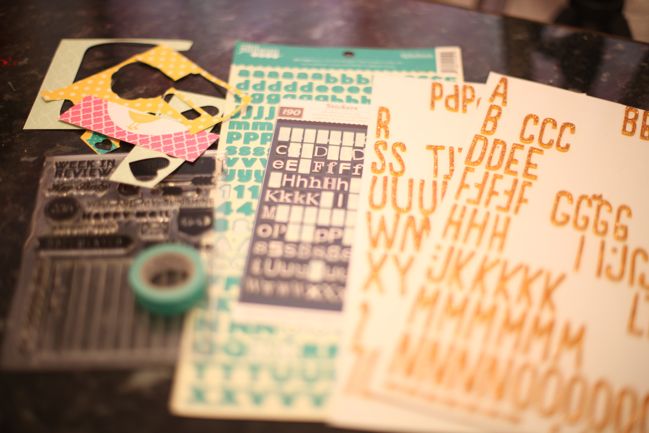 So here is what remains of my January kit, six pages and one card later: the stamps and tape that I'll continue to use for quite some time, three alphabet sets that can each do a bit more (some more than others – the navy is particularly spent of some key letters), and some too-small-to-save paper scraps that have now gone in the recycling bin.
Onward to February then!

Read more about: best-of-both-worlds-kit scrapbooking-videos
31 January 2013

Next post: Best of Both Worlds :: My scrapbooking product picks for February 2013
Previous post: Sketch to Scrapbook Page :: Scrapbooking with square photo prints