I am not a morning person. It's something you learn within about two days of meeting me. Morning and I just don't get along and over the years I've developed strategies for putting morning in its place. Things like getting up ridiculously early so that 8am won't actually feel like morning when you've been up since 4, or the classic staying up all night before a long-haul plane journey not just to lessen the jet-lag, but also to make sure I actually get to the airport on time! But most effective is something far simpler: finding a reason for the morning to be motivating.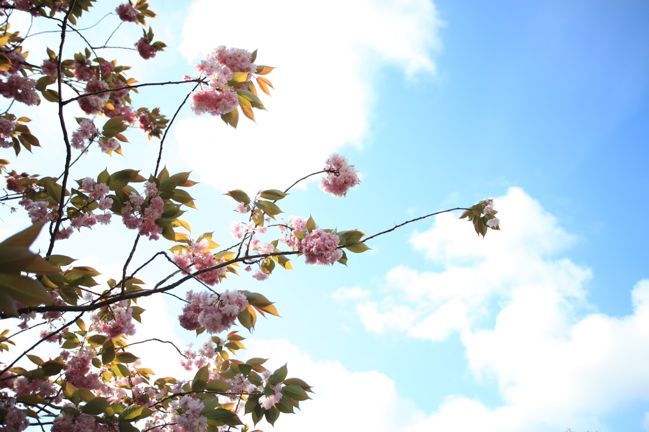 Like when the sky looks like this and casts such a pretty light on everything. These cherry blossoms (or whatever they are technically — I'm far from a garden expert!) are so fleeting that I've learned to take my camera everywhere once they appear. These first few shots with the rich blue sky were all taken before eight in the morning. (That 'sun' glare in the first shot isn't actually the sun, but a spot of brightness at the edge of a cloud.) Perfect because the light is amazing and also perfect because only a very few people appear in the park at that hour and they all share an unspoken respect for others who go there at this hour. They are extra polite. The park is extra quiet. And no one will disturb you while you spend nearly thirty minutes photographing a single tree.
That is the sort of thing that could make me a morning person. Shame it really only lasts a fortnight if we're lucky.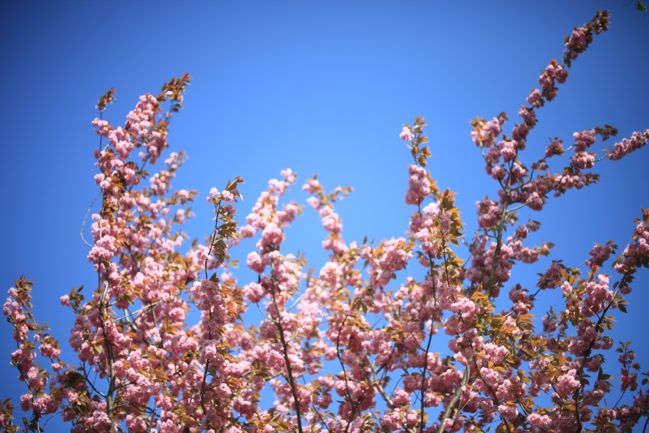 I know the sky isn't that blue later in the day. And it really was that blue early in the morning — these shots are all straight from the camera, imperfections and all. I have long loved rainy days, but I could get lost in these blue skies for hours, I do believe!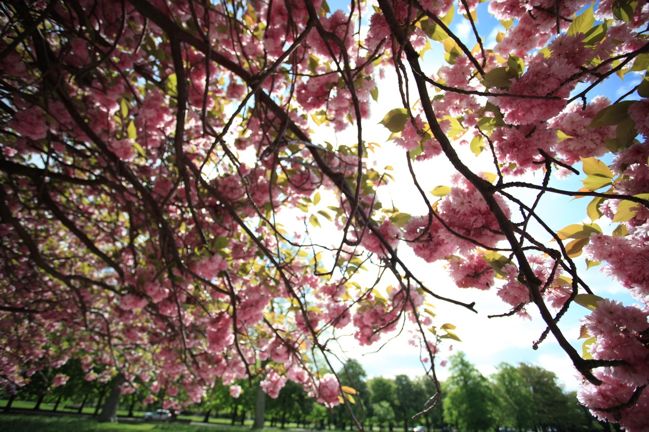 Not long ago, I asked what kind of camera you used and more than half of you replied that you use a digital SLR. Which is both exciting and a little daunting! Exciting because so many of you really have all the options that create a real look or style to your photos, but daunting because we all have a different mix of equipment and every piece has its own look.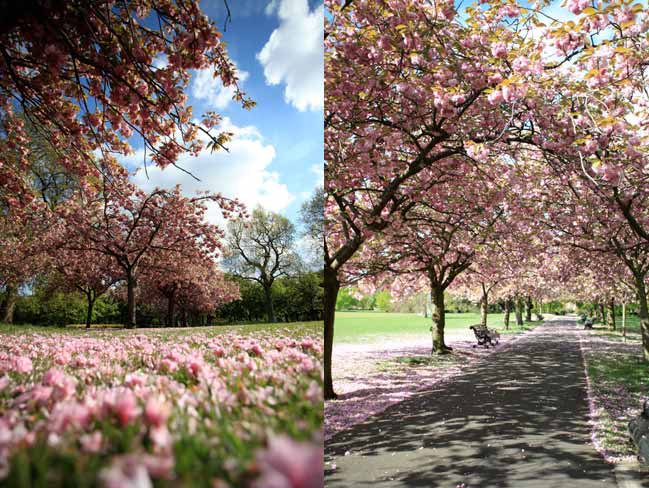 All the shots above were taken with a wide angle lens, which isn't my default lens. It's so easy to get used to shooting with the same lens almost all of the time, and I fall into that trap just because I have one lens that is easier to pack, lighter to carry and it's adaptable to lots of situations. If I could only have one lens, that would be the one I would pick, and when I need to pack light I will leave all the others at home. But half the fun of having an SLR is having the ability to change lenses! It's no good just collecting them and taking them out once a year. I think part of the adventure is to try lenses in situations when they wouldn't be so obvious. Wide angles aren't what you think of for shooting flowers; wide angles are for shooting mountains or skyscrapers or other giant scenes that won't fit in a single frame any other way, right? The last time I really spent time with this lens, I was shooting a gigantic inflated bunny floating in a market building! (No, really.) So trees and flowers were something different, but oh how I loved being able to look past individual blooms and frame them with the greater scene of the sky. Definitely worth zooming out sometimes – even amongst pretty flowers.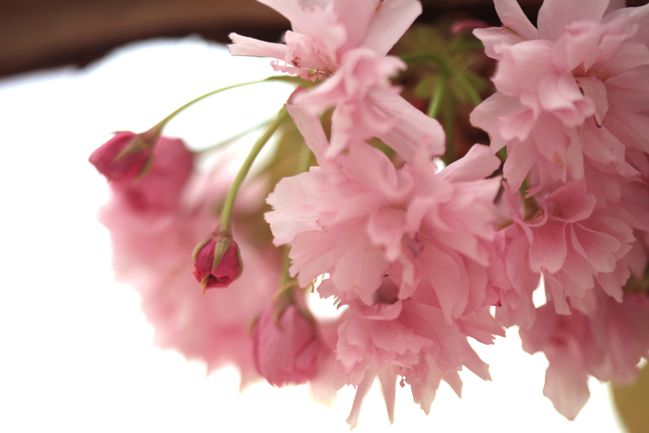 But three photos to show you a little contrast. I headed back to the same trees in the same park with the same camera, but a different lens and a different time of day. In the middle of the day, you still would have described it as sunny, but those gorgeous blues were gone and the sky now appeared just white in the background. Not as much fun at all!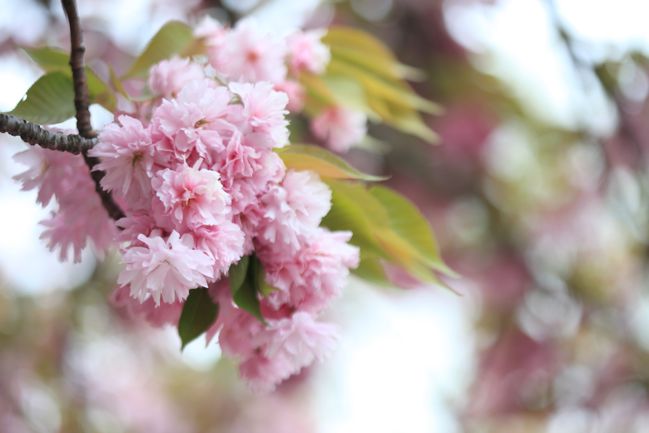 I also used a macro lens this time — exactly what you would expect for photos of flowers and little details. These three images are my favourites from that midday stop, but I can't help but think they would be so much lovelier with that clean blue edging of the early morning.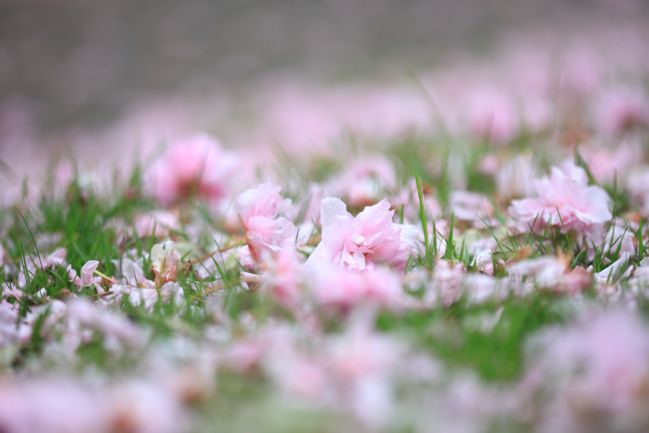 So what on earth can I gather from all that rambling?
…I think we can learn a great deal about our photography by looking at the same thing in different ways.
…Sometimes using things against their obvious purposes can create your favourite results.
…There really is truth in that old chestnut that early mornings and dusk have the best light. If it's enough to make me a morning person, it's got to be more than just a little bit better.
…And also, that I may have a small obsession with trees that turn fluffy and pink in the spring.
By the way, some of you have heard that I'm teaching a photography-ish course this summer, and that's true. But it's not a course based on how to use your camera. (I'll be sharing more about it soon but I have some things to finish before I start to dish!) If you're looking for a class that will help you with the mechanics of using your SLR or bridge camera, Cheryl at Feel Good Photos has a class open for registration now that you might find useful.
Have a lovely long weekend and take some gorgeous pictures, won't you? (Anybody have anything exciting planned?)
xlovesx
Technical details: wide-angle shots taken with a Canon 17-40mm lens and macro shots taken with a Canon 100mm lens, both on a Canon 5Dm2.

Read more about: photography
28 May 2010

Next post: Win Banana Frog stamps on today's blog hop!
Previous post: Care to share a minibook?