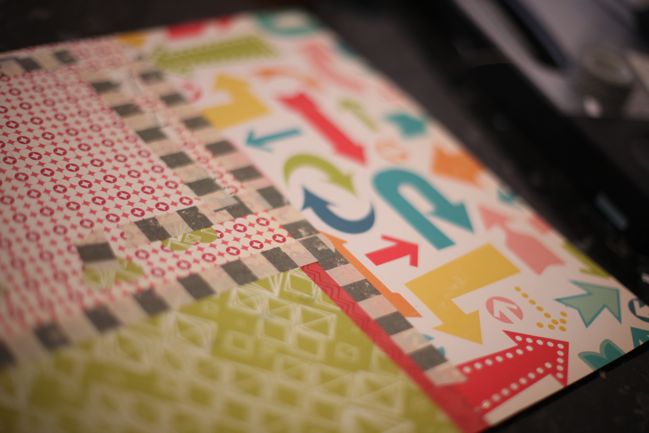 I figured I'd just commit to the randomness of this post up front. There is no point in hiding it. And what you see here is the back of one of my recent scrapbook pages.
See, I had come to that point when I had no full 12×12 sheets left in my February kit and I was moving the pieces about on my desk trying to figure out what to do with them. Usually I would add a sheet of cardstock or grab another patterned paper from my existing collection at this point, but someone had to step up and challenge me: Why couldn't you just make a 12×12 from all those blocks that are left?
Well, why not indeed.
I also had the added challenge of scrapping on the road, and I didn't have a trimmer or a ruler or anything quite so useful for patchworking a 12×12 sheet from a bunch of off-cuts. Thankfully one of the patterns was still the full length in one direction (the green star print), then I used a branding strip to measure the other side of the 12×12, and just kept taping and stapling all the different pieces together until it filled the whole space. And seeing as this crop in Germany had a photo shoot with moustaches on sticks, I had the perfect excuse to buy into the whole moustache-motif-and-pun-title trend, just for a bit of fun. The end result on the front of the page is a bit more successful than the back, I hope.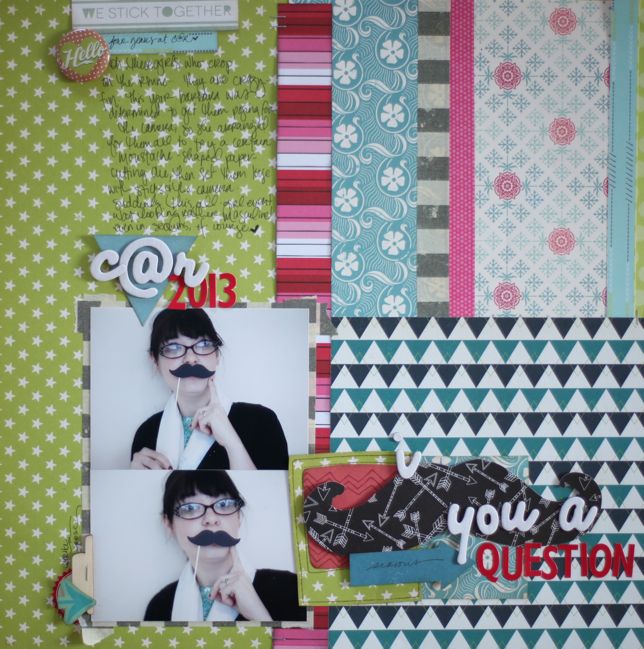 (Many thanks to Barbara Haane and Canon for the photo shoot.)
That challenge turned out to be a good reminder that I don't need to cheat and add another sheet of paper every time! This has more pattern than I might usually put on one page, but I quite like how they all look together (well, I suppose that is the point of a kit really).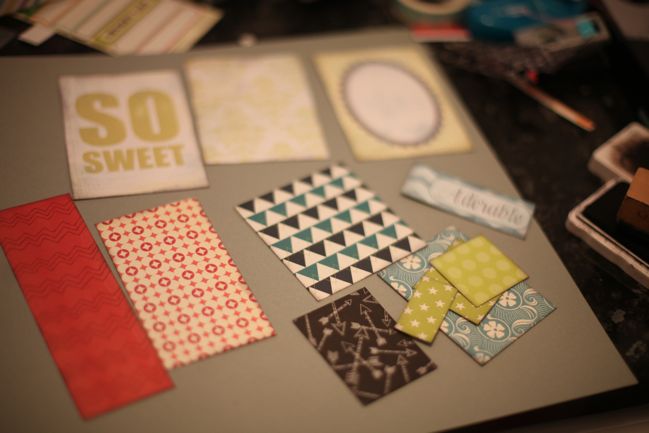 Trouble is, that left me with even smaller scraps, but still a noticeable pile of scraps from this kit. Too much to say I was just done, but not enough to tape together into a 12×12. I needed to cheat this time – so I grabbed a sheet of grey cardstock and cut all the odd-sized pieces into nice orderly blocks, and inked the edges all in black for a bit of uniformity. One of those pieces is actually a title block from the cut-apart sheet turned over, because it has one of those 'text-speak' abbreviations using just a single letter to represent an entire word (I think it was R for 'are', though I have partially blocked it from my mind) and I just can't cope with the idea of that on my page. So the reverse wins out, and that worked quite well.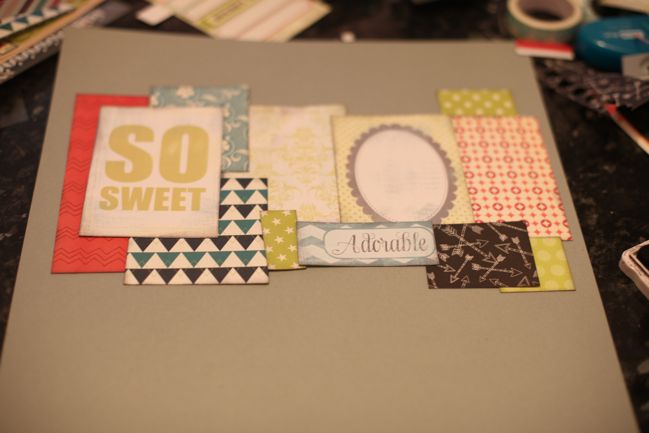 It turned out quite easy to piece these together to fill about a third of the page. Admittedly, at this point I wasn't even thinking about photos. I figured if I could make the papers work, I'd find a photo that would work somehow. Surely something somewhere in all my photos would be 'so sweet' and 'adorable', even if I had to be a bit liberal with the terms?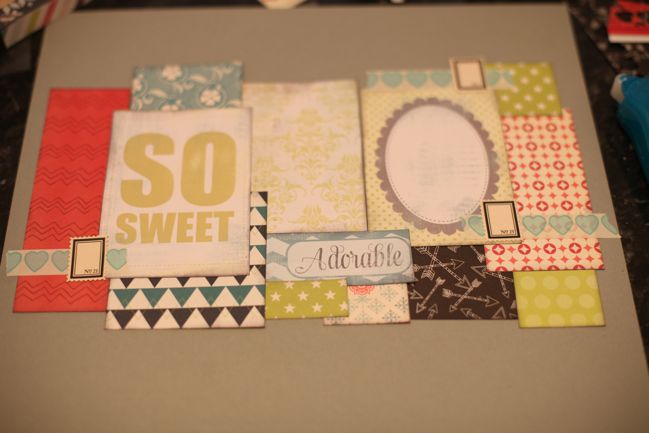 Then for a little embellishment: like a few other pages this month, I started with a horizontal line of the tape (I switched over to the heart tape, which had arrived by this point!) and a Jenni Bowlin postage stamp sticker. These would need something else, but I wasn't sure what that something else should be since I didn't know what this page was about or what photos I was going to use. I suppose that means it's time to figure that out then.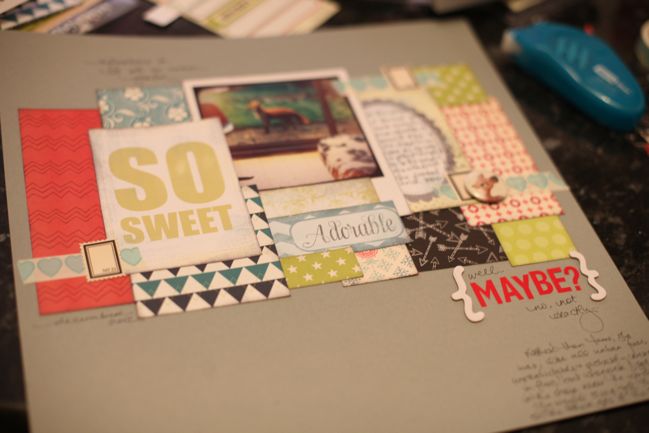 In the end, I went with this photo of the fox that has spent all of this winter trying to convince me that she should live inside our house instead of outside. When I posted this picture on Instagram, it became one of my most popular photos ever, which cracked me up since it was such a random shot of life. But urban foxes are definitely part of the landscape! So many people left comments saying she was so cute and tame and so forth, but up close, I promise that is not really the case. It seemed like a good excuse to work with these extra cute titles without being too sickly sweet, because I could add the other side of the story in my writing on the page. That seemed to work well as a way to tell this story of the cute versus the pest!
That print, by the way, is from Origrami. I don't have any connection to them other than ordering a set of prints, and I'm pleased to say they are very nice quality and came very quickly despite the international shipping (they are shipped from Australia, but arrived within a week of placing my order). You can load in your Instagram feed and select the pictures, and I mostly chose all my prints from last summer to add to my Olympic album, but I finished off the pack with a few other random images, and that's how this funny little fox ended up as a Polaroid-style postcard.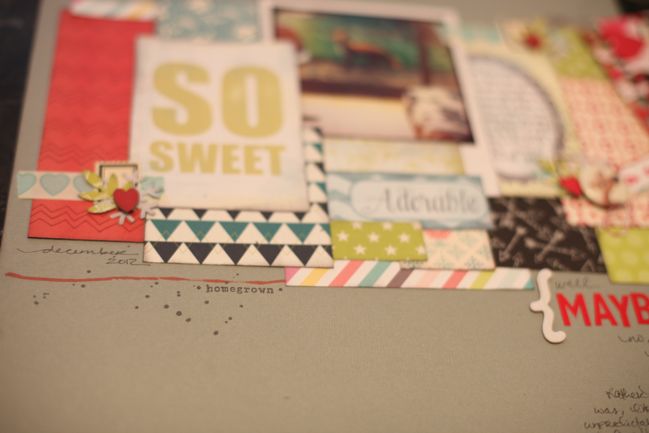 Aside from stamping with it and dying embellishments like wood veneer, fabric Thickers, and ribbon, sometimes another colour of mist can really help the red colour option look like something other than a crime scene. In this case, I used the spray tube from the red Mister Huey to draw a line on the layout, then splashed a bit of grey mist into the mix too. I know, if a red Mister Huey was your first and only spray, then this is a useless tip, but I'm crossing all my fingers that maybe you have something a little more neutral too. I added in some of the word stamps from the Dear Lizzy stamp set too, just for good measure.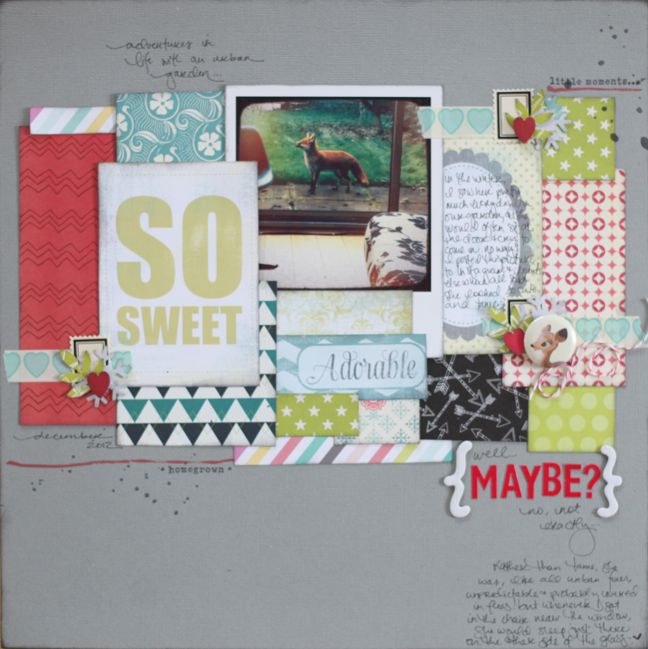 And here's the final version of the little vixen from our garden! For the embellishments that I needed to finish, I used three punches: a snowflake, a branch with leaves, and a heart. Totally simple layering, but it worked with those teeny-tiny pieces of paper I had left, and fit the theme of the garden in the winter… I think. I may have over-thought this by now!

With my February kit, I made a total of eight layouts and one card. This video is a very simple look at all of them and also shows you what I had left when I declared this kit finished.
If you've been scrapping with the February Best of Both Worlds kit and have posted your pages anywhere in particular, feel free to link it up in the comments so we can see the different looks that came from that same start! I hope you enjoyed scrapping with this selection of supplies.

Read more about: best-of-both-worlds-kit
19 March 2013

Next post: Sketch to Scrapbook Page :: Scrapbooking with a central focus
Previous post: Twine Twirling: A Scrapbook Tutorial by Laura Craigie