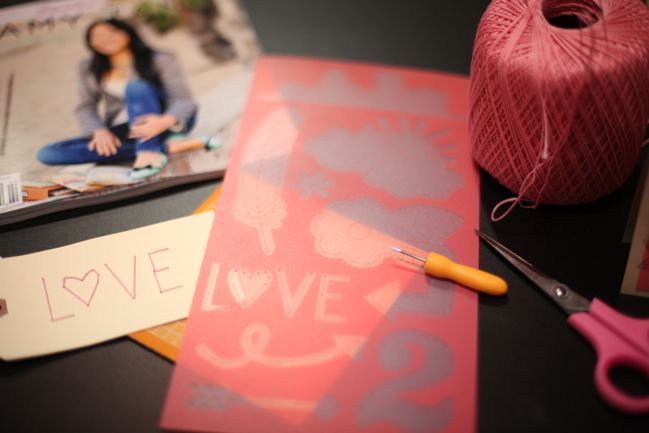 It's time for the gardeners' digest – a monthly blog hop through the Two Peas in a Bucket designers, the Garden Girls.
Since last time, it's been my sparkly friend contributing to the garden, of course. Last week Glitter Girl got the chance to give the brand new Amy Tangerine stitching templates a whirl, even though they don't hit stores for a couple more weeks. You can see that new item plus Glitter Girl's tips on unlikely colours in her adventure on Colour Coordination.



The new year has brought a huge change to how the garden works at Two Peas – and now there are six new videos every week. Each day has a theme, and Mondays belong to 213 in 2013, which is a new take on the old weekly challenge idea. Each video includes three or four different creativity prompts so the full year adds up to 213 different ideas, from design to photography to product to colour choice and so on.
This video is from new Garden Girl Corrie Jones and I know how nerve-wracking it is just getting started with videos… even at this point I feel like every video is a new learning curve! I love Corrie's page and I'm really excited to try some of the ideas she presented, so I thought this might inspire you too. See her full project here.


For my product picks this month, I'm really drawn to stamps! You've seen my last few projects including this set by Kelly Purkey, which is exclusive to Two Peas. I've also ordered this set by Mama Elephant, this camera background by Hero Arts, the interlocking backgrounds by Lawn Fawn, and these BasicGrey arrows. I guess I'm on a bit of a stamp kick!


This month, I'm delighted to giveaway a class pass to Julie Campbell's new workshop, Journey into Cardmaking. Whether you're a seasoned card maker or have yet to make your first card, this workshop will take you on a journey to create handmade cards that your friends & loved ones will cherish.
Julie will start out by teaching you card making basics; you will create a card organizer to file away all the new cards you'll be designing! You'll then travel on to gain greater design skills. You'll dive into design principles and learn how to create an eye pleasing design. You'll learn all about composition & balance in a way that will take your cards from good to great! Become adventurous and explore some of the hottest trends in paper crafting! In this workshop, you'll also learn how to incorporate colors in your projects & how to create cards in several unique styles. Included in this workshop are over 30 brand-new card samples from Julie and her contributors. The three chapters contain a printable PDF for a total of over 40 pages, and 80 minutes of coordinating video tutorials.
To enter, leave a comment on this post! Entries close at 11:59pm GMT on the 31st of January 2013, and the winner will be contacted and posted here shortly thereafter. But you don't have to wait to sign up if you're interested: if the winner has already purchased the workshop, the purchase price will be fully refunded (or you can choose to gift it to a friend, of course).
Once you leave that comment to enter, your next stop is Julie herself! So do go there next!

Read more about: two-peas-in-a-bucket
22 January 2013

Next post: Glitter Girl and her tips for scrapbook journaling
Previous post: Jaime Warren shares her chaotic scrapbooking process