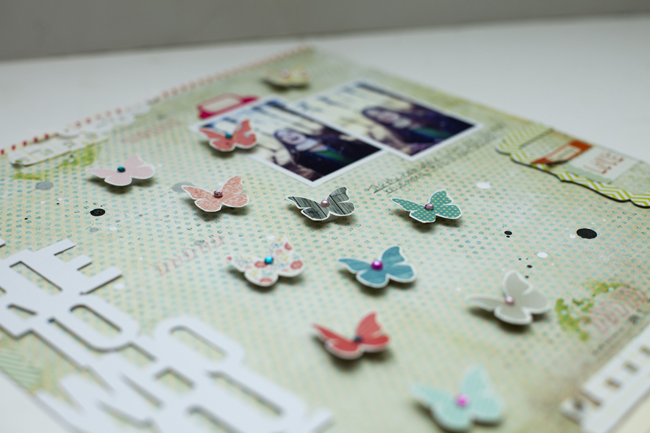 Today I'm delighted to welcome Jaime Warren to share the creative process behind her beautifully delicate scrapbooking style.
I have something to confess. I am, quite literally, all over the place when I scrapbook. Everything is scattered and chaotic. I have never been able to sit down at my desk and pound out a layout based on a plan. Never. Typically this is how it goes down:
1. Print photos
2. Stare at photos.
3. Pick out patterned paper.
4. Stare at patterned paper.
5. Walk away from desk, fold laundry, come back to desk.
6. Stare some more.
See? Chaotic scrapper. I am also not a technique based scrapper. The most I do technique wise is fussy cutting (which I love) and splattering some mist haphazardly on my page. I look at those who can scrapbook with the latest techniques and I wish that I could…but, I am a very basic scrapper. I have major love for patterns, pop dots and stamping. Take me outside of my little box and I scramble right back in! For those who are also chaotic scrappers, you totally get it. So, while I won't be sharing a trend setting technique, I hope that you will enjoy a glimpse into how I create. No, it's nothing special really, but it's my crazy (and I hope fun!) way of putting my memories, thoughts and photos onto paper.

I recently started using my Silhouette Cameo – honestly I was intimidated by it for a while. Now it is part of my scrapping routine, I can't live without it! I have always struggled with title work, but, the Cameo makes it super easy. I love cutting out large pieces and using them for my titles. With this layout in particular I knew that the photos I had picked out and the cut out phrase were perfect together. As you can see, I have my patterned paper, my phrase and my photos all picked out. Commence staring.

I print my photos, at home, on 4×6 semi-glossy photo paper. Typically I print 2×3, it works best for my style of scrapbooking. I trim them so that I leave a small border of white around the edges. I love how it creates a natural border around my photos and helps the photos pop off of colored and patterned backgrounds. After trimming the photos, I drop a few splatters of mist on my page. There is no real rhyme or reason to how I do it…sometimes it gets covered up and I have to add more. It's not a perfect system by any means, but it gets the job done!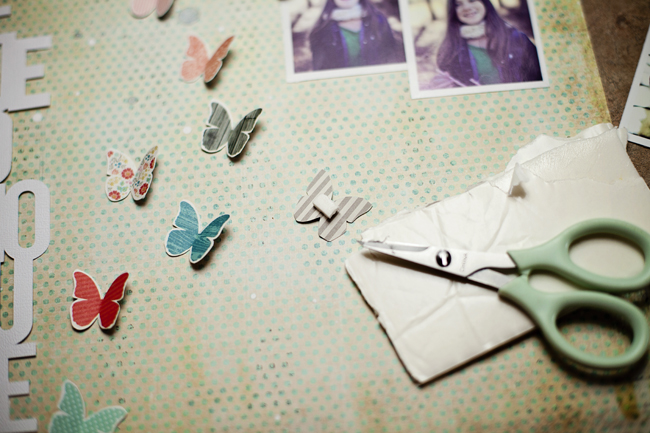 I struggled with what I wanted to put on this layout. After pulling out every embellishment in my stash I couldn't find anything that seemed to fit. I happened to come across this sheet of patterned paper with the butterflies on it that were screaming to be cut out and used as my embellishments. Yay! It took a while of moving them around on my page, but finally I found a flow that I liked. I attached them with foam adhesive (my favorite is the kind you cut out yourself) for lots of dimension.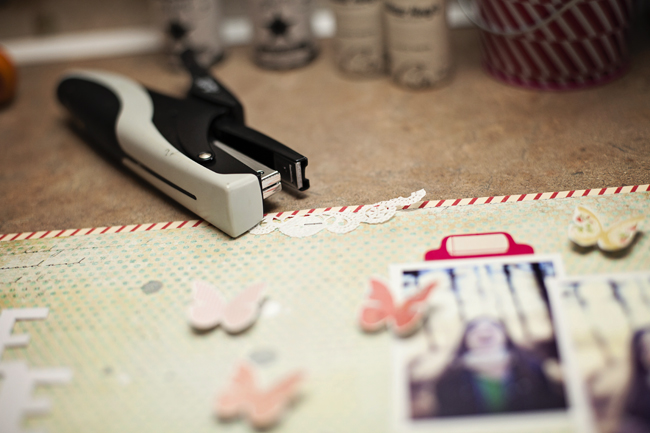 I love using bits and pieces of things on my layouts, especially around the edges. I will often cut things up and use a teeny tiny piece of it as my embellishment. Strange, right? For this layout I trimmed the edge of a doily and attached it with my Tim Holtz stapler (that thing is so awesome for attaching small embellishments). I tend to layer as I go. I might staple something one minute and then come back five minutes later and add something else. Now you see why I consider myself a chaotic scrapper! I can be finished with a layout and then decide, oh: it needs this tiny scrap of paper, right here!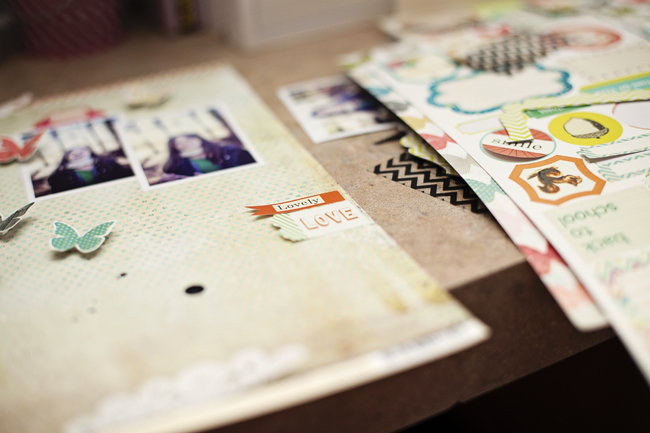 I ended up trimming the doily twice and using one piece at the top of the layout and one at the bottom. From there I started adding to right side of my layout, just below my photos.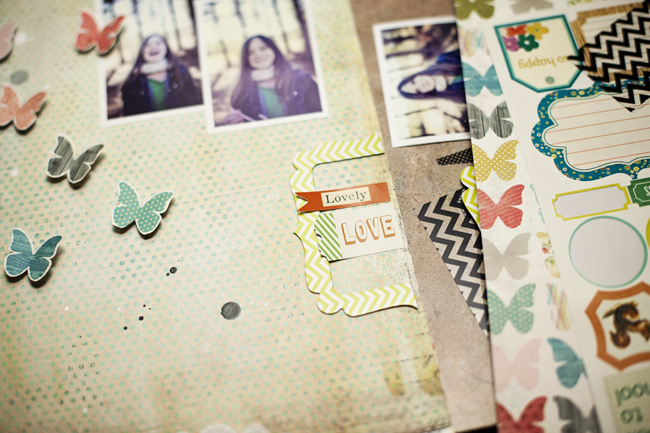 I started out with two stickers and then ended up cutting a frame in half and layering it around the stickers. I told you I loved cutting things up!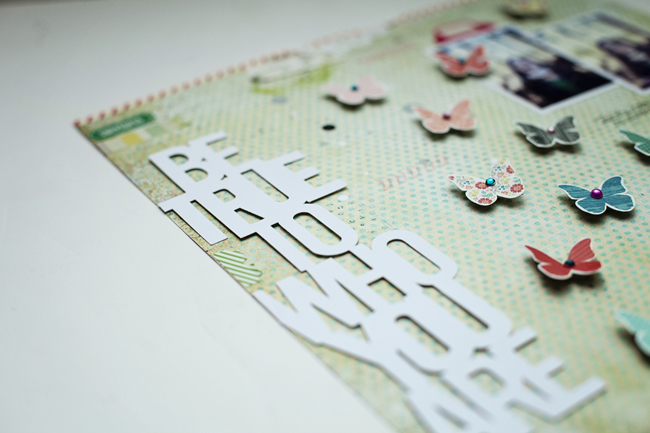 I loved the little butterflies but felt they needed something more to liven them up. Aha! Gems! Sparkly stuff always does the trick, right?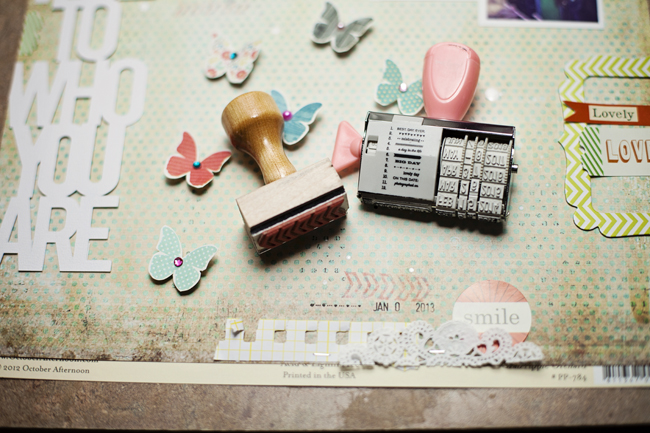 Remember when I mentioned that I tend to come back five minutes later and add something to a section that I thought I was finished with? Well, this is a perfect example of that. I attached the doily and then came back and started layering on more bits and pieces. A sticker and some trimmed graph paper. Go ahead, shake your head at me, I don't blame you!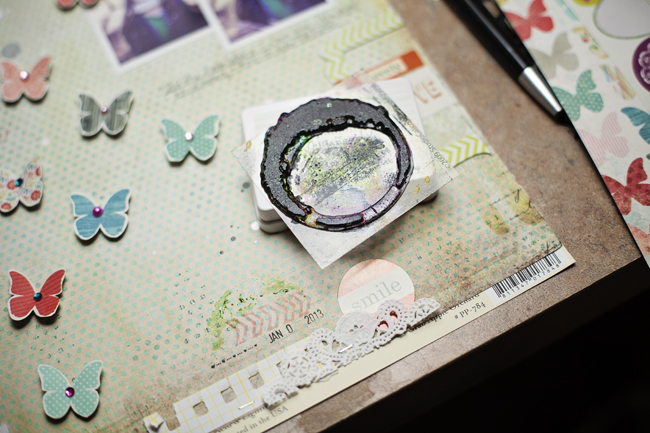 I love stamping in random areas on my layout. I love date stamps, graphic stamps, border stamps..all of them! For this layout I used two of my favorite stamps and a date stamp. I used three different colors of ink – green, pink and black, changing up the colors for each stamp. I stamped along the bottom edge and top edge, using all three stamps on both sections. I also love embossing stamped images, it really makes them pop off of a page!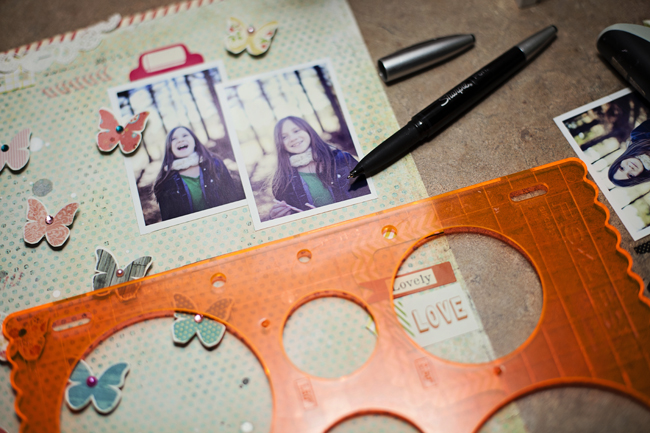 I tend to handwrite my journaling, although I will sometimes type it out…it totally depends on the layout and the "feel" of it. I can't draw a straight line to save my life, so I used my stencil to draw my journaling lines.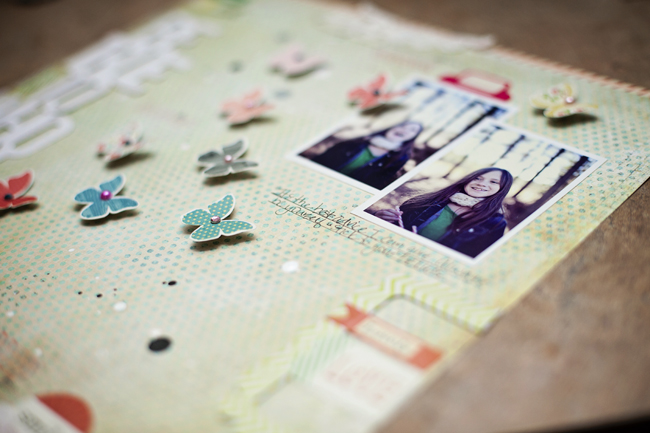 I love the journaling aspect of scrapbooking. If I have a lot to say, I will write it on a journaling card or tag and slip it into a glassine envelope, tucked behind a photo. Sometimes I journal on the back of my layouts. I want my girls to look back and know my heart.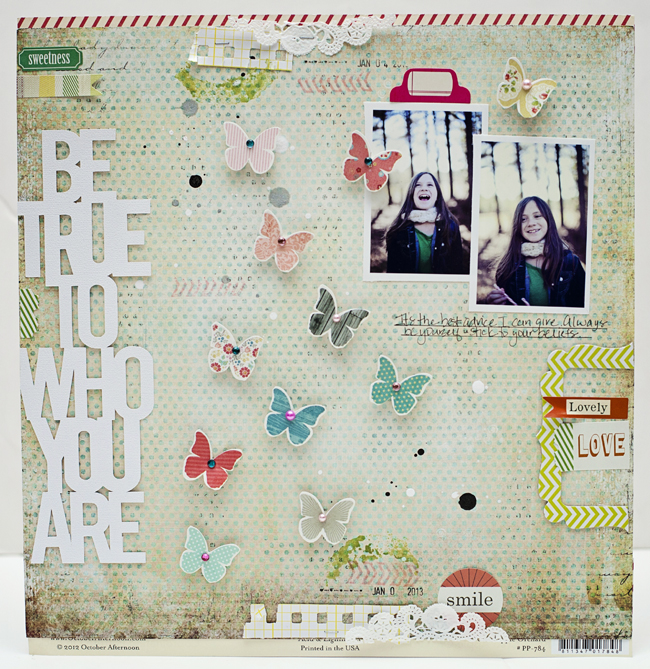 The finished product took me two days to complete (sad, yes?) a lot of rearranging, a lot of last minute additions and a lot of love. I hope you enjoyed this little tour of scrapbooking chaos. If you are a totally random, chaotic scrapper like me, well, know that you aren't alone. I know that there are plenty of us out there. Regardless of the latest trends, techniques or product out there, the most important thing is to just love what you do…no matter how you do it.
If you've been reading a while, you might remember this post where I channelled my inner Jaime and challenged you to do the same. Having this additional insight into her process of creating those scrapbook pages, I'm inspired all over again – and I hope you might be too. Thanks so much for sharing this with us, Jaime!
| | |
| --- | --- |
| Jaime Warren is a scrapbooker and photographer who lives in a tiny little town in Georgia. She has three girls, ranging in age from 12 to 5 who keep her on her toes and keep her scrapbooking. She is married to her best friend who happens to be the only one who could put up with her chaos. She has been blessed to design for several manufacturers over the years including Crate Paper, October Afternoon, Prima, Chic Tags, Technique Tuesday, Pink Paislee and more. She was a 2009 Memory Makers Master and has been published in Creating Keepsakes, Cards and several scrapbooking books. You can find Jaime at her blog, 3*2*5, or bookmark her scrapbook pages through her gallery. | |

Read more about:
22 January 2013

Next post: Gardeners' Digest scrapbooking blog hop (January 2013)
Previous post: Scrapbook Starting Points :: Four Small Photos