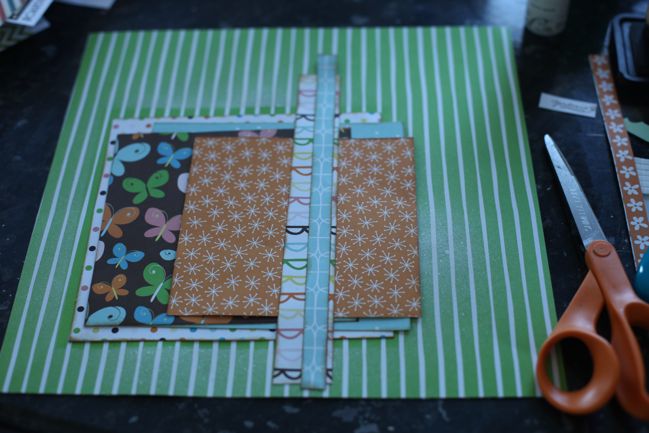 Happy Monday! How about a new scrapbooking starting point to start a crafty week? This week I started with the Gardenia collection and cut a bunch of squares from patterned paper, each a half-inch smaller than the previous. The white polka-dot print is 7×7" and then smaller from there. Plus an extra layer in the background: I cut a 7.5" square from plain typing paper and used that as a mask to spray white mist onto the green striped background. Then there are two vertical elements – one is the branding strip from one of the patterned papers I had already used and the other is an off-cut of the b-side of one of those papers. So surprise surprise: another layout that could come together with scraps!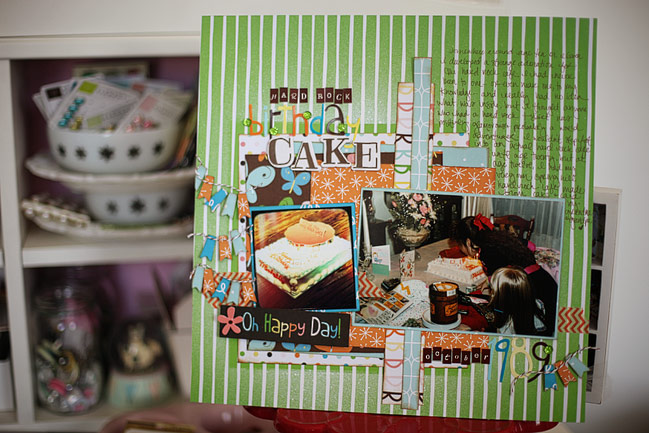 I finished my page with letter stickers and a tag from the Gardenia collection, plus some Amy Tangerine washi tape, tiny letter stickers from My Little Shoebox and gems by Queen & Co. The tiny banner pieces are actually the ribbon portion of this rosette punch by Jenni Bowlin for Fiskars. I just punched it from the little pieces left over by my trimmer and then used a zillion tiny pop dots to put them all in place, and topped them with a bit of baker's twine.
I actually had both of these photos as 4×6 prints but they are originals and I don't have the negatives, but things just didn't work with the cake picture at the 4×6 size, and although the other shot is quite busy, I loved all the little bits and pieces that were in the photo, so I didn't want to crop that. So I took a picture of the cake photo with my phone and processed it with the Camera+ app so I could get a good balance of quality plus the retro feel and then printed it at 3×3, which was a better size for all things concerned, and no original photos were harmed! (By the way, something you might appreciate in the busier photo: obviously there is cake and ice cream, but there are also birthday presents, cards and some dollar bills that I presume came from the cards… and that week's sale ad for the local craft store. I think I was actually planning where to go spend my birthday money before we had even had cake and ice cream!)
A note about the writing: this has been coming up in various comments often recently – what exactly do I write about if things are pretty obvious in the picture? Nothing in the writing here says anything like 'this is my twelfth birthday and we had a family party at my grandparents' house with cake and ice cream'. It doesn't need to say that, because that is obvious. I am really, really not a who-what-when-where-why writer. I mean, I understand what those concepts are and that they are basically what is important in creating a timeline of events, sure. That is the sort of thing I want to see in a news report, and I want the most important things to come first, filtering down to the lesser important parts of the news story and so forth. But my scrapbooks are not a newspaper. I reserve the right to ignore those basic keys of journalism. I reserve the right to ramble. I reserve the right to talk about things that are only slightly in the picture or possibly not in the picture at all. I reserve the right to put the most important thing at the end, and maybe even create a little suspense along the way to get there. That's the kind of writing I enjoy. Journaling is not a task for me. It is an indulgence.
This week, I'm going to work on explaining my thoughts on scrapbook writing a little more each day, but I'll start with this layout. Although it doesn't contain the obvious bits about what birthday and where I am, it does explain something that could otherwise be quite a mystery in the photos: why on earth was my birthday cake shaped like a drive-in burger joint with a sign reading 'Spring Hill Hard Rock Cafe'? And the truth is from around age ten or so, I was strangely fascinated by the very idea of the Hard Rock Cafe. I had never been to one, nor even been near one to my knowledge. I had no idea what was inside such a cafe. But whenever I saw someone with a Hard Rock Cafe shirt, I thought they were completely glamorous and probably a worldwide adventurer with page after page of stamps in their passport. Of course, if you remember the sheer volume of Hard Rock Cafe shirts in the late eighties and early nineties, you will no doubt be completely aware that there was absolutely zero glamour involved in these shirts. But alas, I was a kid and I was convinced. So word got around and my souvenir from family and friends who did venture out of Kansas often became a Hard Rock Cafe t-shirt. I think I owned about a dozen of them at one point, despite never going to one myself. And so my grandparents created this birthday cake as a team effort I think – constructing a cafe out of cake and marshmallows and making a sign to label it as the very own Hard Rock Cafe of the tiny little town where I lived.
And I'm so much happier to have recorded that in my album rather than just 'this is my twelfth birthday and we had a family party at my grandparents' house with cake and ice cream'. It is not from 'news in brief' and in truth is newsworthy in no one's life but my very own, but that is what makes it valuable to me. I hope that makes a little sense. But also, the story of my Hard Rock Cafe love is not something that is difficult to tell. It's just the idea of looking at all the details and remembering that stage of life and thinking what is really worth telling about that. Other things I could have written on the very same page include the detail about spending my birthday money on craft supplies or an explanation of why I'm wearing something different in nearly every photo from that day, as I would want to try on each new outfit before opening the next gift. But for now, the Hard Rock Cafe will do.
I promise I eventually made it to a real Hard Rock. I was twenty and on spring break in Las Vegas (which is as ridiculous as it seems as Vegas is very much a twenty-one-and-over town). I ate a ridiculously overpriced veggie burger and sat next to a collection of Michael Jackson action figures. And did not buy a t-shirt.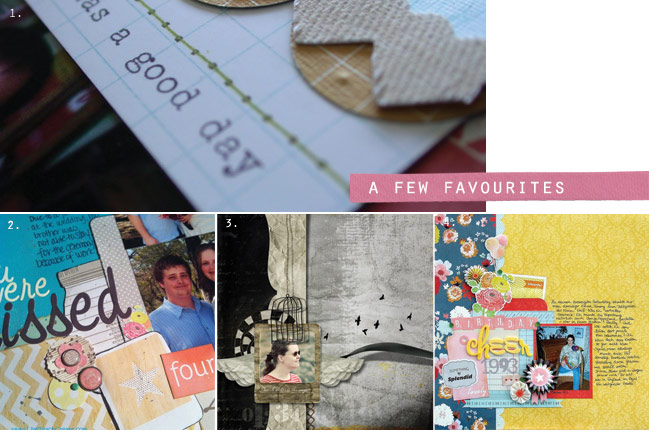 Here are a few of my favourites from last week's starting point. Go take a closer look and say hello to these four scrappers: 1. Nancy. 2. Jennifer. 3. Lehtipollo. 4. Daphne.
Should you like to give this starting point a try, I would love for you to share! And of course you can write whatever suits you and your page. Of course!

Read more about: american-crafts scrapbook-starting-points
26 March 2012

Next post: Glitter Girl and multiphoto mayhem (scrapbooking video)
Previous post: Scrapbooking at Hobbycraft