Getting back into the swing of starting points, I thought I'd go with one of my favourite ways to get pasting: four quadrants of patterned paper on a 12×12 cardstock background. In fact, we started all the starting points fun with a similar look way back when, but there is one little difference here to change it up – and of course it looks different with every paper combination you choose.
So in this case, you'll need four squares of patterned paper about 5.75 or 5.5 inches (depending on how much frame you want around the edge) and three kinds of ribbon or trim… or do you? You could replace the three ribbons with border stickers, paper strips, punched pieces or journaling bars, perhaps!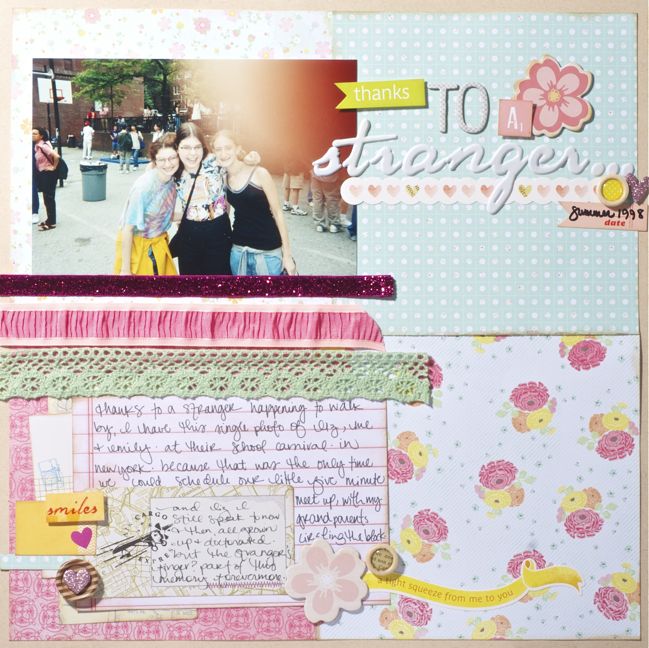 I used plenty of the new Dear Lizzy Neapolitan collection and some Amy Tangerine die-cuts for this page, with a funny old photo that has been in my photo files for years. Like fourteen years. All because it has some stranger's fingerprint in the shot. It's the only photo I have from this day and we passed the camera to some random passerby and when I developed the film (remember that experience?), this is what I found with our single photo. Well, at first I was quite annoyed but I have mellowed. Now I am far happier to have an image at all rather than to have nothing, and I figured that random stranger is now part of our story, with his fingertip immortalised in my scrapbook.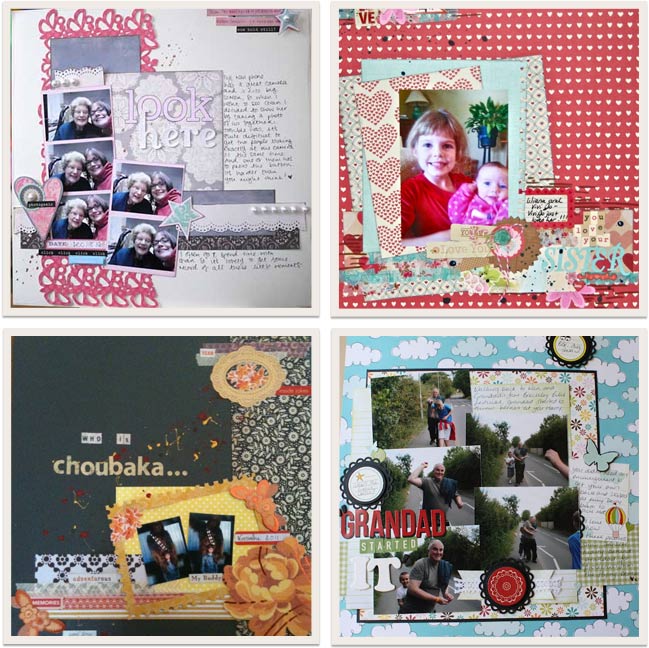 Here are four favourites from the last time we played the starting point game! Clockwise from top left, they are from Kate, Soaphousemama, Louise and Valerie.
Now it's your turn… what will you do with four squares and three lines?




Read more about: scrapbook-starting-points
05 March 2012

Next post: Glitter Girl and the tricky transparency (scrapbooking video)
Previous post: A scrapbooking update: classes and other good stuff!