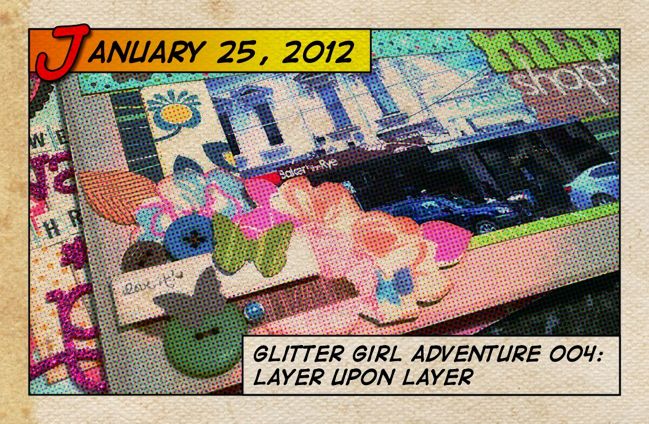 Class content ©twopeasinabucket.com.
In this week's adventure, Glitter Girl takes on the question of how much 'stuff' is enough 'stuff', an issue currently being discussed here on the General Scrapbooking message board at Two Peas. Her adventure takes her the completion of three layouts this week: one layout that just didn't feel finished in the album and two pages from a basic starting point to the end result. Plus a review of products that make layering and grouping embellishments very simple – many of which are on sale right now at Two Peas, but more about that in a minute.
About those products… if you have a look at this page you can see a big shopping list at the bottom – it includes the specifics from the three layouts plus a bunch of products I turn to again and again for layering. Some of them are ridiculous bargains at the moment – like some colours of the Studio Calico label stickers are just 87¢, and the stamp set with that lovely woodgrain background is $2.99 – but keep in mind that the big trade show starts this weekend. That means two good things: big sales and new things on their way, but also a bad thing: if you miss something you want now, it probably won't be restocked. I have learned that lesson the hard way more than once, so there you go!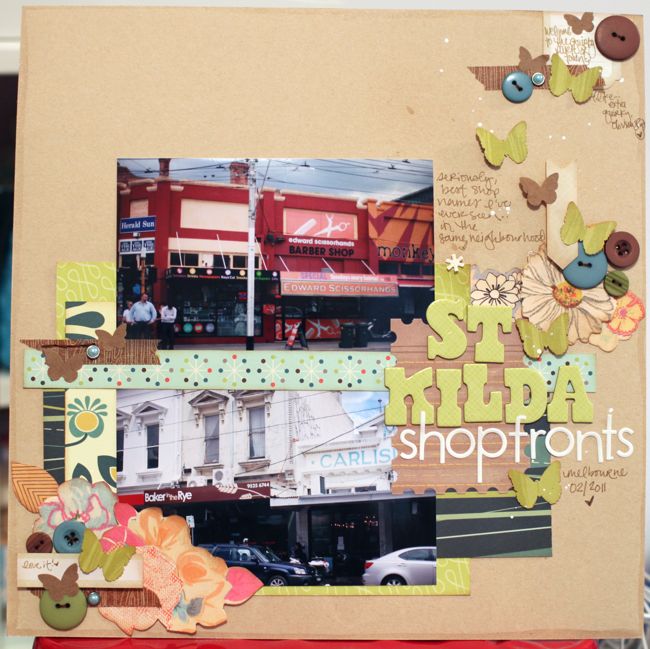 This layout might look slightly familiar, depending on how much you pay attention! You can see it in its original form here and even then I made a note that it didn't feel finished, but I added it to my album it has been there ever since, not nearly as dressed up as the other pages in the book. There's actually nothing wrong with it, of course. It shows the photos and documents the story and it fits the colour scheme I was working with in that section of the album. It's not a case of right and wrong. It's a case of being happy with what's in the album, and sometimes that means I go back and make changes. I am sure there are scrappers out there who would prefer the before with its cleaner design as well as scrappers who would like neither – but I prefer the made-over version and am happy for it to be in my albums. So for me, that was a good use of time and energy.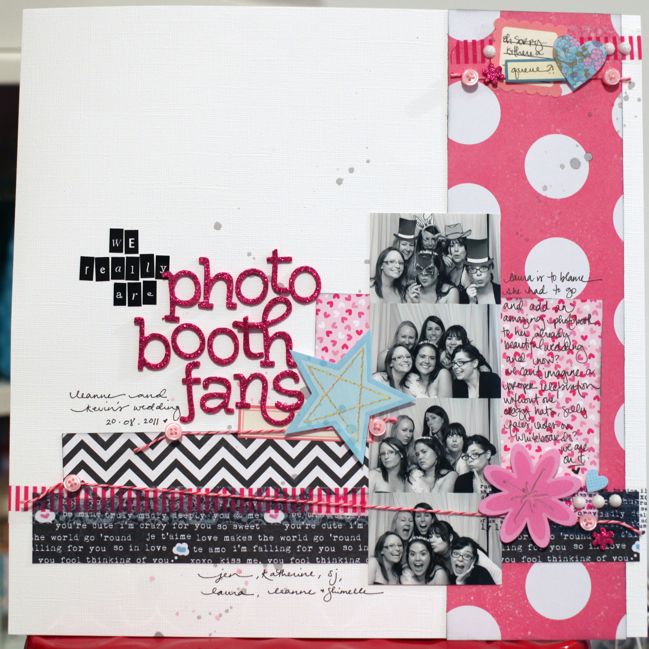 There's a chance this page may look a little familiar too – but this one isn't a makeover. It is, however, a bit like this page, which is also a wedding photobooth page on white cardstock with pink and black and glitter! Some similarities, but certainly not the same layout, which is fine by me.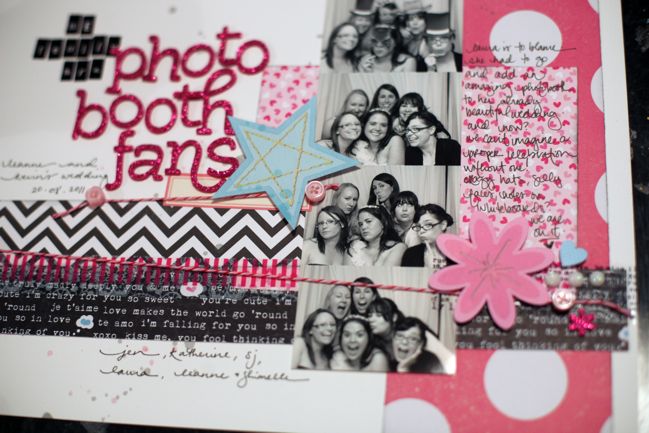 Proof that I put my stash to use straight away: the Sassafras stickers and the KI Memories tape I mentioned in the recent digest are both here on this page. I have to admit I feel a bit victorious when I manage to do that! (Though not as victorious as I will feel one day when I magically use every single letter on a sticker sheet in genuine words.)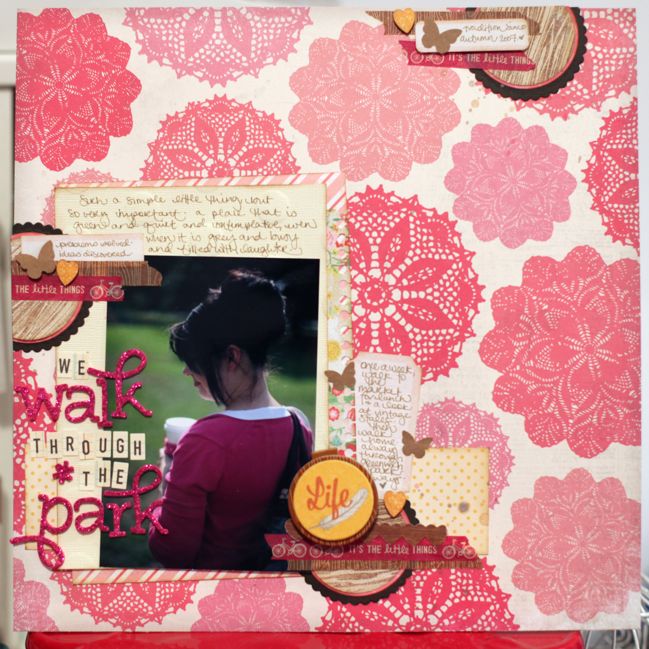 Doily paper is just amazing, right? I love it as a full sheet (like this) or cut into separate doilies to layer and embellish (like this). But I think it's the title placement that is a bit of a surprise here. It's not what I normally would expect from this starting point, which makes it seem like all that room on the right is just waiting for a title. But part of what makes layering details work is to keep things very close together, so with the photo facing that corner of the page, it created a little window of space just right for the title, meaning layers of embellishment can go to the right. And because the background is a pretty overwhelming pattern, lots of empty space doesn't look empty at all.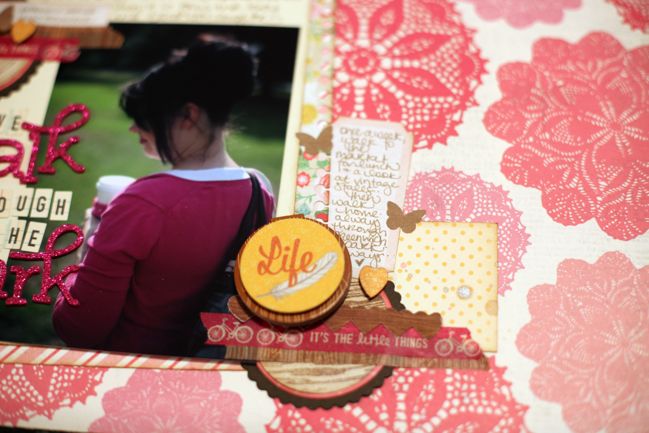 This idea of adding an extra colour quite near the end is something I do more often than I care to admit. It sometimes feels like a lack of planning when I'm working on a page – I was just going along thinking 'pink and kraft and cream' and it just wasn't enough. There needed to be some sort of visual contrast without adding something that was going to take over the page. So I started with the embroidery hoop embellishment, then added the punched hearts and presto: the addition of an entirely unplanned colour, and it brightened the page and kept it from falling into a dreary bit labelled 'lack of tonal variety'. Don't be afraid to add something entirely different when you feel a page is almost – but not quite – finished.
This week Glitter Girl challenges you to make a page with 'stuff' too. You can add more to a layout in your album that didn't make you happy or you can start from scratch. Create something to share with the Two Peas community and in your project description, tell us about how you found inspiration there. Be sure to click the challenge box when you upload a picture to the gallery. You can also leave a link here in the comments to share what you have made!
Onward, covered in glitter, my dear scrapbookers!


The Adventures of Glitter Girl is a weekly series on Two Peas in a Bucket, and goes live every Wednesday. I'll share each adventure here shortly after that. I hope you enjoy her quests for crafting happiness, and if you ever have a scrapbooking dilemma yourself, you can always call her to action on the message board.

Read more about: adventures-of-glitter-girl two-peas-in-a-bucket
26 January 2012

Next post: Scrapbooking Giveaway Day
Previous post: Scrapbooking Starting Point :: Special Edition