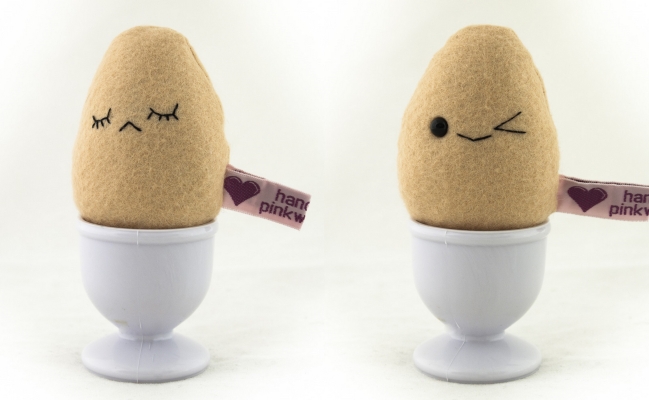 This week one lucky commenter will win a hand crafted egg from Pinkworks. The expression will be a surprise, but it is sure to make you smile.
Angela likes to refer to her items as 'Handmade Happinesses'. She explains, "I produce handmade contemporary textile items. These range from one of a kind monsters, sweet and unique rag dolls, contemporary teddy bears, and loveable food items, such as boiled eggs each with a unique, hand sewn facial expressions. The essence of Pinkworks combines humour and individuality. Angela's inspiration is drawn from traditional English toy making, cute Japanese pop culture, her worldwide travels and her view of everyday life.
To enter, just leave a comment on this post describing how you take your eggs in the morning!
Entries close at midnight Thursday UK time and the winner will be posted Friday evening, so be sure to check back to see if it's your lucky day!
Good luck!


---


The winner for last weeks giveaway from Skull and Cross Buns is




Congratulations to GLEE, who wins the cupcake and bunting stamp from Skull and Cross Buns.
Glee, please email me (shimelle at gmail dot com) with your address.
Have a great week!
xlovesx

Read more about: giveaways
20 January 2012

Next post: Gardeners' Digest :: Scrapbooking News from the Garden Girls
Previous post: ANFSCD January :: Step by Step Scrapbooking Project