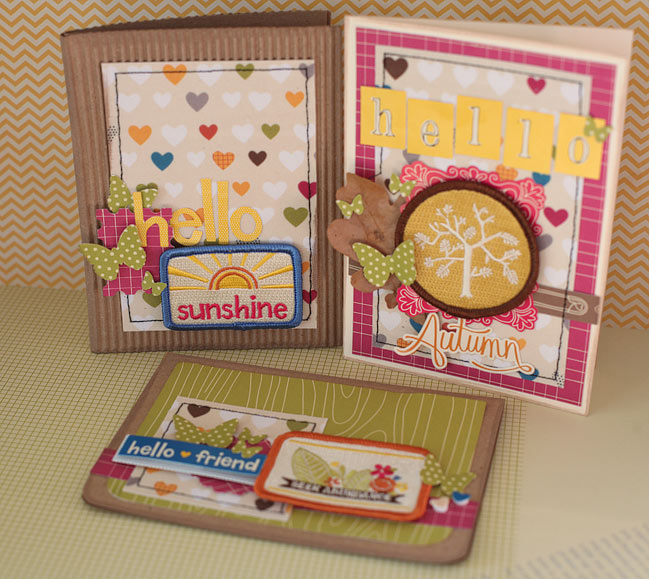 For the American Crafts blog, I was challenged to find a clever use for Patchems, the embellishments that are just like merit badges only designed to coordinate with paper collections. My answer is remarkably simple: make cards. But cards for certain people.
Each of these cards will be going to someone I know will remove the patch and stitch it to her camp blanket or backpack. Then the patch gets to do double-duty – cute card, but also something to keep! (Why yes, I did often get excited by birthday cards that included that 'it's my birthday' badge when I was a child. And by 'when I was a child', I clearly mean 'for every birthday in my life'.)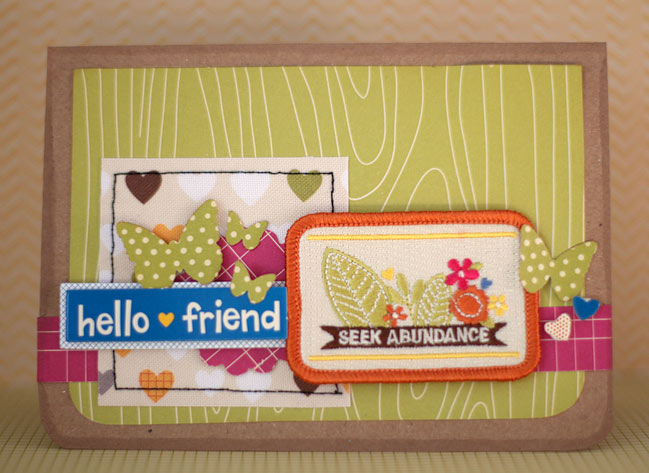 The three patches on these cards all come in the same set from the Amy Tangerine collection, and the cards use other elements from the same, including lots of paper scraps. And aside from the stitching, I made these outside in a lovely day in the park. So the leaf on the Hello Autumn card may have just fallen off the tree onto my project and suddenly found itself attacked with adhesive and included on the card. Seems fair enough: fall on my head while I'm crafting and I will just glue you to something.
So if you had a pack of Patchems, what clever thing would you do with them?
xlovesx

Read more about: american-crafts
11 October 2011

Next post: The A to Z of stamping :: scrapbooking and handmade cards
Previous post: Pretty Paper Party :: A New Online Scrapbooking Class