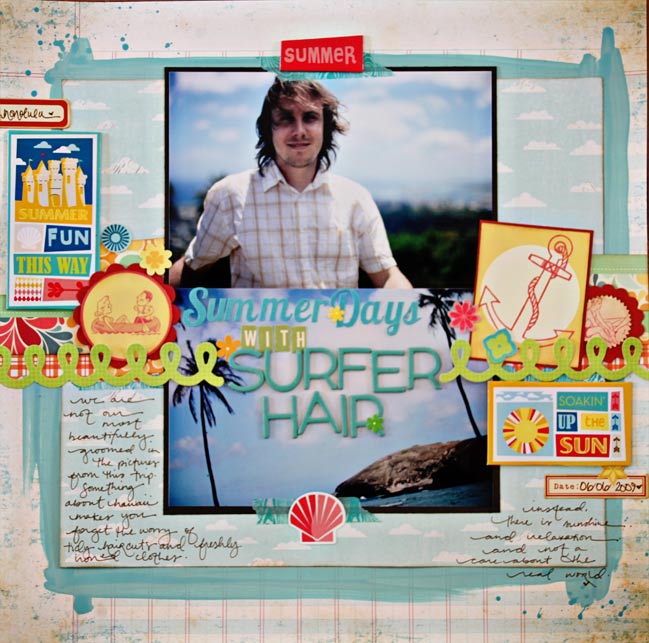 Click here for supplies and details.~
Yesterday was beautiful, warm and blue. Today is chilly, grey and rainy. Such is the onset of autumn and I think it is well and truly moving in for the season. So before summer has disappeared from my mind completely, I wanted to share these summer-themed pages I made for the garden over the past month. I say summer-themed but I wouldn't blame you if you thought the theme was use turquoise paint, as they all have that in common! Truthfully I mixed up way too much paint when I made this page and I hated to waste it all so I scrapped about five more pages in a row all with that same paint until I finally reached the end of it!
This first summery page is a funny one and I know you're immediately going to think WHAT A TERRIBLE PHOTO! WHY DID YOU SCRAPBOOK THAT? and I promise there's an explanation. I've made plenty of pages with photos from this lovely little week on an island. We appear in only one or two photos in the entire album. Because every time I picked up one of the pictures we were in, I would put it back down because our hair was a mess, I wasn't wearing any make-up (rather ten layers of sunscreen) and The Boy was all stubble. And eventually it dawned on me: we looked a bit of a mess because we were having too much fun thinking about other stuff. I suddenly understood why all those surf types had that same fluffy unkempt hair thing going: they weren't worried about it either. It just seemed to be the attitude of the island. So I decided that alone was worth scrapbooking and the photo made it into the album. (And now onto the internet, about which he will probably be less happy.)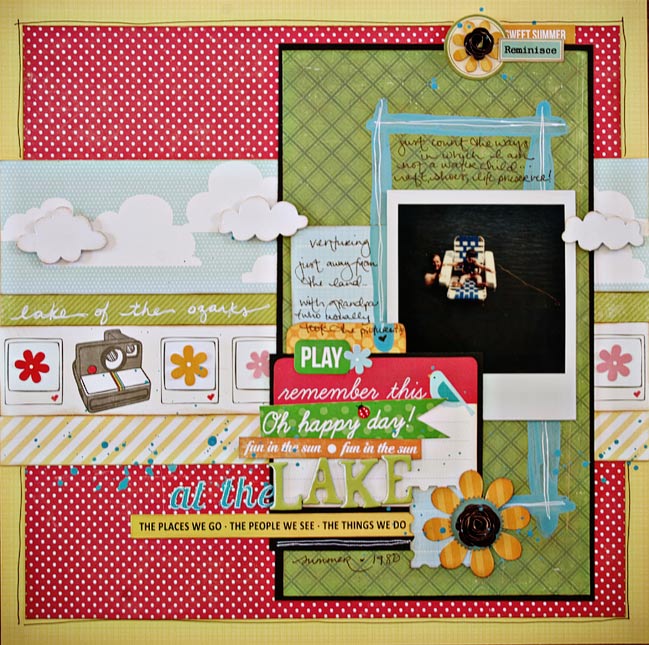 ©twopeasinabucket.com. Click here for supplies and details.
Then there is a summer photo that is filled with worry! It's hard to see in this tiny little (actual) Polaroid from 1980, but I am so not a water person. I'm on a raft. With shoes. And a million life-preserver objects. And I'm still as tense as can be! I am really not a natural when it comes to the water. But I love that we found these photos of summer trips to the lake from a million (or thirty) years ago. I hadn't thought about those trips for years and now I remember bits and pieces that are definitely worth saving. (This page also uses those new flower punch-outs from My Little Shoebox that I posted about during CHA. Love them!)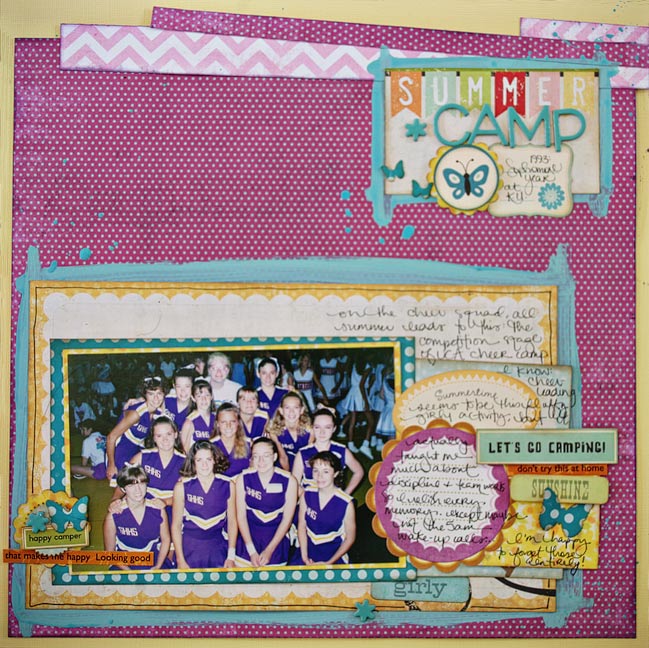 ©twopeasinabucket.com. Click here for supplies and details.
And summer memories for me are not complete without some kind of summer camp. I went to summer camps for so many different things – including cheerleading. But camping-themed scrapbook supplies are all the wilderness angle with campfires and tents rather than college dorms and such! So I picked just a few camp word stickers and mixed it with brighter colours and summer papers to try to come up with the happy middle ground. The colour combination comes from our school colours (purple and gold) plus something summery and fun – which is how the turquoise found its way onto another layout!
Have some summer pages you want to share? By all means link us up in the comments to share the summer scrapbooking love before we're all making pages in the muted tones of autumn!
And… camera school starts today! Those posts are set to go live in the evenings so you can choose to read them of a night and give them a try the next day or you early birds can read them first thing in the morning. So check back for that very soon!
xlovesx

Read more about: two-peas-in-a-bucket
06 September 2011

Next post: Camera School 01 :: Facing your Fear
Previous post: The back to school season (scrapbooking workshops)