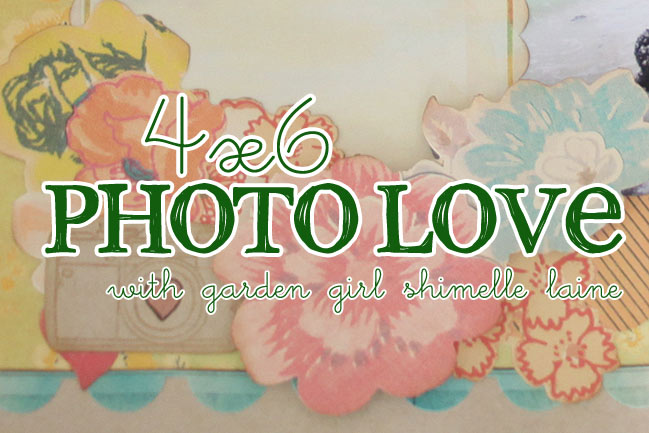 Class content ©twopeasinabucket.com. Click here for supplies, a PDF and further details.
The thirtieth of August already? It's 4×6 Photo Love time! And that means scrapbooking eight 4×6 photos on one layout. Hope you're ready for a big stack of prints!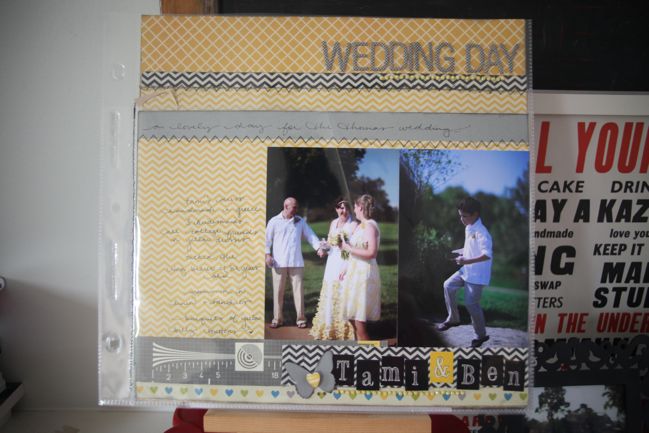 This month's design concept involves creating a page and a half, more or less. By sewing two page protectors together and cutting a second page to a smaller size, the two pages layer to create one layout with plenty of room for photos. This design is great for a mix of landscape or portrait photos, which I know has been an extra challenge for some of you with the previous editions.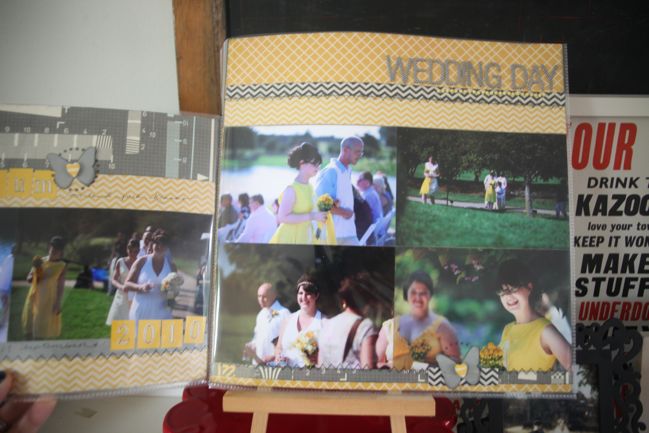 See? Plenty of space! And with this layout in the mix, I can even say we're still on-theme for wedding week! The yellow and grey version includes lots of Amy Tangerine for American Crafts plus some Studio Calico paper and Martha Stewart butterflies.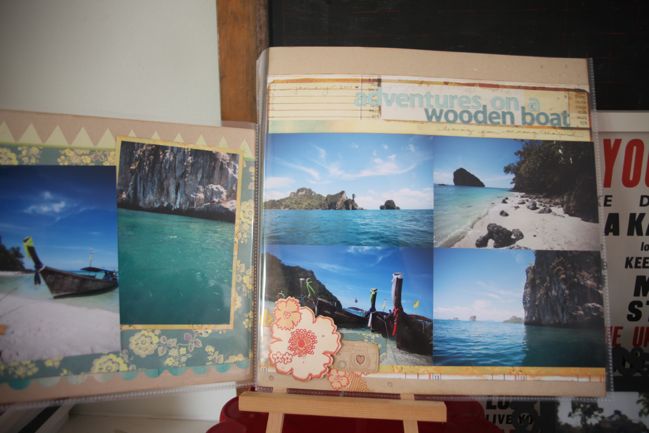 But never fear – there's a kraft cardstock option too. This is the one I walk you through in the video, and it's made mostly from the Sunshine Broadcast collection from Sassafras. Speaking of video…

I have to admit the interactive nature of these pages makes them easier to see via video than just these still photos. So go on and press the play button.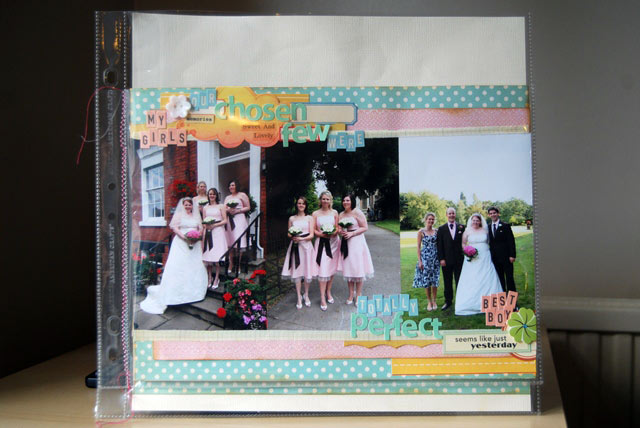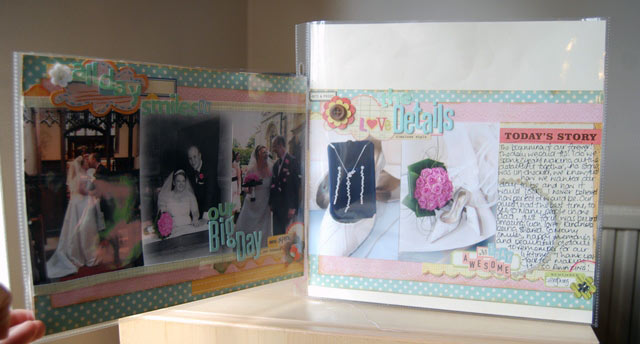 And I didn't even mention wedding week to this month's special guest and she hit it right on the head! The lovely Sally Danes is my special guest this month. She adapted the idea to include eight portrait prints and I love how this came out with the pretty simplicity of the white cardstock background and plenty of Thickers! Check out more scrapping from Sally here on her blog.
Every month, there are two ways to win a prize for participating in 4×6 Photo Love! The first is at Two Peas: create your page and upload it to the gallery. Be sure to tick the box for this challenge in step four of the upload process. One participant will win a gift certificate to Two Peas to go shopping for whatever you like. But there's a second chance to win right here: on this post, leave a comment with a link to your page (in the gallery at Two Peas or on your blog, whatever you prefer) and one of those links will win Two Peas shopping money too! The deadline for both is the 29th of September.
Congratulations to Talia for winning the draw for last month's six photo class! (Talia, you will receive your gift certificate by email.) Will you be next? Just choose eight 4×6 photos to scrap and follow along with this month's class prompt.
xlovesx
PS: Feel free to grab the button there on the left for your blog or to share this class with a friend – since it's free, the more the merrier! And you're welcome to use any supplies and any photos, so there's no boundaries to your scrapping with this year-long project.

Read more about: 4x6-photo-love two-peas-in-a-bucket
30 August 2011

Next post: Scrapbooking Sketch of the Week
Previous post: Our romantic anniversary plans