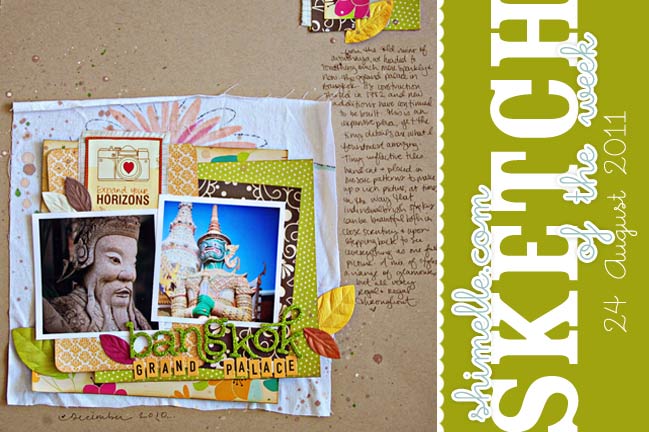 Time for something a little different for this week's sketch, I do believe. Not too different, but just enough. When I draw the sketches, I'm very aware that essentially my style involves lots of blocks of paper and to be honest, if I couldn't use blocks of paper I wouldn't really be sure what to do to make a page. But to change it up, this week I figured we could pile all the blocks in one stack rather tan arranging them in different areas of the page surface. Sound like a plan?
There's something very flowing about making a layout like this – it seemed to be a case of almost dropping things onto the cardstock and seeing how they fell – papers, ink, leaves. A different process to change things up and keep it interesting!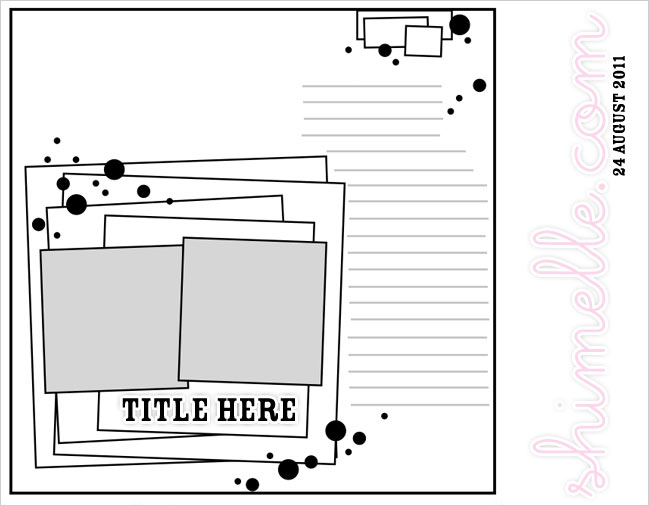 This week's sketch includes two square photos and I printed them at three inches. There's also a fair amount of room for your writing and a big stack of layers. I mixed fabric with paper and ruffled the edges to create some messy depth, but you could adapt this to be need and clean with nested squares, perhaps.

This is the post I mention as the source of the writing on this page.
As always, the weekly sketch is no-stress and just for fun! If you use it, I'd love to see, so please leave a link if you post your page online.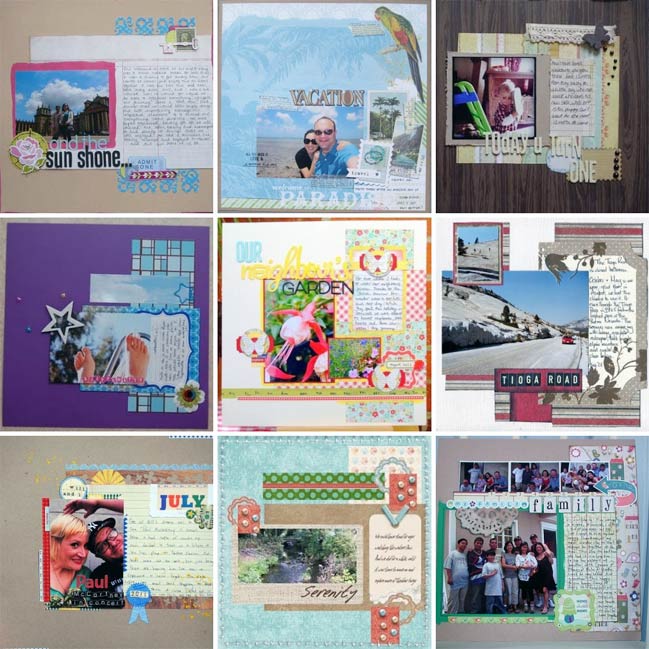 And we have two older sketches to catch up on! These favourites are from this sketch and SJ is going to pick her favourites since she sponsored the giveaway for last week's sketch. Click the corresponding link to see any of these layouts in more detail and get to know the scrappers behind the pages.
Top Row, L to R: one, two, three.
Middle Row, L to R: four, five, six.
Bottom row, L to R: seven, eight and nine.
Now… are you up for some sketchy scrapping this week? I'm quite excited to see this sketch adapted to different styles. Give it a go and share it with us!

Read more about: sketch-of-the-week
24 August 2011

Next post: Sparkles Aplenty (scrapbooking & making cards)
Previous post: Scrapbooking challenges :: The Winners