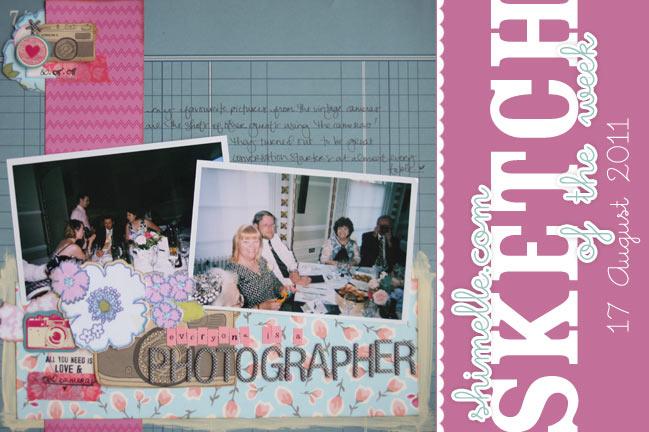 Two things that came out loud and clear from the comments at the weekend? A bunch of you love the sketches. (Yay!) But you wish there was a way to go straight to all of them. (Oh.) Well, actually there is! All the sketches are right here, and there's a link at the bottom of each individual sketch post to take you there, but maybe that's not very clear… so I'll get a button added like the 4×6 Photo Love button and that will make things easier.
And if you have two landscape 4×6 photos, that will make participating in this week's sketch challenge easier. Plus this week there is both a video and a prize! Oh, it's just happy crazy scrap land here, I tell you.

The printable camera I used is from a kit called Picturebox and you get thirteen printable camera images for £1.50 (about $2.45 in US dollars). Then you can print them at any size, on any paper and use them on as many pages as you like. (Digi scrappers, you can also paste them into your pages, of course.)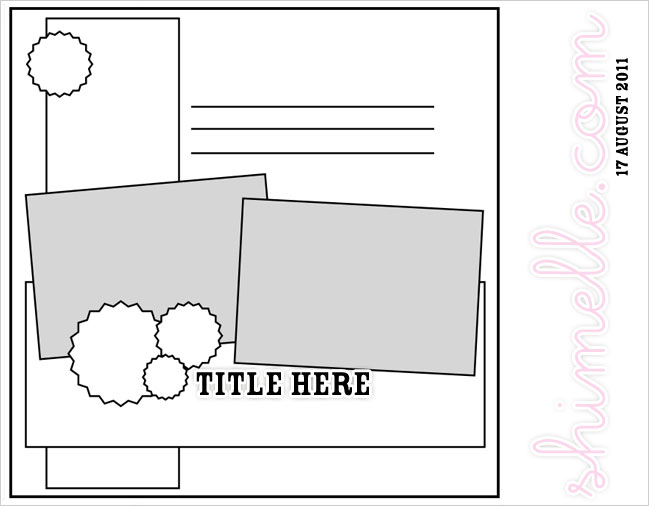 As part of the week of giveaways, this week's sketch is sponsored by Little Musings and one participant will win a collection of free goodies! Please like them on Facebook here to keep up to date and thank them for supporting this week of scrapbooking fun!
To enter the challenge, create your page based on the sketch and upload it to your blog or a scrapbook page gallery. Copy the URL for your entry and paste it into the linking box below! The deadline for this challenge is the end of next Tuesday – the 23rd of August 2011 – at midnight, UK time.
Since the last sketch is still open for a prize until this Sunday night, I'll wait to share my favourites from that and next Wednesday I'll share both lots together for double the fun!
xlovesx

Read more about: sketch-of-the-week
18 August 2011

Next post: Scrapbooking Giveaway Day
Previous post: Scrapbooking tutorial :: Hot Pink Hoopla