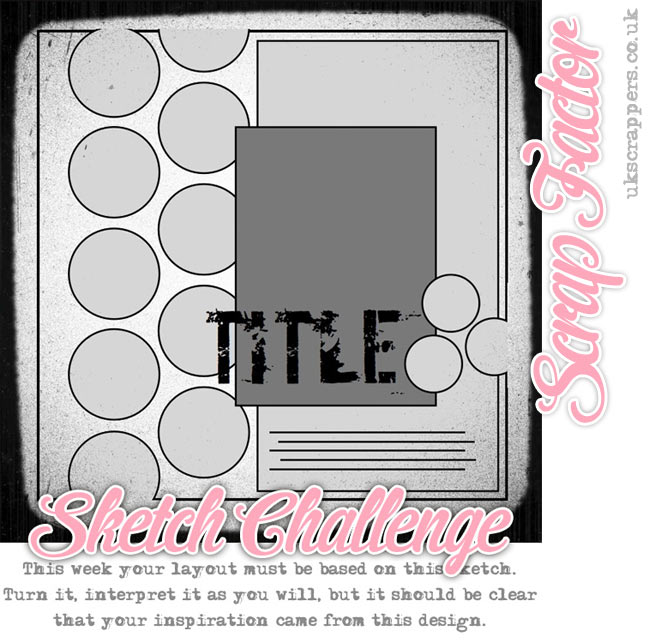 Over at UKScrappers, the Scrap Factor contest is getting tougher each week! Every week, the contestants receive a new challenge on Monday and have to upload a layout by Friday, then the UKS members vote for their favourite and one scrapper leaves the contest each week. We're in week seven, so you can imagine it's getting pretty tough to choose a favourite! But there's also the added bonus of 'Play Along with Scrap Factor' that anyone can join in at any time. You just make a layout to fit the challenge and upload it to the UKS gallery. Each week we have a prize for one paper, one digital and one hybrid layout! This sketch is the current challenge, which is open until this Sunday, the 5th of June. You can see the contestants' interpretations of this sketch here – and if you're logged in as a member, you can vote for your favourite too! So there's a little bonus sketch for this week, I suppose!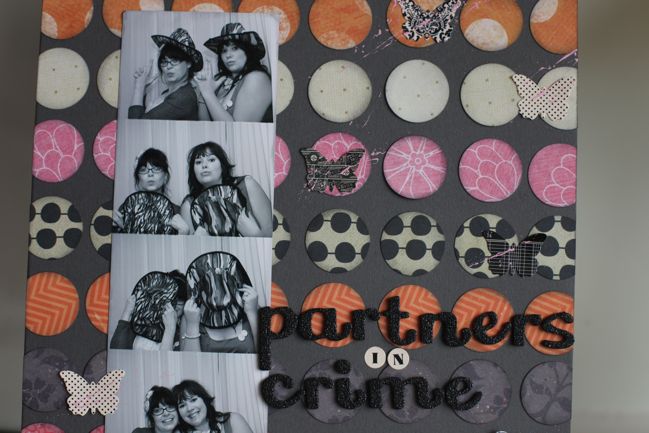 Back in April, I taught a workshop at the True Scrap event – a weekend of convention-type classes all available online. But like conventions can be, to get all of the content was a significant price and I know many of you asked if there would be a way to take just the classes you wanted at a more affordable price. And your question has been answered! You can now purchase the classes individually, including my workshop on Creative Stash Diving. Other classes are available on a range of topics, from embellishment to organisation to photography, with instructors Jennifer McGuire, Ali Edwards, Kelli Crowe and many more. The classes are all presented as videos you watch online, so it's like having your own scrapbooking-themed television channel, perhaps!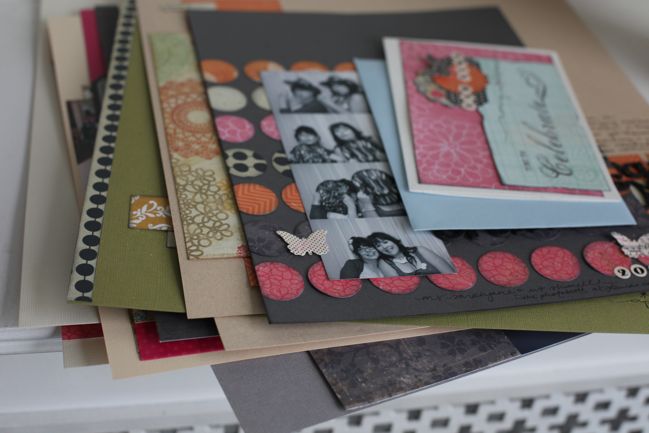 A little more info about my workshop: You might remember on Scrapbook Day, I started with some supplies and just kept working through them until they were pretty much finished – paper scraps, letter stickers and so on. That's a big part of what my workshop shares – how to take a finite amount of supplies and get lots and lots of finished projects as a result, without making all your pages look the same. There are nine finished scrapbook pages (including a double page layout) and a card highlighted in the class. They all come from the same supplies and they all look very different and they don't just focus on the most brand new of products. The ideas can be easily adapted to your own style and supplies. The pages all feature two to four photos. The class focuses mostly on the process of how to stretch your paper and supplies to lots of pages, so if you're trying to get the most from your stash these days (be it older papers or a brand new kit) then I think you'll find it useful.
And here are some comments from those who took my workshop as part of the True Scrap event:
"Awesome presentation at True Scrap. I watched the video half a dozen times. But, more importantly, I cut up an entire BasicGrey collection. It was a favorite but would you believe its discontinued now; tells you how long I've been saving it. So far I've made 2 dbl-page layouts and 3 single and I'm still going. Thanks for the inspiration." -Terri T. (Terri went on to post at least 8 layouts from her stash-diving session!)
"Wow! Talk about a fresh new perspective/strategy! This was amazing! To put the whole process in words just clicked in my head! I loved tip #1! so very very true! Thank you so much!" -Mel9252
"Love this idea! I am going to do it. Maybe even tonight. It's going to be so much fun!" -Hdubarry
"Loved the class shimelle =) got me scrapping right after watching it!" -Nora L.
Click here for more details, more classes or to sign up for Creative Stash Diving!
…and I'll be back later today with some new scrapbooky goodness! It might just have something to do with that sketch. (ETA: The video is taking forever to upload, so I'll have to post it in the morning!)
xlovesx

Read more about:
02 June 2011

Next post: From Sketch to Scrapbook Page
Previous post: How a bunch of scrapbookers made a big difference